Story by Caroline M. Jackson

After commandeering a flip-down seat near the crowded doorway, I hovered over my suitcase like a broody hen as our train left the airport and headed towards Barcelona.
A young Spanish student, Francesco, perched beside me and enquired as to my final destination. When I told her I was planning to walk a few blocks from the station to my hotel, her saucer brown eyes looked shocked. "Ah, non, non. It is already dark and your suitcases may be kidnapped. The bad people here can run very, very fast."
After a brief consultation with my husband, who didn't relish fighting off any Spanish brigands, we heeded her advice and decided to take a taxi. On arrival at the main Estacio de Franca, she summoned a taxi for us and in the local lingo, gave the driver specific directions to our hotel.
With warm hugs, she wished us well and said she looked forward to meeting us at our hotel. This comment puzzled me until she confided that this farewell would guarantee that the driver would take a direct route to our destination.
Minutes later, we were ensconced in our room on the top floor of the Hotel Sagrada Familia. We were thirsty and my husband left to shop for some bottled water. Discarding my airline clothes, I headed towards the shower when suddenly in mid stride, I was plunged into pitch darkness.
Poised in the doorway, I vainly groped around for a light switch. Wrapped in what I felt to be a bath towel, I resigned myself to await my husband's return. When he did so, the mystery was solved: the hotel had card key access, so that as soon as he left the room with the card, the electric power had automatically cut out.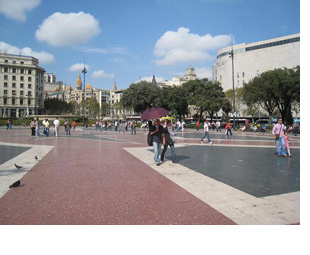 Being neophytes in this north eastern Spanish city, we set off the next morning for the Plaza de Catalunya, a huge square bedecked with fountains—the Spanish equivalent of London's Trafalgar Square.
Here we boarded the Barcelona Bus Turistic which loops around three distinctly different areas of the city. From the top deck of the bus, we admired the Modernist architecture, spacious plazas and the state-of-the-art seafront which came into being when Barcelona hosted the Summer Olympics in 1992.
The city's favorite eccentric son is Antoni Gaudi whose flamboyant architecture can be admired in several of Barcelona's buildings and public places. His style incorporates wavy lines, weird sculptures and intricate designs made of thousands of fragments of colorful ceramics.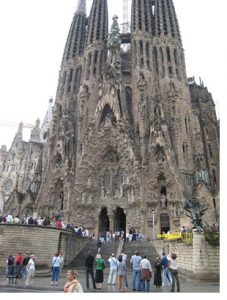 His most renowned masterpiece is the Sagrada Familia (the Temple of the Sacred Family). Construction of this unconventional church began in 1882 and is an ongoing project. Nevertheless, visitors flock to this site in droves and stare upwards at the carved facades and eight bejeweled spires which look rather like molten wax candlesticks.
The following day being a Sunday, we joined the locals for a relaxing saunter down Las Ramblas, a 2-kilometer-long pedestrian boulevard which Victor Hugo eulogized as "the most beautiful street in the world."
With the Mediterranean sun beating down from a cloudless sky, the treed avenue was awash with a sea of people strolling past colorful flower sellers and kiosks. Occasionally we paused to admire the mime artists dressed up like Greek statues or conquistadors. For us, it was the perfect place to people watch and cool off with a crème brulee-flavored gelato.
From the seaward end of Las Ramblas, we walked towards Barcelona's fascinating Gothic Quarter. Ludicrously trying to follow our progress on a map, the shaded labyrinthine streets fooled our logical sense of direction at every turn.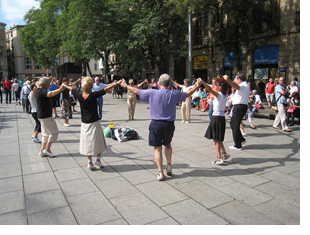 Following the strains of a lively orchestra, we found ourselves in a square overshadowed by a huge Gothic cathedral. We had stumbled upon the sardana, Catalonia's national dance. Since visitors are welcome to join the ever-widening circles, I tried to participate in the hops, skips and jumps, but my unskilled footwork left much to be desired.
Captivated by the atmosphere of the Gothic quarter with its Roman walls and medieval palaces, we sequestered ourselves in a quiet corner of La Taverna del Born, the quintessential spot for a leisurely lunch of garlic mushrooms and grilled squid.
Although we were looking forward to joining a Mediterranean cruise the following day, I knew we would miss the unique ambience of Barcelona.
About the author:
This week Traveling Tales welcomes Canadian freelance travel editor Caroline Jackson, who lives in North Vancouver on Canada's West Coast. View her website at www.crestlynn.com.
Photos by Hamish Jackson:
1: Plaza de Catalunya, Barcelona. Hamish Jackson photo.
2: Gaudi's Sagrada Familia. Hamish Jackson photo.
3: Catalonia's National Dance, the sardana. Hamish Jackson photo.