by Patricea Chow-Capodieci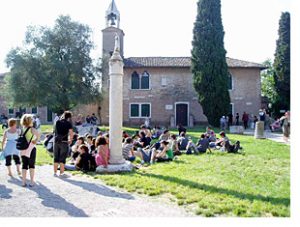 As our friend's private boat pulled to a stop in a berth at Torcello, my husband announced with a sweep of his hand toward the island: "Welcome to the forgotten island!"
The statement was a contradiction to the scene on the bank in front of us: a large group of teenagers followed by separate groups of tourists were strolling past.
Seeing my confusion, my husband explained Torcello's changing fortunes since its peak of influence as a cultural and commercial hub of the Venetian lagoon in the fifth century: silt from the rivers of Italy filled up the shallow waters surrounding Torcello, making it difficult for ships to navigate the shallow waters and increasing the incidence of malaria.
As trade decreased and disease became more widespread, many of Torcello's 20,000 natives left in search of better work prospects and healthier living environs on Venice, located about six miles away from Torcello. As Venice slowly transformed in to a commercial and military hub, Torcello's importance dimmed proportionately.
This fact would later be confirmed by a lady selling souvenirs at the island's only piazza. As she wrapped up purchases of lace umbrellas made in Burano and postcards for tourists, she revealed that only about 15 of the approximate 100 persons currently working on Torcello are natives who still live on the island.
Looking at the number of visitors that were present this day on Torcello, I realised that this was a small fraction of the thousands of visitors who pass through Venice, Murano and Burano daily. Retirees and families with children make up the tourists while visitor numbers are aided by Italian students on school trips.
Unlike its more famous neighbours Torcello has little to offer for the souvenir hunter. Venice impresses with its romantic history and the glistening Saint Mark's Basilica; Burano attracts the eye with buildings awash in bright colours and tempts the wallet with a variety of products made of lace, and Murano has exquisite handcrafted glass.
However, all Torcello has to offer are two ancient stone churches, a stone throne, and an expansive flat green land.
Tourists are not the only ones who give the island a pass – even locals bringing friends around the Venetian lagoon largely give Torcello a miss, leading to even less attention accorded to the island.
Luckily for us, an Italian couple, who are friends of my husband, wanted their toddler son to get a taste of what it felt like to sit on the stone throne of Torcello.
As we made our way along the only main street leading from the boat mooring to the piazza, we passed by some quaint yet cosy restaurants, private residences, and a collection of stalls selling souvenirs as well as lace umbrellas displayed along the street.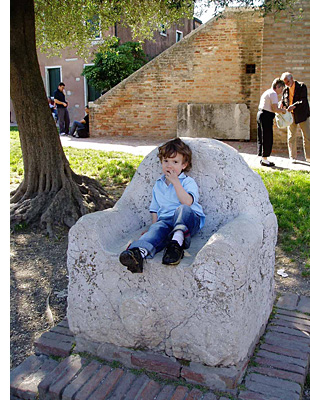 I wonder if Ernest Hemingway strolled down this same route when he spent time here while recovering from an illness, and what were the sights he saw then that inspired him to pen his novel, Across the River and Into the Trees.
Within 10 minutes of strolling, we reached the lone stone throne in the piazza, shaded by the canopy of a lone tree next to it. Called The Throne of Attila by the locals, it is fabled that Attila the Hun built it on Torcello as a mark of his kingdom as he could not establish a proper castle anywhere. Yet it is often overlooked in brochures or guides for tourists.
Little Nicolo is immediately taken by the stately air of the throne, and promptly seats himself on it. No amount of cajoling could entice the three-year-old to surrender the throne, until the adults started walking away toward another attraction.
I giggled at the thought that the little boy would get married within the year, as local legend says would happen to anyone who sat on The Throne of Attila.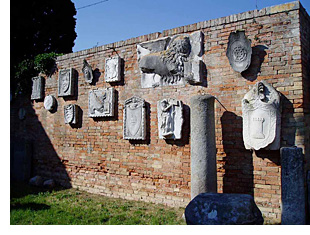 My attention is immediately drawn to the red brick wall we had arrived at, standing about 10 meters from the stone throne.
On it was a collection of archaeological items displayed like paintings in an art gallery. Some looked like representations of family crests while others looked like embellishments of buildings or bridges that fell off through the years.
Although they looked old, these archaeological items were not the only ancient attractions on the island. Across the piazza and round the corner from the wall is the oldest church, not only on the island, but also in the Veneto region.
The Cathedral of the Virgin Mary was built in the year 639 and dedicated to Saint Maria Assunta.
However, it was closed by the time we arrived at its entrance, thus we missed the opportunity of admiring the colourful mosaics on its walls and floors, the Byzantine wood beams separating its brick archways, and to ascend its bell tower for a panoramic view of the island and the Venetian lagoon.
The adjacent Church of Santa Fosca was open though, and we entered to be greeted by brick arches and a wooden domed ceiling over a spacious interior.
From its octagonal shape and three apses, my husband surmised that it might have been used to store boats or ships at a certain point, especially during times of war.
While this remains speculation on his part, it is certain that this church was built in the 11th century to house the remains of Saint Fosca, and is as elegant as it is serene.
After admiring its beauty and saying some prayers, we exited the church to find the earlier group of students resting on the grass of the piazza, enjoying quiet conversations while soaking in some of the evening sun. Despite their number and chatter, there was an air of tranquillity on the island.
It was time for dinner, and while Torcello offered several welcoming and cosy eateries, our friends had a surprise in store: the boat was steered to another island in the lagoon.
Isola delle Vignole (Island of Vignole), formerly called Biniola or 'seven vineyards', is an island that retains a strong military presence from its past but is today is used for agriculture.
However like us, visitors to Vignole usually come for the food served at its only eatery, the Trattoria Alle Vignole.
For about a hundred years, it has been serving out a selection of pizzas, pastas, and fried seafood fished fresh from the lagoon. We chose a bit of everything and settled in to tables sheltered by tall trees for some homemade Italian dishes and a few carafes of delicate Italian wine.
Groups of friends and teenagers as well as couples with dogs and families had also made the journey by boat to have dinner here.
The sun began to set, signalling the time for our return to the mainland. We boarded the boat and sped away with lingering memories of the peaceful yet enriching day we spent.
About the author:
This week Traveling Tales welcomes freelance travel writer Patricea Chow-Capodieci who lives in Singapore. Check her website at www.pizzazz-words.com
Photos by Patricea Chow-Capodieci:
1: Taking a rest in the main piazza of Torcello.
2: Sit on the Throne of Attila and be King for the moment.
3: A display wall of archeological items.
More information:
The Cathedral of the Virgin Mary and the Church of Santa Fosca are open from 10.30am to 5.30pm daily in March to October, and from 10am to 5pm daily in November to February. It is free to enter the latter but costs 3 Euros to enter the former.
To reach Torcello, first take ACTV waterbus LN from the Fondamente Nuove stop or Pietà stop on Venice to Burano, then transfer on to ACTV waterbus T from Burano to Torcello. It costs 6 Euros each way, and takes approximately 55 minutes each way.
To reach Isola delle Vignole, take ACTV waterbus number 13 from Venice. Trattoria Alle Vignole is closed on Mondays.
If you wish to visit both Torcello and Isola dell Vignole on the same day, opt for a full-day ACTV waterbus ticket that costs 15 Euros for unlimited rides in 24 hours.