by Caroline M. Jackson
"Mt. Vesuvius is not dead. It is a scaring presence…. like a bomb!" whispered Marco, our Italian tour guide, as our bus climbed up the narrow highway overlooking the Bay of Naples.
En route to the well-preserved ruins of Pompeii, I puzzled over the fact that the Pompeians, unlike Marco, had not considered the volcano to be a threat.
In 20 AD, the city dwellers had been assured by a renowned geographer that Vesuvius was extinct. Later, in 62 AD a powerful earthquake hit the area, but everyone still remained unconcerned. Then, in 79 AD, the volcano exploded sending ash and burning cinders twelve miles into the sky.
Over the next three days Pompeii was covered by a layer of hot mud, dust and rocks up to a depth of six metres. Life came to a dramatic halt and approximately three thousand citizens out of a population of twenty thousand died. Because of its street grid system, fortunately, many people were quickly able to evacuate the city.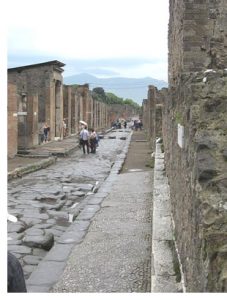 At first, just like a bad dream, everyone wanted to forget Pompeii. Eventually, however, with the passing of centuries, excavations began in 1748. Today, eighty-two percent of this petrified city is accessible to visitors who, like myself, are thrilled to tour these ancient ruins.
As my husband and I disembarked from our coach, we huddled around Marco awaiting instructions for our three-hour walk around the historic site.
Having heard about people suffering from sun exposure due to lack of shade, I was relieved that it was drizzling. Also, the rain made it easy for me to identify my group by their colourful umbrellas whenever I lagged behind the flock.
With three million people visiting this 164-acre site every year, and professional guides trying not to overlap groups, it would be very easy to become a lost sheep.
On occasion I would be bending one ear towards Marco while my other ear would be listening to a description of the same site in German, Italian or Spanish. Whenever this happened, Marco would expertly herd us along to another location.
Walking along rain-slicked stones was a challenge in itself and I was amazed to watch some visitors in flip-flops, while others teetered along in spiky sandals.
The planners of Pompeii were much more sensible when it came to pedestrians. Giant stepping stones enabled residents to cross the street without getting their feet wet or soiled, open flushing being the order of the day, since sewer systems were either uncommon or non-existent.
Marco also pointed out small white pieces of marble that lined the main road. These acted as cats' eyes reflecting moonlight or lamplight when darkness fell.
Over the next couple of hours we visited the highlights of this once prosperous port city with its impressive forum, theatres, temples, sports facilities and public baths.
One sumptuous mansion of twenty-seven hundred square feet, complete with atrium and pond, accommodated an extended family.
Because Romans had a fear of blank spaces, every inch of the walls had been plastered and painted over with bright, vivid colours. Looking at one of the frescoed dining rooms, it was hard to believe we were viewing a work of art painted more than two thousand years ago.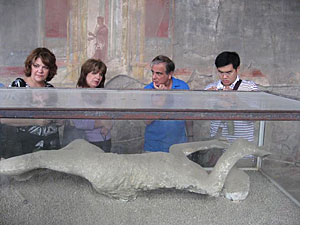 One of the most gruesome, yet fascinating, sights is a collection of plaster casts of people who died during the eruption. Corpses buried under compressed, hardened layers of ash resulted in a hollow space around the skeleton where the flesh had decomposed and melted away. Archaeologists had the brilliant idea of pouring liquid plaster into each of these cavities, thus obtaining realistic casts of Pompeians as they tried to flee from the fiery holocaust.
Our tour ended all too soon, and I realized I would have to return another time to see the artifacts from Pompeii at the National Archaeological Museum in Naples.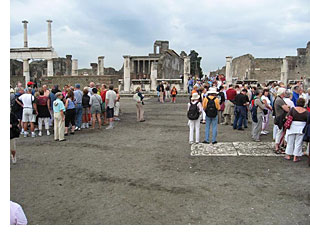 As we drove down to Naples, or Neapolis as Marco called it, I glanced back at the most active volcano on the European continent. Since its last eruptions in 1906 and 1944, it has now been classified as "dormant".
I prayed that it would continue to sleep at least until our Celebrity cruise ship pulled out from its berth in Naples.
About the author:
This week Traveling Tales welcomes the travel writer and photographer team of Caroline and Hamish Jackson, who live in North Vancouver B.C. View their website at www.crestlynn.com.
Photos by Hamish Jackson:
1: Stepping stones across Via Dell'Abbondanza in Pompeii.
2: Visitors examine plaster cast of a victim in Pompeii.
3: Tourist throngs at the Basilica in Pompeii