By Chris Millikan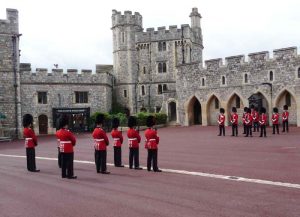 Pageantry and tradition await us just thirty-minutes away from Paddington station. During an easy day trip from London, my husband, daughter Jessica and I hop an early train and spend an enjoyable day sightseeing in both Windsor and Eton, two historic English towns.
Windsor is best known for its castle, perched above the town for 900 years. The world's largest and oldest working castle has served English monarchs ever since William the Conqueror built it there: King John, as he waited to sign the Magna Carta at Runnymede; imprisoning Charles I as he awaited beheading. Queen Bess renovated it; Victoria mourned Albert, her beloved husband who died here in 1861. It even sheltered the Royal family during WWII. Today, Queen Elizabeth's royal standard flies above its 1,000 rooms when she's in residence.
Although this remarkable castle has been altered over the years, the defensive Curfew Tower looks just like it did in 1227…but now serves as St. George's bell tower, chiming out rousing hymns and still providing quick, private exits for the Royals!
Inside Gothic St. George's, we locate the tombs of Henry VIII, his favourite wife Jane Seymour, Charles I, Edward VII and other notable sovereigns. An enthusiastic docent standing under an array of colorful banners tells us, "Knights of the Royal Garter meet here in these magnificent choir stalls; individual coats of arms above them symbolize their backgrounds." Undeterred by light drizzle, we watch the ceremonial changing of the guard in the outer courtyard and listen to the regimental band belt out brassy tunes. Both to and from the castle, the Guard marches through this charming Victorian town, an eye-catching sight.
Queen Elizabeth II's public apartments overflow with wondrous art.  Queen Mary's masterfully crafted Doll House, given as a gift in 1923, especially intrigues us. This lovely miniature palace boasts early electric lighting, five bathrooms with running water and working elevators!
Along cobblestone streets leading away from the castle, we pass many little teashops, as well as antique and silversmith shops. Nell Gwynne, the mistress of Charles II, once lived on Church Street, very close to her Royal lover's chambers! After taking a look at Christopher Wren's elegant Guildhall and Crooked House Tea Rooms next door, we stroll the pedestrian bridge across over the picturesque Thames River to Eton's hallowed grounds.
Just along the High Street we come to Eton College, one of the world's most exclusive boys schools. Founded by eighteen-year-old Henry VI, this elite public school has educated generations England's greats since 1440; ancient desks and benches bear the graffiti of hundreds of noted Etonians, including Prime Ministers Walpole, Duke of Wellington and Pitt the Elder; poets Thomas Gray and Percy Bysshe Shelley; writers George Orwell, Aldous Huxley and Ian Fleming; multi-talented actor Hugh Laurie…and Prince William, second in line to the British throne.
Mid-way between Eton College and Windsor Castle, we pop in for a 'posh' meal at Gilbey's bar also on the High Street…and catch one of the many trains travelling this popular route back to London.
Getting There:
About the Author:
Chris Millikan is a freelance writer/photographer living near Vancouver, BC. As a former teacher and elementary school principal, Chris now presents articles as an inviting 'curriculum' depicting the joys of travel. Many BC community newspapers, Open Road Driver Magazine and Senior Living Magazine regularly publish her articles. In-flight Magazines, the Vancouver Sun and Province have also featured her stories. As BC Association of Travel Writers Vice President, she supports colleagues' aspirations. And traveling off the beaten track with writer/photographer partner and hubby Rick, their published tales reflect great adventures. Their 2009 Kalama Award acknowledged an array of their stories reflecting the rich culture of Maui, Molokai and Lanai.