by Darlene Foster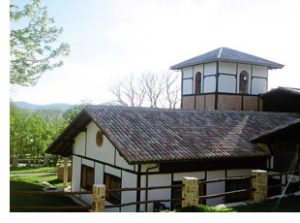 Imagine waking up each morning to fresh mountain air, dew glistening on terracotta-tiled roofs and the melody of Spanish songbirds.
Imagine wandering well-kept, lush grounds, as picturesque as a pastoral painting, a pond to contemplate by, a welcoming pool, shady trees and sunny meadows.
Spending eight days in this remote and little visited region is where I had the opportunity to experience the real Spain. The best part was that I was able to enjoy these superb four-star accommodations, nestled in the verdant Spanish countryside, for free!
As I threw open the shutters of my own cozy chalet that first morning, I had to pinch myself to make sure I was not dreaming, or perhaps died in my sleep and gratefully woke up in heaven. For heaven on earth this resort, four hours west of Madrid, certainly was.
I had come to this surreal spot as a participant in a program called Pueblo Ingles. All I was required to do to enjoy this marvelous place at no cost, was speak English all day to Spanish speaking professionals who wished to improve their communication English.
That was not difficult for me, as I love to talk. For anyone who is outgoing, enjoys making new friends, learning about another culture and spending time in Spain – Pueblo Ingles is the perfect program.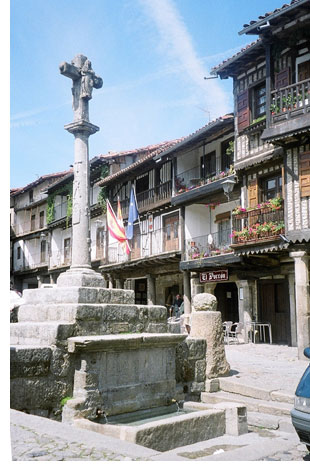 You are responsible for the cost of your flight to Madrid and your accommodations there. A bus will pick you up in Madrid the following morning and four hours later, you will be at a resort near La Alberca, nestled between the mountains in the province of Salamanca, where you will have the experience of your life.
If you are lucky, you will sit beside a Spanish-speaking participant on the bus and start to learn about the region and sites along the way. I was fortunate to sit beside Bruno, a business consultant, who explained to me as best as he could that the orchards we passed grew a special fruit just for the pigs.
Apparently, by eating this fruit the pigs produce a highly valued ham, renowned in the region. It wasn't until later I learned that the special fruit are what we call acorns.
After waking up and realizing you were not dreaming, each day began with a fabulous buffet breakfast to please any palate. Chocolate filled croissants piled high, wedges of Spanish Tortillas, exquisite hams and cheeses from the local farmers, fresh fruit, creamy yogurts, fresh baked bread, toasted or not, with the finest olive oil drizzled over or, for the brave, spicy Spanish tomato sauce, and the smoothest coffee I have ever tasted.
The "work" of communicating in English began at the breakfast table where two English and two Spanish participants were seated together. The first breakfast was awkward as the Spanish tried to keep up with the various English accents – Canadian, American, Australian, British and Welsh.
Lunch and dinner comprised of two equally delicious homemade three-course meals, served by a most accommodating staff, complimented with a carafe of local red wine. We shared stories, experiences, idioms and culture with the Spanish-speaking participants as we ate.
In between meals, we conducted one-hour one to one lessons while going for walks, making phone calls, relaxing by the pool, or discussing business practices; all in English of course. The only rule was no speaking Spanish.
By the end of the 8 days, the Spanish were able to follow our conversations quite easily. One gentleman from Pamplona, said he was starting to dream in English.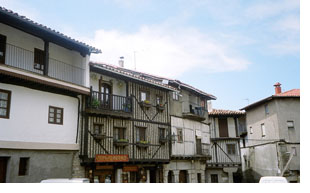 A short walk from the resort took us to the enchanted medieval village of La Alberca where we were magically transported back to the 15th century.
We followed the narrow cobblestone streets that wound their way past wine cellars, stone watering fountains, huge wooden doors, houses built the year Columbus sailed and shops with the famous expensive hams hanging in the windows.
The cathedral with a stork nest perched on top and a stone pig on the steps was intriguing. When we asked about the meaning of the stone pig, we were told that legend said if a young couple touched the testicles of the pig, they would soon be blessed with a baby. Most of us quickly backed away.
Bright flowers spilled out of windows and balconies. The older folks, dressed in the local costume, nodded solemnly as we passed by. One elderly citizen hung over her flowerpot-strewn balcony and watched us intently as we invaded her village.
I had fun choosing a set of castanets and a package of saffron from a local vender to take home. Our visit included a medieval feast at The Cathedral restaurant and a chance to try drinking wine from a wine skin without spilling it all down our front! The Spanish proved to be much better at it.
Every night at the resort there was entertainment that made us laugh so our sides hurt and dancing until the wee hours for those who were able to keep up with the fun loving Spanish. Thank heaven for the tradition of siesta.
From the moment we arrived at our destination, until the tearful goodbyes eight days later, we shared many interesting stories and conversations.
The warmth, sense of humour and eagerness to improve their English of the Spanish participants, made us feel right at home and taught us so much about life in Spain. Amazing friendships were formed, much laughter shared and wonderful memories created to keep for years to come.
Some people enjoy the experience so much they return repeatedly. I am sure I will be one of them.
About the author:
This week Traveling Tales welcomes freelance travel writer Darlene Foster who lives in Delta. A suburb of Vancouver B.C.
For more information:
Pueblo Ingles has two other locations in Spain besides La Alberca. To learn more about this program check the website at www.puebloingles.com/

Photos by Darlene Foster:
1: Overview of the buildings and the meadows beyond.
2: The La Alberco town square.
3: A view of some of the houses built in 1492.