By Chris Millikan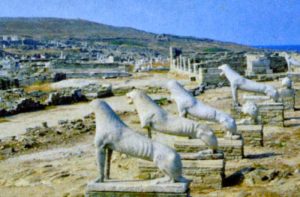 On a day trip from Mykonos, Greece, a local boatman drops us on Delos, a tiny offshore island.  Among marble ruins scattered over its parched landscapes, a story of grandeur and decline unfolds.
Introducing a world forgotten by time, guide Cassie says, "Here, you must imagine a flourishing cosmopolitan city, splendid with graceful buildings, marvelous temples, bustling harbours, market places, sophisticated residential quarters…and youthful population."
Shepherding us past bleached sculpture fragments along the Sacred Way, through the gymnasium and ancient agora's scanty remains, she continues, "Legendary birthplace of sun god Apollo and twin sister Artemis, Delos was the Aegean's holiest place for the early Greeks." Also headquarters for the Delian League, the confederation of Greek states stored vast treasury vaults there, including opulent gifts from city-states and merchants.
To keep Delos pure and sacred, an unconventional decree forbade births and deaths on this island. Over 40,000 young couples and singles lived privileged lives of splendour in elaborate homes fanning out around the exclusive theater district, our next discovery.
Extravagant status symbols, mosaics are prominent. The House of Dionysus features a famed floor-mosaic depicting the wine god himself, riding a panther. Typical of wealthy residences, a covered passageway leads to ground level rooms opening onto beautiful courtyards, also adorned with mosaics and mural decorations. Other prominent houses include House of Trident, House of Dolphins and House of Masks, with another notorious wine god mosaic…likely an actors drinking hole. And headless statues still guard House of Cleopatra.
These villas have been roofed to protect floor mosaics covering courtyard cisterns in each house. Collecting water was essential, since Delos was as parched then as today. "Built about 300 BC, a massive cistern down the hill supplied the town's water. We'll visit it next, behind the theater," smiles Cassie.
Near the open-air theatre's marble seats, sanctuaries of foreign gods surround the foot of Mount Kythnos. This tax-free international port had attracted prosperous merchants, bankers and mariners from far away Egypt and Assyria…who erected grand temples to their own gods, though always recognizing Apollo as chief deity.
We explore the celebrated Temple of Apollo, the oldest shrine. Dedicated in the 7th-century BC, sixteen smooth, marble lions once crouched along Avenue of Lions. Five  original lions are protected in the museum; five weathered leonine replicas and fragmented torsos of three others now guard Sacred Lake. "After wandering many countries, Leto came here to birth twins Apollo and Artemis in this once-beautiful lake," Cassie recounts.
Though some valuable island sculptures were transferred to Greek museums and even abroad, most of its immense wealth had been pillaged and looted centuries ago. Even nearby islanders ground marble statuary into whitewash.
Back at the wharf, Cassie concludes, "Ancient beliefs became irrelevant and trade routes shifted, leading to Delos' decline and abandonment. By the 3rd century AD, only a small Christian settlement remained. Today, the only inhabitants are remnants of past glory…and their caretakers!" A World Heritage Site since 1990, Delos sanctuary proves a remarkable glimpse into ancient times, a day trip worth pursuing.
When You Go:
Boats for Delos leave Hora (the Old Jetty at the western end of the harbour) starting at 9am [except Monday, when the site is closed] A ferry also runs, schedule is posted.
About the Author:
Chris Millikan is a freelance writer/photographer living near Vancouver, BC. As a former teacher and elementary school principal, Chris now presents articles as an inviting 'curriculum' depicting the joys of travel. Many BC community newspapers, Open Road Driver Magazine and Senior Living Magazine regularly publish her articles. In-flight Magazines, the Vancouver Sun and Province have also featured her stories. As BC Association of Travel Writers Vice President, she supports colleagues' aspirations. And traveling off the beaten track with writer/photographer partner and hubby Rick, their published tales reflect great adventures. Their 2009 Kalama Award acknowledged an array of their stories reflecting the rich culture of Maui, Molokai and Lanai.