by Chris Millikan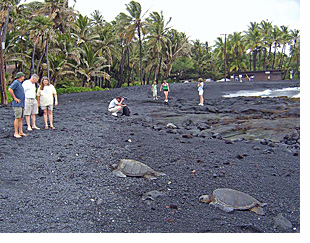 Alternately munching creamy macadamia nuts and sipping robust island coffees, we head for Ka'u…and volcano country. Along the Big Island's backside, my hubby and I investigate the Hawaiian archipelago's most unpopulated district, a vast landscape the size of Oahu.
Before settling into our Ocean View digs, we hike a three-kilometer interpretive trail in the 25000-acre Manuka Reserve. Sweet birdsongs and wild boar hoof-prints accompany us across ancient lava flows, through luxuriant rainforest and past old agricultural sites.A deep, greenery-covered pit crater marks the halfway point. We valiantly practice melodic Hawaiian plant names all along the well-marked lava rock trail; except for gnarled kukui nut trees, we recognize few of forty-eight native and one-hundred-and-thirty introduced species.
Later hobnobbing with locals at the busy pizzeria, we learn that businesses here are still family owned. Resort-free, they fondly refer to Ka'u as the final frontier. Residents just love their rural-style lives; scores of hidden upland strawberry, lettuce, coffee and protea farms flourish in dry, volcanic rubble…and guys hunt feral pigs on weekends.
Kick-started by memorable breakfasts amid stunning panoramas at Bougainvillea B&B, we plunge into several days jammed with fascinating sights. Kau'aoha'no Church steeple first signals arrival in tiny Waiohinu town, boasting an enormous monkey pod tree planted in 1866 by Mark Twain.
Standing beneath spreading branches vibrating with wildly chirping birds, my hubby quips, "Hey! No pods!" I snort, "No monkeys, either!" Although the original tree-trunk blew down during a hurricane in 1957, it has fully re-grown.
Neighboring Na'alehu is billed as the USA's southernmost town, but its most tantalizing claim to fame is Punalu'u Bakeshop. Whiffs of fresh-baked Hawaiian sweetbreads entice us inside to savor purple taro rolls and warm mango malasadas, renowned melt-in-your-mouth confections, before investigating Whittington Beach Park's fascinating lava tide pools.
We continue to Punaluu's ultra-popular Black Sand Beach. Formerly an early Hawaiian settlement and later a shipping port, today's park protects threatened green turtles. Immediately, we spy two mottle-shelled beauties basking on soft black sands; others flip and swim in the small bay fed by cold, freshwater springs.
Six miles away, a former sugar town nestles along Mauna Loa's slopes. When Pahala's mill closed in 1996, macadamia nut orchards replaced miles of sweeping cane fields; early 20th-century plantation mansions were restored as distinctive rentals for visitors. Most recently, small coffee farms have sprung up on the fertile hillsides.
Miles above Pahala's ranchlands and native forests, remote Wood Valley shelters a Buddhist temple established in 1973, twice sanctified by the Dalai Lama.
Originally built as a turn-of-the-century Japanese Mission, today's brightly coloured temple sits amid eucalyptus, stately palms and bamboo. Wild jasmine and ginger perfume the serenity of our stroll in one of Hawaii's most secluded spots.
Another spectacular day, we check out the USA's southernmost point. On route, Kamoa Wind Farm's gigantic windmills tower above rolling emerald pastures filled with grazing cattle; scattered ohi'a trees bend to constant winds.
At the end of the road, spectacular windswept sea cliffs jut into the turbulent Pacific. Considered first landfall in the islands for seafaring Polynesian explorers, remains found in lava tube caverns riddling this area suggest settlements as early as 200AD.
And at an ancient Heiau platform near Ka'Lae light beacon, fishermen continue to leave branch coral, bamboo poles and fishhooks, gifts for the god of fishermen.
Below this rocky point, we watch fishing buddies balance sure-footedly on 'suicide rock,' casting for bait in seething surf, hoping they'll later catch prized ahi or ulua. Other fishermen perch on craggy cliff tops; flimsy-looking platform hoists haul gear from boats anchored far below.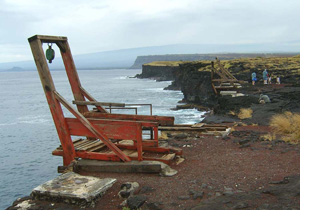 Near these wooden platforms, azure-blue seawaters surge up the sides of a puka in the lava…and gently recede. With meticulous timing, divers leap into this deep hole, ride through the lava tube into open ocean…climbing back up the cliff on rusty ladders…
Before leaving South Point, many trek more than 2-miles across a grassy plain…buffeted by vigorous headwinds…to an arduous trail down to Mahana Beach, aka Green Sand Beach and its unusual golden-green olivine sands.
Our last day, we rediscover ever-popular Hawai'i Volcanoes National Park, brimming with highlights. With maps and hot tips supplied at the Visitor Centre, we start near the parking lot where a paved trail and boardwalks meander through pungent Sulphur Banks.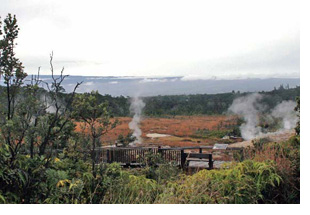 Billowing volcanic gasses seep from the ground, enshrouding treeless landscapes and depositing acid-yellow crystals on surrounding rocks. Returning atop the crater's rim, countless steamy vents cloak purple-pink orchids and vegetation with a swirling, ghostly mystique.
Passing through 17-kilometers of rainforest and barren wilderness, Crater Rim Drive encircles Kilauea's summit, the legendary home of the Fire Goddess. As they have for centuries, offerings to Pele line the immense caldera's rim; rocks wrapped in ti leaves, leis and bananas appease her blistering wrath.
Crossing desolate black lava fields punctuated with vaporous wispy puffs, we teeter right on Halema'uma'u Crater's edge; white-tailed tropicbirds float on thermals deep in the volcano's heart. Although crusted over nowadays, during the 19th-century this boiling lava lake inspired Mark Twain's declaration, "It's like looking into the fiery pits of Hell!"
Devastation Trail later leads us through a fern and ohi'a forest destroyed in 1959 by Kilauea Iki's eruption. And through luxuriant rainforest alive with birdlife at Thurston Lava Tube, we wind under a lava field in a mammoth cave 500-years-old.
Outside the Park, we detour into Kipuka Pu'alu where "Bird Island" has escaped centuries of eruptions and lava flows. A tranquil 30-minute walk teems with tropical birds thriving in the age-old forest.
Before leaving Ka'u, we toast roads less traveled with award-winning wines at Volcano Winery. Over Macadamia Nut Honey, Volcano Blush and Hawaiian Guava we conclude: there's much more than first meets the eye in Ka'u, Hawaii.
About the author:
This week Traveling Tales welcomes Canadian freelance travel writer Chris Millikan who lives near Vancouver, on Canada;s West Coast.
About the photos:
1: Turtles on the Black Sand beach: Rick Millikan photo
2: The hoist at South Point: Rick Millikan photo
3: Sulphur Banks in Volcanos National Park: Chris Millikan photo
If You Go:
www.bakeshophawaii.com – Punalu'u Bake Shop
www.hawaii-bnb.com/bougvl.html – Bougainvillea B&B
www.bigisland.org – Havaii's Big Island