by Margaret Deefholts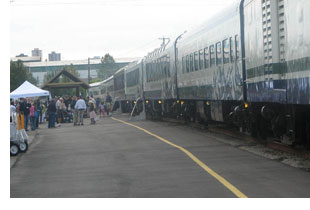 Two things never cease to delight me: firstly, the splendour of our British Columbia scenery, and secondly, the exhilaration of train travel. Today, I'm about to enjoy both on a journey aboard the Whistler Mountaineer.It is a surprisingly chilly and pale July morning, but that does nothing to dampen the anticipation of the crowd gathered at the railway station in North Vancouver. Kids jump up and down gleefully, and parents and grandparents help themselves to complimentary coffee while awaiting the "All Aboard" call.
I settle into my seat in the Coast Classic coach, stretch my legs with a sigh of satisfaction—so different from the cramped environs of an aircraft—while our hostess, Jill, gives us a run-down about what lies ahead on our trip. She kindles just the right spark of curiosity without giving too much away.
I browse through the souvenir leaflet in the front seat pocket, with its map of familiar landmarks—Porteau Cove, Howe Sound and Squamish. I'm interested to learn that back in 1912, the Pacific Great Eastern railway built the railway line with the original intention of connecting Vancouver to Prince George. It ran into all kinds of financial roadblocks (or more correctly, perhaps, "railroad" blocks!) and was beset by political scandal, so its growth was sporadic and slow. Eventually, in 1956, with the increasing demand for lumber and coal, the entire track was completed. Today, the Rocky Mountaineer follows this historic passage through the Caribou on its Fraser Discovery Route.
I look up to hear Jill announce that we will shortly be leaving the station, and that we should be on the watch for our first wildlife sighting to the right of the train. We jolt into movement and passengers rush to the windows, cameras at the ready. There is a ripple of amusement, but you'll have to find out why for yourself!
We glide through the affluent residential neighbourhoods of West Vancouver, Ambleside and the sea wall. Past gardens ablaze with geraniums, dahlias, clematis and honeysuckle, and hiking paths running through wooded glades. People stop to wave at the train, and a little girl urged on by her mum, blows us a kiss.
Then we dive into a long tunnel and emerge at Horseshoe Bay, and the rim of Howe Sound. Under a pastel-grey sky the water is a sheen of silver, and Bowen Island lies humped against ridges of fishbone clouds. We shoulder our way past Britannia Beach, and the B.C. Museum of Mining — once the largest copper mine in the British Empire. Although it closed in 1974, visitors today are offered mine tours through the building which, Jill tells us, has a total of 1,200 windows with 18,792 panes, almost all of which have been recently restored at a cost of about $500,000.
For the next forty minutes or more, the now emerald-green glacial waters of Howe Sound stretch to distant mountains, their silhouettes rising fold against fold on the horizon. Then, as we near the head of the Sound, the Squamish Chief, rears against the sky to our right. This 700-metre-high hulk of uncompromising rock face challenges hundreds of intrepid rock climbers each year, and sure enough, as I crane to look upwards, there are two tiny Spiderman types inching their way to the top.
Brackendale is next on our route, and although its most famous inhabitants—about 3,000 bald eagles—aren't in residence today, they will be back in the fall and winter when spawning salmon seethe up the Cheakamus River. We plunge into wooded groves, and I am enchanted by a profusion of wild ferns, lupins, foxgloves, cheeky daisies and fronds of white lacy blooms.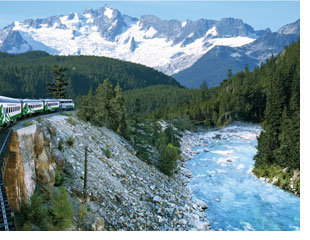 And then comes the big "Aaaah!" of the journey—the spectacular Cheakamus Canyon. For travellers on the Whistler Mountaineer, this sight alone is worth the price of admission. We run along its lip, as the river boils and foams, far, far below us, forcing its way through narrow channels and erupting around bends.
The open windows of the Heritage Observation Car are jammed with people and whether they are German, Punjabi or Japanese, their gasps of awe speak a universal language. As the train slows to a crawl, I lean out of the window and grab a shot of the locomotive turning on a curve as it crosses the first trestle bridge. I surrender my spot to another photographer, who hisses a satisfied "Yessss!" as he looks at the result in his digital viewfinder.
As we approach Brandywine Falls, the train slows again to afford us a fleeting glimpse of its waters spilling over a ridge of rock below us. The name resulted from a bet between a two railway surveyors, as to the height of the falls. One of them bet a bottle of brandy, the other a bottle of wine.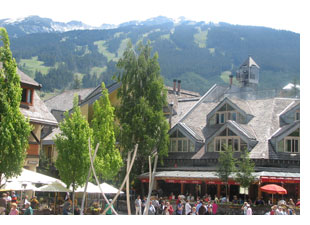 At Whistler, the chill of the morning has given way to brilliant sunshine and the village is filled with holiday crowds: teens on bikes, young couples hand in hand, and families with toddlers in tow.
There can be no more satisfying way to conclude my day on the Whistler Mountaineer than to be thoroughly indulged in the luxury of the Glacier Dome coach. No sooner do we pull out of Whistler on our return trip, than our gracious hostess, Dana, places a tray complete with linen, silverware and crockery in front of me.
I nibble on dainty tea sandwiches—salmon, watercress and ham. This is followed by a serving of freshly baked, gossamer-light scones, accompanied by whipped Devonshire cream and strawberry jam. And then, as a finale, a selection of exquisite French pastries, with a cuppa fragrant Earl Grey tea.
Trays cleared away, Dana asks what I'd like to drink. A pinot Blanc eases the last leg of my journey home. It is classy and smooth. Not unlike the Whistler Mountaineer.
About the author:
Margaret Deefholts is a Canadian author, and much travelled freelance travel writer/photographer. Visit her website at www.margaretdeefholts.com
If you go:
The Whistler Mountaineer runs daily from May 1st to October 16th departing at 8.30 am and returning by 5.30 pm. with a 90-minute break in Whistler village. For the convenience of guests, a complimentary motor coach service operates from Vancouver downtown hotels to the Rocky Mountaineer North Vancouver station and back. For further information on services, timings and prices, go to http://www.whistlermountaineer.com Or phone 1-888-687-7245
The photos:
1: Waiting at the station for the "All Aboard". Margaret Deefholts photo.
2: The grandeur of the Cheakamus Canyon. Rocky Mountaineer Vacations photo.
3: Whistler, overlooking the village to the mountain backdrop. Margaret Deefholts photo.