by Lauren Kramer
My first ski lesson, some 13 years ago, saw me clinging to my ski instructor on a Banff bunny hill, sinking my nails into his sleeve lest he try to escape.
His parting words are memorable to this day. "In all my years of teaching skiing, I've never seen anyone as afraid as you," he said flatly. That was it. I headed to the Clubhouse, removed those skis and never ventured back.
But after years of listening longingly to the stories of powdery snow and perfect conditions from skiers just back from the runs, I determined there must be another way to experience the majesty of the mountains.
I headed to Whistler (site of the 2010 Winter Olympics), to find out, and discovered the answer was a resounding yes. Other options abound-many of them a whole lot safer than skiing and snowboarding.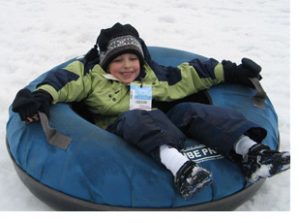 Take snow tubing, for example. With no skill or equipment required, the only prerequisite is that you can get your bum into the middle of an inflated tube and hold on tight. Gravity takes care of the rest.
At Whistler's Coca Cola Tube Park, which opened in 2006, you pick up your tube and board an escalator-like contraption that escorts you to the tubing summit.
Here, you sit down and with a brisk shove from an attendant, you're off, hurtling down the slope at phenomenal speed-with no prospect of injury. At the bottom of the slope, everyone wears the same exhilarated grin on their faces, be they six or sixty.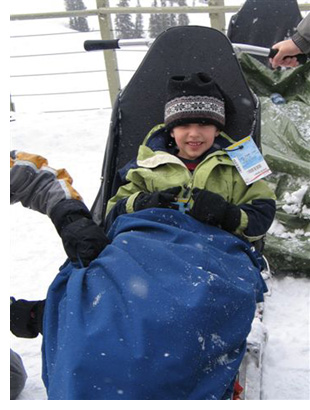 For a more serene glide down the mountainside alongside skiers and snowboarders, you can't beat the Sno-Limo for comfort, ingenuity and convenience. Just a year old, the Sno- Limo is like a ski stroller for adults.
Strapped securely into a seat on skis, passengers are escorted down the slopes by their limo driver – an experienced skier who knows precisely how to manoeuver the contraption in order to control its speed, angle and the smoothness of its commute.
The day I boarded, snow flurries were everywhere, while a thick fog covered the mountains in a ghostly mist. Still, the mountain was magnificent, and I relaxed beneath a warm blanket in the limo chair, enthralled by the speed, the proud evergreens, their branches heavy with pure white snow, and the remarkable agility of the many skiers we passed.
Trusting entirely in the skill of my chauffeur-driver, there was nothing for me to do but appreciate the scenery. And in a place like Whistler, that's never hard to do.
"We invented the Sno-Limo as a way to get our mom on the slopes, so she could see how well her grandkids were skiing," explains co-owner Guy Auger. "Research shows that at least fifteen percent of visitors to Whistler don't ski. With Sno-Limo, these individuals can participate in on-slope, on-snow activities without learning any new skills."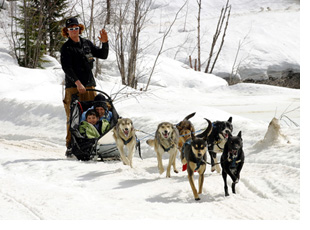 Some of the best ways to travel through the snow are those that have been around the longest-like dog sledding. Though not typically available in relatively warm climates like Whistler, local entrepreneur Bob Fawcett decided to give Whistler visitors a chance to experience this ancient form of transportation.
He opened Whistler Dogsledding in 1999 with a team of Alaskan Huskies, a crossbreed of Huskies, Greyhounds and Pointers that function well in the area's relatively warm temperatures. Today, his team of 282 canines are slightly smaller their Siberian Husky counterparts, but just as eager to run.
While my six-year-old and I cuddled up in the sled, our team of six excited dogs, all yelping and jumping with excitement, was harnessed. The driver, known in dogsled terms as a 'musher', hopped on the back, and with a single whistle, the dogs were off, tearing along a snow-covered path with energy that didn't wane throughout their 14-kilometer journey.
The air was crisp, and once their run began the barking ceased and the canines focused entirely on the job of pulling their three-person cargo, kicking the snow behind them as they raced along a trail in the Soo Valley, twenty minutes from Whistler.
In the absence of gondolas, ski lifts and trendily dressed skiers, the surroundings were pristine, devoid of human fingerprints. Mountains soared from the valley, while glacier-fed rivers tumbled over the rocks, and lakes still wore their icy winter coats.
We bumped along the trail at terrific speed, and as the chilly breeze added a pink glow to our cold cheeks, I couldn't help but think that this story would trump the skiers-for one night, anyway.
About the author:
This week Traveling Tales welcomes freelance travel writer Lauren Kramer who lives in Richmond, a suburb of Vancouver, B.C.
About the photos:
1: Snow Tubing offers an exhilarating, fun ride down the slope for people age 6 through 60. Lauren Kramer photo.
2: Six-year-old Jason Aginsky gets strapped into the Sno-Limo in preparation for a trip down the Whistler mountainside. Lauren Kramer photo.
3: A musher directs a team of Huskies, along a track in the Soo Valley, just outside of Whistler. Whistler Dog Sledding photo..
If You Go:
Dog Sledding tours operate late November through May, costing $298 per couple, and $75 per child accompanied by two paying adults. For more information call (604) 932-0647 or visit www.adventureswhistler.com
Accommodation: Whistler's trendiest new hotel is the adara, located in the heart of the village. Call (866) 502-3272. Or visit www.adarahotel.com
Sno-Limo excursions operate as long as the mountains are open, and range in duration from one to five hours. Prices start at $90 per person; for more information visit www.sno-limo.com or call (888) 568-5466.

The Coca Cola Tube Park, accessible via the Excalibur Gondola at Whistler, is open 10am until 8pm Sunday through Wednesday, and until 9pm Thursday through Saturday. Tickets start at $15 for adults, $12 for youths and $10 for children.

For more information on Whistler, contact www.tourismwhistler.com or call (800)WHISTLER.