by Chris Millikan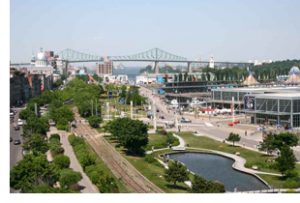 History buffs love sauntering along old Montreal's cobbled European-style streets…or wandering her public squares surrounded by grand cathedrals, historic homes and museums.
My hubby Rick and I recently join the curious throng and probe this cosmopolitan city's earliest days.
At Musee Pointe-a-Calliere's theatre, a multi-media journey through six centuries kicks off our exploration of Montreal's birthplace between the St. Lawrence and Little St. Pierre Rivers.
This innovative three-story archaeological museum rises sleekly above the original town site where Paul de Chomedey and thirty-five French colonists settled in 1642.
A stroll through Fort Ville-Marie's subterranean remains reveals traces of the early palisade, first Catholic cemetery, base of the old customs square…even experiencing the sights and sounds of a lively market day, circa 1750.
And from the third floor open-air Lookout, we view panoramic Vieux-Port's busy quayside, nowadays a landscaped 2.5-kilometer-long linear park complete with flowers, sparkling water fountains and pools.
Nearby, Place Royale (now Place d'Youville) developed later atop Little Saint-Pierre River. Here a soaring granite obelisk recalls those plucky settlers beginning new lives on this strategic point of land at the foot of Mount Royal.
Two blocks away, an old fire station encloses Centre d'Histoire de Montreal, a small but charming museum reflecting city history through stories of celebrated personalities.
Northward along Rue St. Jacques, the sparkling Trade Center dwarfs sober financial institutions left from Montreal's early financial Wall Street days, notably the Bank of Montreal, Canada's oldest bank and the New York Life building, once North America's tallest skyscraper at 10 stories.
Nearby we encounter Cathédrale Marie-Reine-du-Monde whose unexpected grandeur resembles Saint Peter's in Rome. But here, patron saints of parishes grace the facade rather than apostles as on the famed Basilica.
And elaborate interiors reflect new world history, except for the marble altar canopy imitating Bernini's work in St Peter's. In the distance we spot McCord Museum, permanently chronicling Canada's momentous past in McGill University's oldest part.
Amid Place d'Armes, a central monument commemorates Montreal's founders: Maisonneuve, who fought a battle here; Jeanne Mance, founder of Hotel-Dieu-de-Montreal, first hospital; trader and soldier, Charles Lemoyne; major Lambert Closse with his faithful dog Pilote and an unidentified Iroquois brave.
But the magnificent Basilica de Notre-Dame dominates this historic square, her spectacular interiors sculpted in wood and gold leaf. Inspiring stained glass windows illustrate biblical passages as well as parish history. And for over two centuries, seigneurs resided next door at St-Sulpice Seminary, still topped by a clock dating to 1701.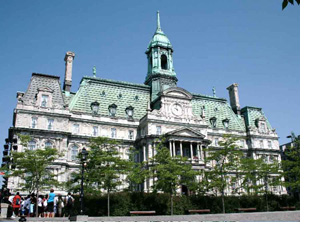 Stretching from Vieux-Port to Rue Notre-Dame, fine 19th-century townhouses and mansions surround Place-Jacques Cartier.
Though Admiral Nelson's monument towers over this cobbled square, it carries the French explorer's name. Once a large public market, Victorian streetlamps, tubs of red and yellow flowers, buskers and artists now create a lively ambience in this hillside square, day and night.
Along with locals and hoards of others, we toast Old Port's panoramas from beneath flamboyant red awnings at one of its many sidewalk cafes.
At the top of the plaza, Hotel-de-Ville outshines a somber cluster of early courthouses.
From the grand balcony of this City Hall, French President General Charles de Gaulle once shouted, "Vive le Quebec libre!" causing quite a stir during his 1967 visit. Behind, we find remnants of a 6.4-meter high wall once stretching three kilometers around old town.
Across the street, Chateau de Ramezay awaits; attendants in ruffled blue dresses, white aprons and poke bonnets greet us.
Built in 1705 for Montreal's Governor, 15 connecting rooms housed his family of 16 children. With remarkable 17th-century artifacts and furnishings this stone, peak-roofed mansion exemplifies the gracious lifestyle of its esteemed residents.
Behind the house we wander the French-style Governor's Garden, tranquil and fragrant. Inspired by gardens at Versailles, this spot replicates former seigneurial gardens flourishing with fruit trees, flowers, vegetables and medicinal plants…but on a much smaller scale. "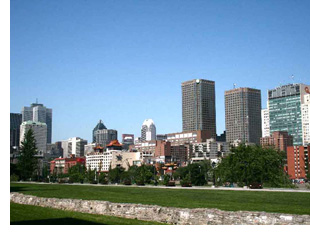 Then, everyone had gardens; large ones like this covered nearly two-thirds of the old fortified town," explains the gardener, harvesting pungent chives, young carrots and emerald sprigs of parsley.
Within blocks, dramatized audiotapes guide us through another nineteenth century residence. Fashions and authentically restored, lavishly furnished interiors allow peeks into Sir George Etienne-Cartier's influential life and glitzy high society of his day.
Fondly remembered as Father of Canadian Confederation, his considerable achievements also included creation of Quebec's civil code and development of the Grand Trunk Railroad, all documented in his faithfully restored office.
Looping back, we pass Maison-de-Pierre Calvert from 1725, possibly the most photographed of all the heritage houses.
Currently a first rate inn and restaurant, striking wine-red doors and window frames contrast with massive grey rock walls, chimneys and steeply sloped roof.
The original homeowner collaborated with rebels during the American Revolution, holding clandestine meetings here with Ben Franklin, an envoy sent in 1775-76.
In the same neighborhood…and fondly nicknamed the Sailor's Church, Montreal's oldest chapel is immortalized in Leonard Cohen's Suzanne.
Notre-Dame-de-bon-Secours has been a place of pilgrimage since 1665. Mariners believed the 10-meter rooftop Virgin Mary and her glorious angels safeguarded them at sea; some donated tiny ships in appreciation, many of which we notice hanging in the chapel.
Up 92 winding steps, we gaze over old town and harbor. Adjacent, Ecole Bonsecours school was replaced with a small museum chronicling first teacher Marguerite Bourgeoy's life.
A leisurely walk westward takes us past silver-domed Marche Bonsecours, Montreal's major agricultural market for over a century. Restored for its 150th anniversary, her long 100,000-square-foot limestone building has been re-established as a modern marketplace featuring specialty shops, exhibitions and sidewalk cafes…
By strolling Montreal's historic streets and acquainting ourselves with early personalities, we'd traced the development of this little French fur-trading town into today's happening metropolis.
About the author:
This week Traveling Tales welcomes freelance travel writer Chris Millikan who lives in North Delta, a suburb of Vancouver B.C.
About the photos:
1: Vieux-Port's busy quayside. Rick Millikan photo.
2: Montreal's old city hall. Chris Millikan photo.
3: Montreal's old wall. Chris Millikan photo.
If you go:
www.tourisme-montreal.or

g Tourism Montreal provides detailed information for all travel needs.

www.bonaparte.com In the heart of the historic district, this jewel offers cozy rooms and out-of-this-world complimentary breakfasts.
www.hotelxixsiecle.com A renovated1870 bank, this beautiful boutique hotel provides stylish rooms and comfort.
www.borisbistro.com One of the old city's most charming bistros offers great food with terrace seating.