Chinatown in Victoria, BC is a Treasure Trove of Travel Adventures
by Margaret Deefholts
Nothing and no one can destroy the Chinese people. They are relentless survivors. They yield, they bend to the wind, but they never break.
– Pearl Buck in China Past & Present.
Victoria's Chinatown this early May morning is misty: the flamboyant gold tiles and red pillars of the Gate of Harmonious Interest on Government Street are muted and Fisgard Street beyond the Gate is veiled in chiffon-like tendrils of mist. I feel as though I'm standing on the edge of a world shrouded in mystery, of whispered secrets and strange fantastical tales.
What of the past lingers on here, except in my imagination? Do Chinatown's labyrinthine lanes still carry the faint rattle of mah-jong tiles, are its alleyways still suffused with the sickly sweet smell of opium? Do the ghosts of seductive women still lounge in the shadowy doorways, their dark almond-shaped eyes holding the promise of wickedly sensual pleasures?
I'm about to embark on a journey viewed through a keyhole into a hidden culture, little understood by most white Canadians at the time. Or even today for that matter.
John Adams, host of Chinatown Walks, talks about those times—and the Chinese who came here in search of a dream during the heady days of the gold rush back in 1858. "None of them intended to stay permanently in Canada." He says. "They figured on striking it rich, and going back to China wearing silken robes." Adams adds: "Some did. Most did not."
And so this is the story of those who didn't. The men whose days were lived out on these streets. It was a hard scrabble life, but even so, better than their prospects in China. So they hung on, tending their modest backyard vegetable gardens, and selling their produce at street stalls. Many found employment as seasonal cooks at logging camps, or toiled behind the steamy rush of a laundry tub. Thousands left Victoria to build, under appalling conditions, the Canadian Pacific Railway, in the process of which many would die of malnutrition and exhaustion.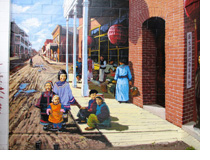 This is also a story of humiliation. A dark time in our history when racism flourished like a parasitic flower watered by discrimination and injustice. In an effort to discourage Chinese from coming to these shores, a head tax of $50 was applied (an enormous sum in those days), and when that failed to have the desired effect, it was increased to $500. It meant that many men weren't able to afford to bring their wives and children to Canada, and spent whatever leisure time they had hanging out in bars and gambling dens, their loneliness tempered only by the oblivion of the opium pipe, and the consolation of prostitutes. They worked hard, but the lure of easy money on the gambling circuit meant that they often lost hard too.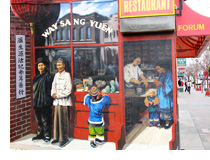 On Fisgard, Adams pauses before mural of this very same street, back in the 1880s. It portrays a squelchy mud road, flanked by houses with wooden balconies, and the artist has prettied it up by including kids and women – none of whom, according to Adams would have been there at the time. The adjoining mural depicting Way Sang Yuen's herbalist shop is no longer there (it's now in the Burnaby Village Museum) but today's Chinatown still boasts herbalists galore. I drop into one just a few steps away, and am engulfed by a completely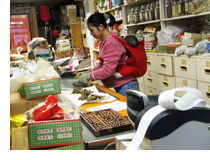 different world. The room is cramped, the glass display case filled with gnarled roots, twigs, seeds and other esoteric medicinal potions, labeled in Chinese. The herbalist doctor has a line up of people to meet with him, so I content myself with watching his assistant weigh several bundles of leaves and pound them in a mortar and pestle. She speaks no English, but smiles broadly. Her little girl offers me her kitten to stroke.
Would this tot be enrolled in the Chinese Public School just up the street, I wonder. The school had a troubled history: as an amalgamation of little privately run schools teaching Cantonese (remembering that many families hoped eventually to return to China) the Lock Quun Chinese School was declared illegal by the Canadian government which, in the same breath, barred children of Chinese origin from entering English public schools. A battle ensued, but eventually the Chinese Public School was recognized as an institution celebrating Chinese languages and culture. It still is today. Next to it is another time honoured institution, the Lee Benevolent Society. "Lee," says Adams, "is the most common of all Chinese clan names in Victoria."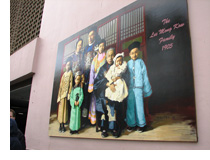 Probably the most illustrious "Lee" in Chinatown is featured on a mural directly opposite the Chinese Public School. Lee Mong Kow was a dynamic business entrepreneur, a dedicated champion of his Chinese brethren (he acted as a go-between between the Chinese and Canadian bureaucracy) and a tireless social worker. He somehow also managed to find time (and energy!) to sire seventeen children, thirteen of whom survived to adulthood.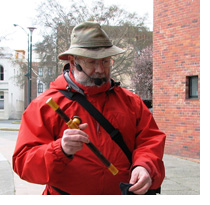 Adams takes us via Lee Mong Kow Way to Centennial Square once part of Cormorant Street, the very centre of old Chinatown. A few high class brothels flanked the street as did an opium factory. Opium was legal then; gambling however was not!
Crossing over to what is Market Square today, we find out that this was where the boundary of Chinatown ran – once demarcated by a stream (now flowing underground). Adams hands around "Heaven Bank" paper notes of $10,000 denominations.  These are usually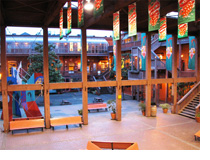 burned (along with joss sticks) at funerals to ensure that the spirits of the departed are comfortable and have money to spend in the afterlife. This is a prelude to the most fascinating of all subjects on this tour—the traditions and rites which shaped Chinese lives, not just then, but also today. Adams is a superb raconteur, and his perceptive insights shed light on Eastern beliefs that stand in contrast to our pragmatic Western outlook.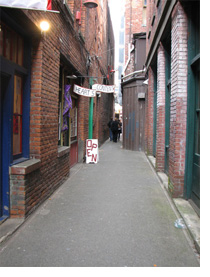 A highlight of the tour is Fan Tan Alley, a narrow lane running like a crack between red two-storey brick buildings. Despite the souvenir shops and trendy clothing racks lining the alleyway, there is much that evokes a sense of the past—secret gambling and opium dens that flourished above the alley and its maze of tributary lanes. Chinese signage mark entrances to hidden courtyards such as the one where Adams gives us a quick demonstration of how to play Fan Tan, the popular gambling pastime from which the alleyway derives its name. A red wooden door carrying the number 23 ½ denotes a mezzanine residential apartment tucked in between floors—at one time it probably housed several men rooming together to save money. Like Fan Tan Alley, Dragon Alley on the north side of Fisgard street, was also a secluded labyrinthine neighbourhood.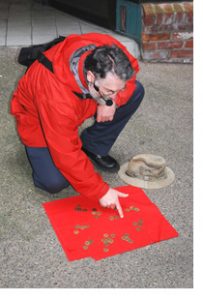 Although the Chinatown Walking tour with John Adams ends at the Gate of Harmonious Interest, he offers to accompany those of us who are interested in taking a look at the oldest Chinese temple in Chinatown. Housed in the topmost floor of the Yen Wo Society building across the street, the Tam Kung temple is worth the climb of 51 steps.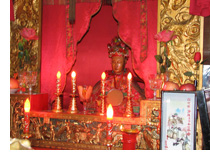 A patron saint of seafarers, Tam Kung's statue is resplendent in red and gold brocade robes, set within an elaborate gilt framework which glows in the light of candles. Ornate silk processional flags and banners cover the walls, and the altar is laden offerings of fruit and flowers. Few devotees are here this morning, and the temple is tranquil, the only sound being the muffled 'whoosh' of traffic wafting up from Government Street. Adams talks about Eastern beliefs in predestined fate, and the search for answers to questions, obtained by tossing small wooden tokens, or the process of vigorously shaking bamboo sticks in a container, to reveal coded messages predicting health and prosperity, or the lack of it.
As we emerge back onto the street, the morning mist has dissipated, and bright sunshine floods Chinatown's main thoroughfare. Nothing could be more welcome at the end of the tour than a Chinese meal, and nothing fits the bill better than the long established Don Mee restaurant where the spicy Szechwan fare is as terrific as a good-luck Chinese Dragon's blessing.
My fortune cookie says, "Much will be revealed to you." True enough!
IF YOU GO:
Chinatown Walks take place every Saturday at 10:30 am throughout the year (and on Tuesdays, Thursdays and Saturdays during July and August). They last 90 minutes and start from the "Bright Pearl" sculpture in front of Starbucks Coffee at the corner of Fisgard and Government streets, opposite the Gate of Harmonious Interest.
No reservations are needed. Adults $12; students and seniors $10; families $30. Purchase tickets from the guide before the tour starts. Group tours any time by prior booking.
For more information on Discover the Past Chinatown walks go to http://discoverthepast.com/chinatown-walks/

Inside Chinatown: Ancient Culture in a New World

#ad
Photos by Margaret Deefholts (except when otherwise indicated)
Mural of Herbalist Shop in the 1880s
Mural of Fisgard Street in the 1880s
A herbalist shop in today's Chinatown
Opium license costing $250.00
John Adams shows his audience a Chinese opium pipe
Fan Tan Alley – 3 feet across at its narrowest section.
John Adams demonstrates the gambling game of Fan-Tan (Photo: Ursula Maxwell-Lewis)
The origins of Victoria's Chinatown were in today's Market Square
Prayer shrine in Chinatown's oldest temple, Yen Wo Society
Gate of Harmonious Interest – Government & Fisgard Streets
Poster of Lee Mong Kow