by Teresa Bondavalli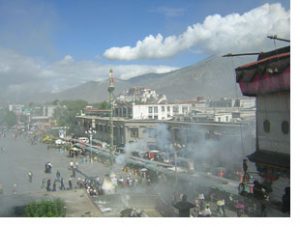 Like other Tibet admirers, I waited a long time to get to visit this country that has been virtually inaccessible for almost all of its existence.
When Tibet came under Chinese rule in the 1950s, the Chinese weren't very anxious to let outsiders in either. But, China has discovered that allowing tourism in Tibet is one of the only ways this remote mountainous region can generate revenue for China. They have re-built dozens of monasteries that were destroyed during Mao's Cultural Revolution for the sole purpose of drawing tourists.
The Chinese government claims that they do not permit tourists to travel in Tibet alone. They suggest one of their big Chinese tourist agencies.
There aren't very many others that make it through the Chinese red tape, but I found a sly woman from Arizona named Dulce Garcia who runs Quest Tours.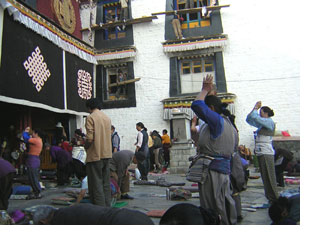 She has a love of Tibetan Buddhism and manages to maneuver through the beauracracies of the Chinese government with the help of Shigatse Travel in Tibet. She took six of us on a tour that included fascinating information about the culture and the religion.
To understand Tibet today, it is necessary to understand that The Dalai Lama, the exiled leader of Tibet, is the number one bad guy in China's eyes because the Tibetans still have devout loyalty to him.
He hasn't set foot in his home country since 1959. His picture and even talk of him is banned throughout Tibet. (Although, there were cunning Tibetan capitalists who sold photos of the Dalai Lama with large sunglasses drawn over his face.)
In the capital of Lhasa, we quickly distinguished between the tiny authentic Tibetan part of town and the burgeoning Chinese presence in the rest. Today, Lhasa looks much like any modern city.
The main street has four lanes and is full of cars, bicycles and rickshaws. It is lined with new trendy Chinese shops. Going into the Tibetan quarter is like falling into a time warp, but Tibetans are adjusting to their new intruders.
The Chinese aren't the only ones making money off of the tourists. Tibetans in the Barkhor market will clean you out. These budding capitalists will haggle with you over all kinds of traditional items. I bought prayer wheels, prayer flags, jewelry, prints of scriptures and drawings, and Thangka paintings.
The shopping and haggling was so addicting to a Westerner like me that I got so taken up in it that I didn't see what was at the center of the big Barkhor square: the Jokhang temple. If you visit in the morning, you can see Tibetans streaming in for miles. With bedrolls and packs, the pilgrims look like they carry everything they need with them. Many have walked thousands of kilometers.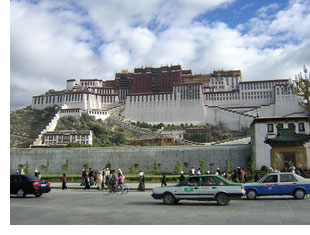 This is the holiest temple in Tibet. Most Tibetans feel that they must make it to the Jokhang temple before they die. You will get pushed aside by a tiny old Tibetan who's been waiting for a blessing from the Buddha his whole life. People are outside at all hours prostrating in front of the temple. A chimney where pilgrims burn incense fills the whole square with its smoke.
From the roof of the Jokhang, you can see the Dalai Lama's Potala Palace. It is immense. It stands like a man-made mountain amongst the other natural mountains.
Inside the palace, there is an enormous amount of gold built into the tombs of previous Dalai Lamas, but it is so dark that it is hard to fully appreciate the beauty. It is gloomy and cold inside the palace. The current Dalai Lama has often said that he preferred Norbulinka, his summer palace.
The Chinese government had just opened Norbulinka for viewing when we arrived. It was a bold move, because the small yellow house was especially built for the current Dalai Lama. We stood at the gate where the Dalai Lama escaped incognito in the middle of the night in 1959. He arrived in India, and has been living there ever since.
Our little tour group also saw four monasteries. At one that was off the beaten path, we got to sit quietly and listen to the monks do their morning chants. They offered us yak butter tea (which tasted better than it sounds, kind of like caramel). At another, we watched monks debating each other informally in a courtyard.
I got plenty of chances to practice saying, "Tashi Delek," a cross between a greeting and a blessing. That and a smile will get you far with Tibetans, who seem very friendly and welcoming. Tibetans live lightly and smile easily. To me, that is their distinctive trait. I know that many of them have been through much hardship, but they seem to hold joy very close to the surface.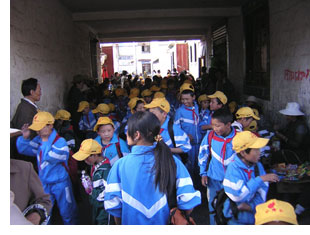 The Tibetans worry and pray for the Dalai Lama. As much as I admire him, I don't worry about him. I worry about the future of Tibet. I worry for the Tibetan children who go to Chinese schools and are taught Mandarin instead of Tibetan.
I think it's amazing that this ancient culture still exists after all these centuries.
But now, I'm afraid that the world is on the verge of losing this astounding culture forever. At least visitors can take with them a little bit of the magic of Tibet.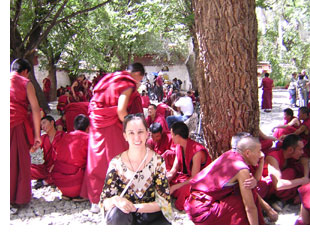 About the author:
This week Traveling Tales welcomes Teresa Bondavalli, a freelance travel writer who lives in Illinois, USA.
The photos:
1: In Barkhor Square, a chimney where pilgrims burn incense fills the whole square with its smoke. Potala in the distance.
2: Pilgrims prostrating in front of the Jokhang Temple.
3: The massive Potala Palace:
4: Tibetan kids getting out of school.
5: The author posing with a group of monks debating in a courtyard.