by Jane Cassie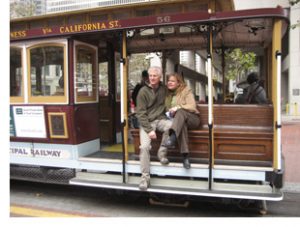 How do time-deprived couples manage to stay blissfully connected these days? While juggling jobs, kids and homestead, who has the energy to keep love alive and sparks flying? Desperate for a pulse-quickening gift, and one that's far from daily demands, I quickly Google 'romantic places.' In a jiffy my electronic genie comes to the rescue! San Francisco, a short flight from Vancouver, is listed as one of the top spots to smooch.
It's also the place where crooning singer, Tony Bennett, once left his heart. Surely during a three day stint of Valentining, we'll be able to unite ours!
I refine the search to discover that this peninsular enclave, that's rimmed on three sides by shimmering waves, is bursting with tantalizing opportunities.
We could mosey around tourist haunts like Fisherman's Wharf where we'd dine on Dungeness crab, then stroll Ghirardelli Square to sample my favorite aphrodisiac –chocolate.
Cuddling on a cable car, sauntering along a stretch of sand and caressing on a harbour cruise –they're all 'amoré must dos.' Many of the popular tourist icons are included in the City Pass, a coupon book that'll give us a great bang for our buck. By supplementing it with a few of these other intimate ideas, I'll surely spoil my sweetheart!
Flying high
We get a real lift while flight-seeing, heli-style. San Francisco Helicopters have been offering whirly bird tours since 1976 and as well as sweeping us off our feet they'll give us a panoramic city view in just thirty minutes!
We'll peer down at Alcatraz, the infamous island prison where mobsters like Al Capone did time, fly above (and under!) the Golden Gate Bridge that spans the glistening bay, and glide above skyscrapers that frame this dreamy city.
We get some real live action
As well as offering more than twenty museums to appease our cultural desires there's one particular live performance that would even tweak Aphrodite's interest. Beach Blanket Babylon, the longest running musical revue in theatre history, is a wild and wacky parody on American pop culture.
It features outrageous entertainers who are decked out in flamboyant costumes, massive hats and big hair. Some mimic famous actors and not so popular politicians, others try to help Snow White find her true love. All four hundred seats in the cabaret style, Club Fugazio, offer a good view, but I'll need to book early as most shows sell out.
Hand holding hills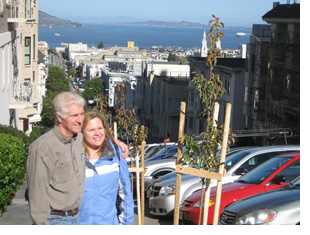 There'll be lots of palm to palm and heavy breathing going on when we tackle a few of San Francisco's slopes!
From Russian Hill, we can traipse down Lombard, a hairpin street that's rated as one of the most crooked in the world. A plod up Nob Hill will take us past elite apartment buildings and luxury condos where the wealthy hang out. And on Telegraph Hill we can take in the sunset from the Coit Tower.
This beacon not only commemorates San Francisco's volunteer fire department but also dubs as a romantic lookout, whatever time of day.
Cozy Nooks and Neighborhood
San Francisco is dotted with uniquely flavored neighborhoods and each one sports its own personality and allure.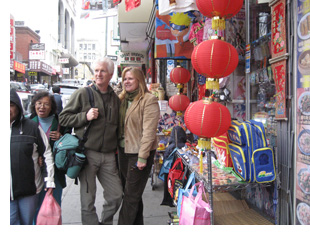 Chinatown, clad in festive colours, offers everything from decorative dragons to delicious dim sum. A short stroll away is the square mile of North Beach where tantalizing Italian coffeehouses, bars and bakeries dish up delicacies, Bohemian style, and if shopping turns us on, Union Square is the place to roam.
We can check out an award-winning film in the Castro area, head to Alamo Square where the city backdrop and rows of pink ladies (Victorian homes) will provide a great photo memento, and most definitely meander through the famous Haight-Ashbury district.
After all it is the original home to flower power, 'be-ins' and free love.
About the author:
This week Traveling Tales welcomes the freelance travel writer/photographer team of Jane and Brent Cassie, who live in South Surrey, a suburb of Vancouver B.C..
Photos by Brent Cassie:
1: Enjoying a cuddle aboard one of the city's cable cars.
2: Jane and Brent on one of the city's hand-holding hills.
3: Chinatown is alive with festive colour.
Where to stay:
Hyatt Regency San Francisco
5 Embarcadero Center,
San Francisco, California, USA 94111
Tel: +1 415 788 1234 Fax: +1 415 398 2567
www.sanfranciscoregency.hyatt.com
What to do:
City Pass: www.gosanfranciscocard.com/
Beach Blanket Babylon: www.beachblanketbabylon.com/
San Francisco Helicopter Tours: www.sfhelicoptertours.com/