by Lauren Kramer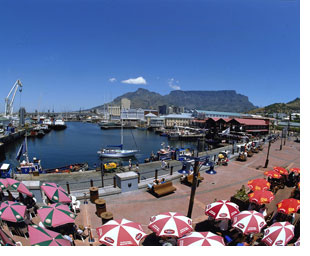 It was called the Cape of Storms by early Dutch settlers, whose ships floundered in turbulent seas on the jagged rocks surrounding the southern-most tip of Africa.
When flying in to Cape Town today, however, visitors are greeted by an azure ocean and silky beaches, set against a mosaic of mountain ranges. With its perfect weather, its affordability, and the energy and excitement that pervades this city, Cape Town is a vacation destination you'll talk about for years afterwards
That's because there's just so much to do here. Cape Town is sandwiched between the Indian and the Atlantic oceans, and each of these beaches has a distinctive personality. You could be sun tanning and people-watching on the town's trendiest beach one day, and cavorting in the surf with African penguins on the other side of the mountain the next.
Music throbs in St. George's pedestrian street mall, where artists capture the brilliant splash of summer colors on canvas. The Waterfront, a complex of museums, restaurants, stores and hotels situated in the Table Bay harbor, constantly buzzes with activity. Here, sociable seals bask in the sunshine and pirouette in the water, while cosmopolitan shoppers revel in the value of the dollar against the weak South African Rand.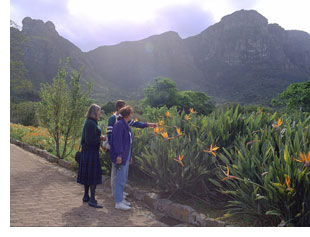 Me, I prefer to escape the rush of traffic when in Cape Town, and experience the city's beauty on one of its many hiking trails that weave their way into the mountains. Traversing the uppermost reaches of the city, these peaceful, un-crowded pathways lead visitors past some of Africa's magnificent flora, fauna and bird-life as well as offering spectacular ocean vistas.
One oft-hiked route is the steep incline to the zenith of Table Mountain, the flat, table-top-like mount that is Cape Town's signature landmark. But if tight for time, taking the cable car is a good option. A $20 round trip ticket gets visitors to the summit in minutes, where they can enjoy unrivalled views of the city.
A longer hike through the mountains will take you to the thirty-six hectares of Kirstenbosch gardens, acclaimed as being one of the world's top seven botanical gardens. Kirstenbosch include a medicinal garden, a fragrance garden and one dedicated to proteas, the country's national flower.
Cape Town is home to diverse ethnic cultures. One can literally taste that variety in the country's cuisine, where fried pastries like samosas, koeksusters and fish and chips speak of India, Holland and Britain. And hear it too, as you walk downtown on an average day, and the sound of the country's eleven official languages and numerous dialects fills your ears.
Yet it is also a country with a history of apartheid, a system of brutal discrimination that deeply scarred the psyche of its citizens, leaving a legacy of suffering and pain in its wake. Though the country is certainly recovering, it's a slow process, and one that includes high rates of unemployment, substance abuse, crime and rape.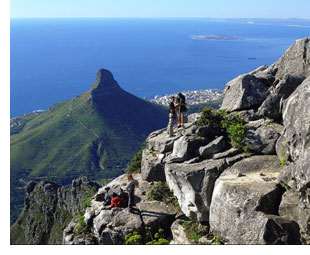 Robben Island, once a maximum security prison for political activists during the apartheid years, is a national monument and museum today. Tours (which include a 40-minute boat trip from the harbour) are conducted by former inmates, who teach visitors about the harsh conditions of prison life they endured here.
Nelson Mandela, leader of the then-banned African National Congress and Past President of the country occupied one of Robben Island's many cells for twenty-seven years. After his release in 1990, he proclaimed Robben Island a symbol of the victory of the human spirit over political oppression.
In its own idiosyncratic way, Cape Town has come to terms with its past. By focusing on forgiveness and erecting museums that honor the communities destroyed by the apartheid government, a spirit of triumph and jubilation fills the air. Optimism energizes those who live here, while also drawing visitors from far and wide.
The Cape has weathered its storms to be sure, and has overcome them with strength and courage.
About the author:
This week Traveling Tales welcomes Lauren Kramer, a professional writer who lives in Richmond, near Vancouver B.C., on Canada's west coast.
Photos courtesy of South Africa Tourism:
1: The bustling walkways of the waterfront that offer a perfect vista of Table
Mountain.
2: Visitors admire proteas, South Africa's national flower, at Kirstenbosch
Gardens.
3: Climb Table Mountain and you get a bird's-eye view of Robben Island, Lion's
Head Mountain and the city of Sea Point.