by Lauren Kramer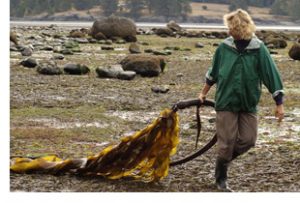 "Go ahead, taste it," says the Seaweed Lady, offering a long strand of bull kelp seaweed.
I'm standing on a beach on the southwestern tip of Vancouver Island, inspecting an assortment of slimy-looking seaweed that Diane Bernard, a.k.a. the Seaweed Lady, has carefully laid on the rocks.
She'd been up at 6am that day, she said, collecting fresh seaweed before the tide came in, and though her harvest is over for the year, there were still a few good offerings. With hesitation, I broke off a small piece of bull kelp, secretly thinking, 'this much can't kill me.' To my surprise, it tasted vegetable-like, with a soft, chewy texture that was far from unpleasant.
Bernard, owner of Outer Coast Seaweeds, is somewhat of a specialist when it comes to seaweed. For the past four years she's been harvesting 12 varieties, selling them to chefs for culinary use and turning them into a line of 10 beauty products that she sells to spas.
Between April and October she also operates seaweed tours, taking visitors out during low tide to educate them on the 250 species of edible seaweed that proliferate in the Pacific Northwest.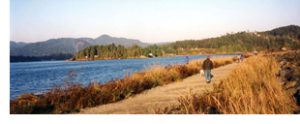 Her terrain is the beach just beyond the Sooke Harbour House, alongside a narrow stretch of land that twists like a dog's tail into the ocean. The area is straight out of a west coast fairy tale, from its very name, Whiffen Spit, to the white clapboard house that is Sooke Harbour House, with the acres of edible flowers that trim its perimeter.
Here, the high tea that has come to define Victoria is obsolete. In its place, there are long beach walks, a smattering of art galleries and interesting tangents like Bernard's seaweed tours.
Sooke Harbour House is a place defined by passion, a fitting place for a weekend getaway, though you'll need to book well in advance to get one of the 28 rooms. Owners Sinclair and Frederique Phillip are passionate about art, and the work they love lines every wall of the house. Some items constitute their private collection, while other items are for sale, many with gaspingly high price tags.
Another chief passion they share is food, a subject treated with the utmost seriousness in their restaurant. Dinner is a five-course meal at $74.95 per person, and draws on local seafood and meat and on the vegetables and flowers grown on property.
During the day, staff with wooden baskets crouch over the vegetable garden, collecting an assortment of home-grown produce. At night their collections are translated into sumptuous dishes most of us have never heard of, none of which is anything close to ordinary.
The night we dined, for example, the menu read like poetry. Pumpkin puree soup came with red begonia crème fraiche and an oxeye daisy radish sage flower salad, while the smoked albacore tuna came with nasturtium leaf and calendula grainy mustard emulsions, a gala apple chive root vegetable remoulade salad, fennel seed cracker and chickweed.
Even the sorbets were transported into an otherworldly realm, with flavours like cherry grand fir, jostaberry mint and apple rose hyssop.
One perk to staying at the Sooke Harbour House is the complimentary in-room breakfast served daily, and the picnic lunch you get to take with you the next day. We ate ours on the stony banks of the Sooke River, which churned and thrashed with spawning salmon in late October.
As they fought their way upstream to spawn in the eddies and crevices where they first hatched, we could not help but admire the determination and strength of these spring salmon in the face of a strong current, on a swim that would ultimately be their last.
Later, we traveled along the West Coast road to the Tugwell Creek Honey Farm & Meadery, where local entrepreneurs Robert Liptrot and Dana LeComte farm the 70,000 bees that produce their 2,500 kg of honey.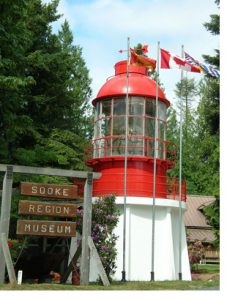 Braving about 100 bee stings a year, Liptrot turns some of his honey into mead, the dessert wine most often referred to in the works of Shakespeare and Chaucer. The mead is a deliciously different alcoholic beverage, and Tugwell Creek's varieties are hard to come by unless you stop in at the farm or visit the smattering of wine shops in BC that carry this product.
Sooke is a quiet town, which is the essence of its attraction. Offering intimate glimpses of the work of local artisans, hiking and some water sports, you'll be hard pressed to find a dedicated tourist attraction here.
We stopped in at the museum to tour Moss Cottage, the oldest standing building west of Victoria, furnished circa 1902. The cottage stands nearby an oddly placed lighthouse that hails from BC's Triangle Island, but was dismantled some 86 years ago because it was built too high to function effectively.
These days, its gigantic lens continues to blink unwaveringly, reminding those who come to Sooke that this corner of Vancouver Island is a diamond in the rough seas, as yet perfectly unblemished.
About the author:
This week Traveling Tales welcomes Lauren Kramer, a freelance travel writer who lives in Richmond, BC, a suburb of Vancouver on Canada's West Coast.
About the photos:
1: Diane Bernard harvesting a long length of seaweed. Sooke Harbour House photo.
2: A broad view of Whiffen Spit. Sooke Region Museum photo.
3: The lighthouse standing near Moss Cottage. Sooke Region Museum photo.