by Jane Cassie
"Pinch on a monkey tree," I chant, while gently tweaking my sister's arm. This kid-like prank immediately conjures up warm and fuzzy memories. It also reminds me of the saying, 'when you have a sister, you have a piece of your childhood.'
We see the prickly puzzle tree when we're parked in the ferry line-up at Crofton, a quaint community nestled in Osborne Bay on Vancouver Island. And over the next two days, while on Salt Spring, we escape our citified pace, and rejuvenate our 'inner child.'
The Pajama Party at Hastings House provides us with the perfect opportunity. Eiderdown duvets, soaker tubs, and private fireside dining -what more could two ladies on the loose ask for? Top it off with a massage, infused with the essence of lemon-grass and you'll find two silky-smooth sisters who smell better than Mom's meringue-topped pie.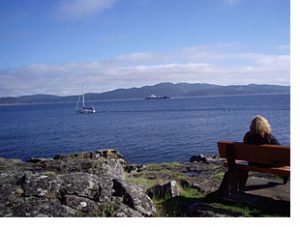 The twenty-two acre property overlooks scenic Ganges Harbour, and taking centre stage is a Sussex-style manor, built in 1939 by the founder, Warren Hastings. "It was fashioned after his family's 11th century home in England," the resident manager, Hazel, explains.
"The hinges for the doors and windows were made by a local blacksmith," she informs, "the fireplace stone was quarried from the surrounding land, and planks that line the floors were secured together with black boat nails." We enter the living room, where burnished fir gleams beneath scattered Persian carpets. Just beyond, is an upscale dining room that has magnetic powers every meal time.
Although we both qualify as true blue foodies, the last thing we need are extra Rubenesque pounds on our aging rumps. You'd think with so many activities at our fingertips, there'd be no need to worry.
We could cycle sun-dappled roads that bisect pastoral meadows, paddle rugged shorelines to check out teary-eyed seals, or dive beneath the deep. As well as being BC's most southern Gulf Island, Salt Spring is a sprawling twenty-nine kilometers in length, and is chock full of adventurous options.
Hordes of hikers and picnickers are lured every year to the summit of Mount Maxwell, also known as Baynes Peak. While en route they're canopied by old growth Douglas Fir and often share the trail with black tailed deer and feral sheep.
Once they reach the island's pinnacle the rewards are panoramic – with a vista that encompasses everything from Vancouver Island to the mainland. But instead of putting our well-padded duffs into action, we rev up our comfy sedan.
Even though the walk from Hastings House to Ganges town centre is a breeze, we don't want to miss a moment. It's market day, and the heart of Centennial Park is pulsating!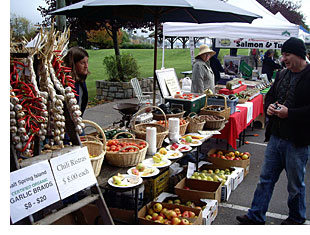 Every Saturday morning from April to October over a hundred artisans and farmers congregate to sell their goods. Tables, shaded by colourful umbrellas, border the parkway and host everything from bead work to bokchoy.
We sample sensuously sweet fudge, savor locally made goat cheese, and get personally pampered with a lavender scrub.
"All you have to do is rub and rinse," we're told, by the Soap Works owner, as he massages the heady granules onto one of my sister's hands. "And voila – a new you."
The instant transformation is quite miraculous as her dry scaly limb turns satin. My sister quickly purchases a packet of the product -I'm sure, with the intention of scrubbing more than just her other hand.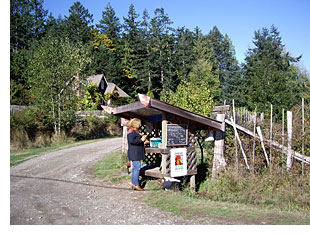 The string of bargains and vendor stalls carry on after we leave the market place. Roadside stands dot the hillsides on our island drive and brim over with everything from bright floral bouquets to the garden's daily pick. Most are unmanned, and operate by a trustworthy honor system -a refreshing change from our commercialized big box stores!
While cruising along the country roads that are fringed by farmlands, we giggle and gab and discuss everything from people to politics. We stop to check out schooners that bob in Burgoyne Bay and retrace the steps of time while peering into St. Paul's Church. This place of worship was constructed out of salvaged material, shipped from Vancouver by Aboriginal war canoes, back in 1885.
The 1906 Ruckle farmhouse is another heritage site that we happen upon, and just beyond is a park bench that overlooks Swanson Channel. From this ringside seat, we enjoy an awesome Salt Spring show. It's not a film that's staged or rehearsed, nor a play that uses any props. But it features a cast of first-rate performers.
Long legged herons and sun-basking cormorants poise stoically on the craggy shore. Excited gulls squawk overhead, then bomb-dive towards their bounty of prey. And two curious seals pop up from the deep to take a big bow.
But the height of excitement comes when the first signature dorsal fin slices through the sun-glinted waves. It's followed by another, and then another. And directly within our view, the Orcas arch above the water's surface, then dip beneath, and all with divine synchronicity. The splendor activates my digital camera.
It creates a sense of awe. And as we relax in silence side by side, another familiar saying comes to mind. 'Although we were born sisters, we grew up to be friends.'
About the author:
This week Traveling Tales welcomes author and freelance travel writer Jane Cassie, who makes her home in Surrey, a suburb of Vancouver on Canada's West Coast.
Photos by Jane Cassie:
1: Ringside seat in Ruckle Provincial Park.
2: Choices galore at the Salt Spring Ganges Market.
3: Roadside stands brim with the gardens daily pick.
Hastings House
160 Upper Ganges Road,
Salt Spring Island. B.C.
Tel: (250) 537-2362
Toll Free: 1-800-661-9255 (Canada and U.S.A.)
info@hastingshouse.com
http://www.hastingshouse.com
BC Ferries
1-888-BC FERRY (1-888-223-3779) from anywhere in North America
http://www.bcferries.com/res
http://www.bcferries.com