by Rita Cook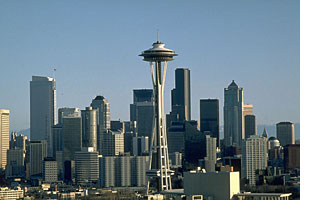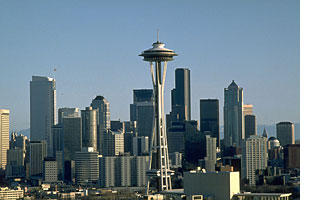 What could be more fun than a trip to Seattle with thoughts of coffee, grunge, computer genius protégés and of course, the Seattle Seahawks. On a recent trip to this popular Pacific Northwest town however, I found there was a whole lot more, and yes you can do it in 24 hours. In fact, Seattle has a real charm and appeal and to me this bohemian city reminded me a bit of San Francisco. San Francisco or not, Seattle is an eclectic city with a vibe all its own. It all started when the city became popular in 1962 after hosting the World's Fair. In fact, that's where the Space Needle came from – all 605 feet of it. It was built to show the world "the city of the future" and it has made a permanent mark on the Seattle skyline ever since.
There is also a restaurant at the top of the Space Needle that rotates every hour providing awesome views of Puget Sound and the Cascade and Olympic Mountains. I was hungry so I ate there, but even if you're not hungry just visit the observation deck at 520-feet with 360-degree views as well.
Seattle also has a good share of museums, theaters, parks and specialty amusements. Neighborhoods and historic districts are also quite popular, beginning with the well-known Underground Tour.
Take the 90-minute Underground Tour and experience a look back in time at Seattle. It is a historic, guided walking tour that takes the visitor beneath the city's sidewalks of Pioneer Square and other historic districts.
As I traveled through subterranean passages I discovered what was, at one time, the actual roadways and first-floor storefronts of the old city. The great fire in 1889 destroyed Seattle's downtown that was mostly made of wood and definitely changed the city's architecture forever. The Underground Tour explains how it all happened with a humorous and irreverent look at the past.
Seattle's museums range from music, to dolls to the more traditional natural history, fine art and flight themes.
Check out The Burke Museum of Natural History and Culture featuring artifacts from the Pacific Northwest including American totem poles, hand-carved cedar canoes, dinosaur skeletons and fossils.
The Experience Music Project has the entire city in a buzz and was the brainchild of Microsoft co-founder, Paul G. Allen. This museum is dedicated to exploring the creative and innovative American music scene including rock 'n' roll, jazz, soul, gospel and even hip-hop. It's huge at 140,000 square feet and it has over 80,000 artifacts including the largest Jim Hendrix memorabilia collection around.
For those strictly into art, the Henry Art Gallery is a must-see for modern and contemporary works. Lesser known museums in Seattle include the Museum of Glass, Science Fiction Museum and Hall of Fame and the Seattle Asian Art Museum.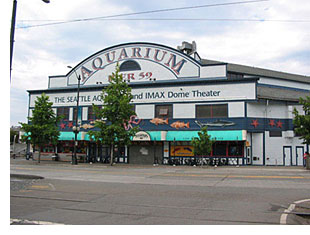 Since Puget sounds plays such a large role in Seattle's geography it is no wonder that there are many water activities for the visitor. Argosy Cruises is Seattle's largest water sightseeing tour operator and there are dinner and lunch excursions as well.
Seattle seaplanes will give you an excellent tour of the area from high-up or the "Ride the Ducks" tour will actually take you up close and personal to the water in a vintage DUKW vehicle straight out of World War II.
Many of Seattle's neighborhoods are still intact from times gone by and to visit is to get an idea of what the city once offered. Pike Place Market is the oldest continuously-operated farmer's market in the United States. It is also located in a nine-acre historic district in the heart of downtown.
Pioneer Square is another oldie, but goodie. Located on the southern fringe of the downtown business area, there are 20 square blocks of Victorian Romanesque buildings. It is also in this area where most of the museums, art galleries and restaurants come to life.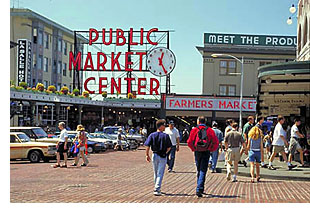 The Seattle Center is where the 1962 World's Fair actually took place and now it is a 74-acre park with museums, theatres and other attractions that constantly draw crowds. Make your way to the waterfront since it's a treat to watch the ferry boats, luxury cruise liners and sightseeing tour boats all move around at once.
The aquarium is located at the waterfront too and a visit to the IMAX Omnidome Theater is a good chance to see "The Eruption of Mt. St. Helens."
Wine tasting is really becoming a popular Seattle pastime with Bainbridge Islands Vineyards and Winery on the top of the list. It's a small family run vineyard that is just a 35-minute ride across Puget Sound. There is also the Redhook Brewery or the Pyramid Brewery offering free tours and tastings.
By the way, while in town, make yourself at home at the W hotel (1112 Fourth Avenue), a hip spot in the heart of Seattle's financial, retail and entertainment district attracting visitors and locals alike.
The 26-floor getaway also features the popular W Bar and The Living Room, a prime gathering spot for guests to meet and socialize and the last place I visited after a full day and a short night before heading to my next stop in the world of global meltdown.
About the author:
This week Traveling Tales welcomes freelance travel writer Rita Cook, who makes her home in North Hollywood, California.
Photos courtesy of the Seattle Convention & Visitors Bureau:
1: The Space Needle dominates Seattle's skyline
2: The Aquarium also offers the IMAX Theatre
3: The Public Market is a popular meeting place for locals and visitors