By Jane Cassie
Like an annoying metronome, the wipers slap in time to Michael Buble's rendition of Come Fly With Me as they clear the fresh cache of snow from our windshield. "What's with this?" I say to my husband who's sitting next to me in the driver's seat of our rented Chevy. "I thought we'd be escaping this white stuff." Although not crooning like Buble, I had ironically suggested this very idea to him a few weeks earlier. "Let's ditch BC's wet west coast and take off for some higher and drier ground. Santa Fe would fit the bill." I had heard that this New Mexico destination at 7,000 feet boasted 300 days of annual sunshine and only 14 inches of precipitation. What were the odds we'd be rained on, let alone see snow?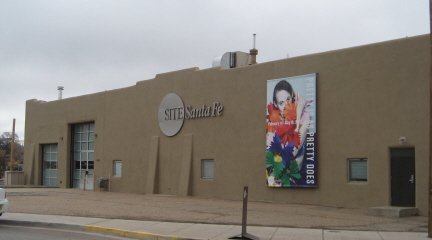 Fortunately, unlike our Vancouver home base, the temperature patterns in this high desert oasis change on a dime. By the time we check our map and highlight a few must-sees, the wall of cloud has dissipated giving way to glorious Santa Fe rays.
Like the weather, change is no stranger to this culture-loving capital. We saunter around the Railyard, a modern upbeat addition that fringes the city's classic core, and browse through the cluster of galleries that lure the more contemporary crowd. The fifty-acre plot is anchored by SITE Santa Fe, a warehouse-style venue that represents internationally-renowned artists. A short walk away is the upscale Sanbusco Market, hosting twenty-five chi chi shops. And on Tuesdays and Saturdays anything home grown and organic can be picked up in the popular Farmer's Market. At the heart of it all, and bridging the past to the present is a historical depot and the Railrunnner, a commuter train that whisks Santa Feans to Albuquerque in just over an hour.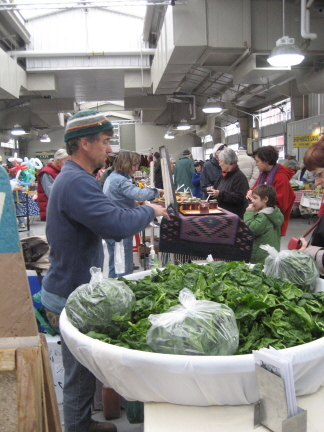 Bordering this area is downtown Santa Fe. "It's sure not your typical metropolis," I comment, as we veer onto the main road of Paseo De Peralta. "There's not a high rise or a neon sign in sight." The low-slung, flat-roofed adobe buildings appear to be hewn from New Mexico's landscape as they rise from the ochre soil like giant sleeping camels. The curvaceous shapes, housing hip galleries, trendy boutiques, and amazing museums are linked together by sliver-thin streets. Our drive circumvents the twenty-square disorderly blocks and offers us brief glimpses into the busy vortex. We've heard that the best way to explore the interior grid is to get out our walking shoes. And that's exactly what we do.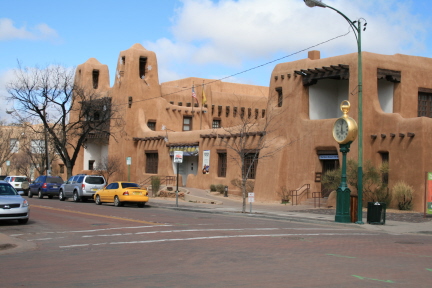 Like most visiting newbies, we start at the heart of it all, the plaza; a meeting ground that predates to the early 1700's when the Spanish conquistadors first arrived. Although the surroundings have certainly been upgraded since those early days, it's still a popular place to celebrate, schmooze and sell. The activities fans out from a pyramidal-type obelisk that commemorates the city's rich culture and history. Towering evergreens rim the square's perimeter and in shady comfort benches provide reprieve, musicians entertain, and local vendors display their goods: turquoise beads, silver bangles, splashy jewelry.
Sales pitches continue along the adjacent breezeway of the Palace of the Governors, where a line-up of indigenous craftspeople hawk their treasures. I walk away with more than my suitcase will hold.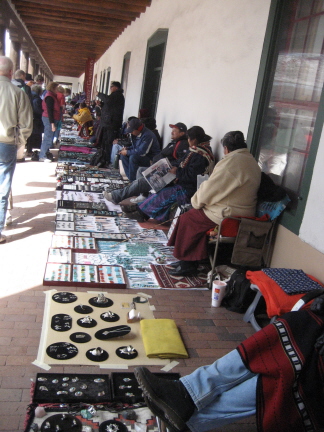 We check out the interior gems of this historical haunt as well. The palace, and oldest civic building in continuous use, was constructed in 1610. It houses an excellent installation that spans the history of the Southwest and Santa Fe -everything from the Spanish Colonial War to tales of the wild west when Billy the Kid and Kit Carson rode into town. Up until this past May, it had been so chock-a-block full that eighty percent of the collection had to be stored. Now, hugging up to this divine depository is the New Mexico History Museum, a premier showcase that displays these irreplaceable collectibles. It's a timely debut, with Santa Fe's 400th birthday bash coming this Labor Day.
Other museums line up cheek to cheek with savvy shops, ethnic restaurants and over two hundred eclectic galleries. It's a cultural melting pot that's full of intrigue. We browse through the airy Georgia O'Keeffe Gallery and gaze at over a hundred and forty of this master's incredible works, then venture through the Museum of Fine Arts, a Pueblo-Revival jewel that was founded in 1917.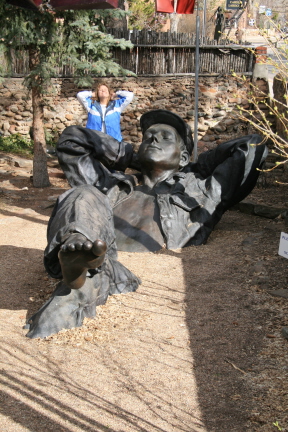 Stone sculptures, wooden carvings and metal masterpieces flank the tree-lined street of acclaimed Canyon Road, and after a short drive up Museum Hill we're captivated by five more forums that would appease any factoid. The Museum of International Folk Art boasts the world's largest collection of whimsical figurines and truly brings a small world to life, while the adjacent Wheelwright Museum of the American Indian totally immerses us with indigenous culture. A scenic plaza links the two together and provides an awesome vista lookout of the Sangre de Cristo peaks.
We're blown away by the same visual overload later in the day from our private patio at Bishop's Lodge Ranch Resort and Spa. This chic retreat that nestles into the lush flora of the Tesuque Valley is only ten minutes from Santa Fe's bustling throngs, yet feels light-years from civilization. It's for this very reason that the first bishop of Santa Fe, Jean-Baptiste Lamy, came here more than a century ago. A chapel and humble retreat, listed on the National Register of Historic Places, still remain on the property as a legacy to his past. Today, the four hundred and fifty fabulous acres provide sublime pleasures for any luxury loving traveler. Some come for the award-winning spa, others for a trail ride in the hills and all for the reprieve; exquisite lodging, fine dining, silver service. What more could you ask for?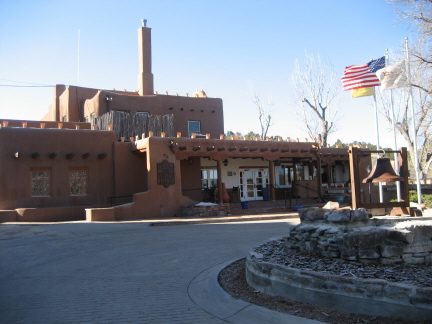 "Did you know there are half a dozen ski resorts within close range?" my husband asks. "And I hear we're in for snow tomorrow." It's hard to believe that this destination offers the best of both worlds. From windswept mesas to snowy trails, it truly is The Land Of Enchantment. I make a mental note to bring a pair of skis on my return visit.
---


Private Tour: High Road to Taos from Santa Fe – $190.00
from: Viator
Where to stay:
Bishop's Lodge Ranch Resort & Spa
1297 Bishops Lodge Road
Tel: (505) 983 6377
Toll free: (800) 419 0492
http://www.bishopslodge.com/
What to do:
Santa Fe Tourism http://www.santafe.org/
New Mexico Tourism http://www.newmexico.org/