by Margaret Deefholts
The crowd at the entrance hall grabs my attention. Some faces are familiar, others not. One or two look me directly in the eye, but many gaze into the distance over my head. Clustered on the dais are glamorous gals, gutsy grannies, solemn dignitaries, artists, writers, hockey stars, movie idols and politicians.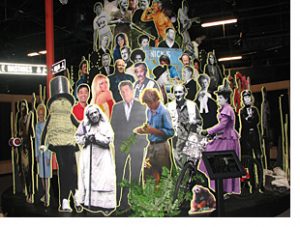 I'm at the Royal B.C. Museum in Victoria, gazing at a huge three-dimensional diorama aptly titled The Party. The folks in attendance are not merely the rich and famous, but also ordinary people—many of whom have lived extraordinary lives.
They have one thing in common: they are all British Columbians and whether they wear Victorian gowns, or the robes of our Salish people, it is their energy, their visions, and their dreams that have shaped our Province and its rich and varied history.
Like the best of party hosts, they invite us to come on in and enjoy the Museum's exhibit, Free Spirit: Stories of You, Me and B.C., a show specially designed to celebrate the Province's 150th Birthday.
Some, but certainly not all the folks in The Party collage are solemn: Mr. Peanut rubs shoulders with Grace McCarthy—remember Vincent Trasov's cheeky dig at political pretensions when he ran for Mayor of Vancouver in 1974, rigged out as Mr. Peanut? Not to be outdone by other larger than life personalities in attendance, Lake Okanagan's very own Ogopogo—towers above the rest.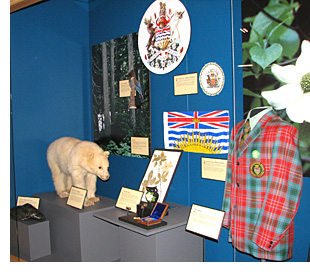 The glass showcases circling The Party, reveal some surprising facts. How many of us can recognize our B.C. tartan, or have actually worn the rather hit-me-in-the-eye jacket on display? You'll never guess who sported this back in the early '70s. And do you know that the rare white Kermode bear is our provincial mammal?
An entire section of the museum's Free Spirit exhibit features that most sociable of all human activities—the joy of eating and drinking together. At a long banquet table, in the '50s kitchen area, glass domed "memory boxes" showcase food and customs from all over the world.
Peering at a traditional Chinese wedding feast, a woman excitedly recalls her own marriage ceremony in Hong Kong, and further down the table, a dark eyed little girl with beribboned braids grins at a familiar sight – a "thali" table setting which many East Indian families still use today.
Whether served up ceremoniously in Japan, or sipped from Royal Albert porcelain, or drunk as East Indian "masala chai", tea remains the universal choice of beverage the world over, and at a shop counter displaying a host of canned and packaged (fake) food several people watch intently as a pot of (real) green tea is brewed and offered around for us to try.
The exhibition showcases about 400 artifacts, many of which have never been previously seen by the public. Some are quaint, others odd. But whatever they are—paintings, carvings, photographs or objects—all of them tell a story.
Like the heart warming tale of "Theodore"—possibly the oldest teddy bear in B.C.—gifted to Eleanor Goddard in 1908 when she was bed-bound with tuberculosis. Eleanor recovered and lived to celebrate her 100th birthday at the Empress Hotel in 2002 with Theodore by her side. She then gave her beloved teddy to the Museum for safe keeping.
In another section, a perm machine looks more like an instrument of medieval torture rather than an aid to beauty, evoking disbelieving chuckles from viewers. And how about the wine glasses that once belonged to Francis Rattenbury, the architect who designed Victoria's Empress Hotel? He came to a violent end (guess why) and some say his ghost still haunts the Museum.
How many of you remember the old drive-in movie theatres? There are only three left in the Province today – plus the replica at the Free Spirit exhibition. The Mighty 90 movie projector rattles away, and the flickering image accompanied by commentator's voice-over narrative is pure '40s. In one of the reels, an old Ford convertible takes the audience on a journey through the Similkameen Valley and West Kootnays—and just wait till you see the size of the Zucca melons they harvested back then!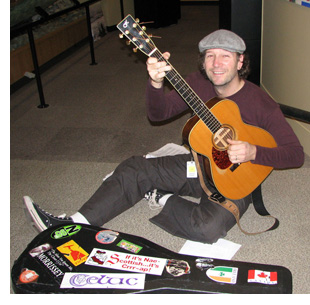 I meet up with a roving musician singing ballads about fame, fortune, love and loss and spend a while listening to actors on stage recounting tales of courage and misadventure: stories about people like you and me.
Because that's what Free Spirit is really all about—it's about you and me and all of us in B.C., so everyone is invited to contribute stories to the Museum's "People's History" exhibit.
You can read some of them even now at the imaginatively designed RBCM virtual gallery on the Internet. Click on www.freespiritbc.ca/ and you'll find it hard to tear yourself away.
Yet, for all that, nothing beats actually being there. It's worth it just to hear a little girl exclaim excitedly, "Mom, look, look…there's Gran and Grandpa's picture up on the wall!"
And then you, too, have to stop and look. For oh…what stories they have to tell!




About the author:
This week Traveling Tales welcomes Margaret Deefholts, an author and freelance travel writer who lives in Surrey, a suburb of Vancouver B.C. Learn more about Margaret at her website www.margaretdeefholts-journeys.com
Photos by Margaret Deefholts:
1: Mr Peanut, Grace McCarthy, David Suzuki and friends at The Party.
2: Blonde Kermode bear (BC's Provincial mammal), the Flag That Never Was, and a BC Tartan Jacket are among many memorabilia displays.
3: At practice before going live on the Free Spirit show.
For more information:
Free Spirit: Stories of You, Me and B.C. runs till January 11th 2009. As part of the CP Spirit of 150 Rail Tour in June, a special car with a selection of the exhibit's artifacts will visit 43 communities from Cranbrook to Vancouver along a southern route through the Province. In addition a smaller version of Free Spirit will be exhibited in ten B.C. communities in the fall.
You are invited to share your story as part of the exhibition's People's History project. Click on www.freespiritbc.ca/peopleshistory/storySubmit1.aspx and then follow a series of simple directions and voila! your story could be part of their on-line exhibition.
For those who aren't computer savvy—you're invited to mail in your memoirs along with copies of old photographs to add depth to your tales. After the show is over next year, the essays, photos and video footage will be kept in the Museum's archives, as part of our Province's history: a wonderful heritage for your kids, grandkids and future generations to enjoy.