Story and Photos by Julia Davis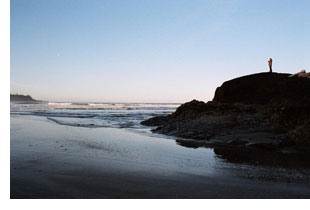 The tangerine sun begins its daily departure. To our left looms a thick backdrop of old growth evergreens. To our right, clear waves tumble at our feet. Dusk settles over smooth charcoal coloured sand as we walk, hands clutched, we're awed by the breathtaking view. Tofino. It's no ordinary place.
For the next three days we'll call this wild wonderful coast our home. Nestled in the Pacific Rim rain forests of Vancouver Island, there is no better town to spend our precious time.
We arrive at our destination, Pacific Sands Beach Resort where one of the Villas, a relaxing dream, peers out over the pristine beauty of Cox Bay. Hungry as we are, the thought of leaving our delicious space is unpalatable. Mark Wrigley, a personal gourmet chef of the reputable Clayoquot Cuisine, cooks up a superb three-course meal full of delicate tastes and visual poetry, while our evening tapers in the firelight.
We wake to soft morning light on our pillows; our tired eyes take in the early surf. With a slow brewing enthusiasm we roll from our haven ready for our North-West adventure, 27 nautical miles from our post.
From Breakers Café, a Tofino classic, we devour our breakfasts, grab boxed lunches to go and reach 'Jamie's Whaling Station', a staple waterfront operation providing safe and friendly voyage to the infamous Hot Springs Cove. Our 35 foot cabin cruiser, "Pacific Springs", kicks off the dock, our eyes wide and hopeful for an early-season sighting of the migrating Grey or Killer whales. Although none are witnessed, the journey through Clayoquot Sound is smooth and beautiful.
An hour passes and we're dropped on the dock at the stunning Maquinna Provincial Park. Our captain provides us with valuable trek tips and informs us of our four p.m. return time. "The hike feels longer on the way back!" he shouts over a rumbling engine. "If you miss your plane, we'll pick ya up tomorrow!"
Under a damp canopy of evergreens we smile and wave adieu. Shards of light filter onto the slippery wooden walk-ways which guide our 1.2 kilometer hike. An awe-filled half hour of aromatic air and natural glory and we've touched our destination.
Beyond a boulder-filled terrain the nearest pool collects liquid gifts from a forty degree waterfall. Its spray hits my skin like lava as I float, arms tangled around Cal's waist. The cold ocean exhales its breath, cooling the five weathered rock pools, which leak into the sea.
"Let's move here!" I say to Cal in a calm excitement, as we climb barefoot up the sheltering rock face to picnic with a view. We've become perfect prunes, pampered in this natural paradise!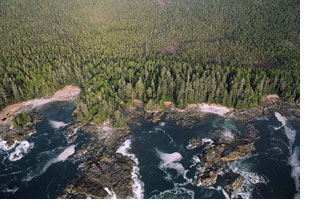 Hot Springs Cove is so captivating we almost miss our flight, and although jelly-legged and breathless after the race back, we make it just in time for our Tofino Air take off.
This is one ride we wouldn't want to miss.
Below us sits a massive and thriving ecosystem where mountains look like molehills and stretch on for what seems like forever. We bear witness to a rich and curvaceous coastline from new heights, this visual masterpiece permanently changing our perspective of the west coast. We arrive back at our 'palace' after a glorious day, ready to indulge our palates with warm red wine and Gruyere held captive over an open flame.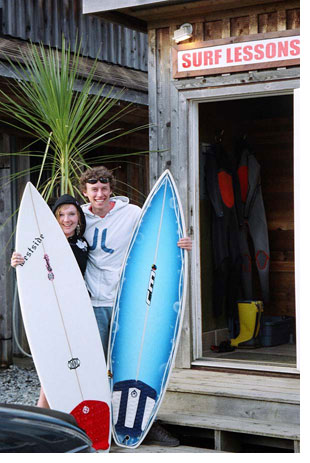 "Good morning," Cal whispers, as we wake for our final and most exhilarating day. Surfing is unlike any sport. Step foot in the Pacific and you'll understand. White water swirls around our raven rubber ankles as we watch the wild untamed swell.
Our instructor, Sepp Bruwhiler, number one surfer in Canada and co-founder of the West Side Surf School, evokes a calm intensity around the ocean. I imagine that growing up in the premiere Canadian surf spot, home to thirty foot winter storm waves, would instill wisdom and respect. It's certainly something Bruwhiler conveys throughout our lesson. "The most dangerous thing out there is never the ocean," he states, crouched down and marking safety instructions in the sand, "it's your board".
The midday sun dances on the open ocean, the shiny peak of each wave terrifying and tremendous at the same time.
"I'm the rookie," I mention to our instructor, as Cal, a resident Californian surfer catches a couple of waves. Moments pass and when the break finally devours my board, I follow it like a new born pup on a leash.
After three hours of bobbing like buoys on an undulating ocean we head back to shore content and exhausted, then collapse on the sand where the lavish landscape meets the striking seascape.
Tofino. It's no ordinary place
About the author:
Julia Davis is a freelance travel writer/phographer who makes her home in Vancouver B.C., on Canada's West Coast.
The photos:
Top: Cal views the ocean on a typical quiet morning in Tofino.
Next: Tofino Air offered us a great view of the local coastline.
Next: Author Julia and friend Cal prepare for a day of surf boarding.
If you go…
Pacific Sands
www.pacificsands.com
Jamie's Whaling Station
www.jamies.com
West Side Surf School
www.westsidesurfschool.com
Clayoquot Cuisine – Mark Wrigley
www.clayoquotcuisine.com
BC Ferries
www.bcferries.com