by Irene Butler

Curtains of foliage drape the sides of narrow waterways deep in the mangrove forest. Our small boat manoeuvres past the bulging roots needed to hold these towering trees upright in the silt base.
"See the crocodiles?" says our guide José. He stops the engine and points to foot-long babies squirming on an embankment. Before I can ask where the Dundee sized ones are, the water around us churns. Our boat pitches. What appeared to be a few large drifting logs blink at us with yellow eyes and propel away with swishes of their powerful tails.
After our tussle with the crocs we watch swamp turtles laze on root masses protruding from the brackish water. A pitch-black bird is oddly perched on a branch; its motionless wings spread like a fan. "That Anhinga," says José, "is drying his feathers after diving for his lunch."
The amazing wildlife reserve of La Tovara is the first outing my husband Rick and I undertake along the 180km coast of Riviera Nayarit from our grand hotel in Nuevo Vallarta (just north of Puerto Vallarta).
Our goal, with the aid of our rental car, is to seek out as many of the area's natural wonders and drowsy fishing villages that pepper the coastline as we can fit into a week's stay.
From La Tovara we veer off to the nearby port of San Blas for a glimpse of the town's glorious past. Milling about the colonial-era tax office and hilltop fort built in 1770, I imagine the activity when this was the seat of Spain's Pacific navel command. The original great cannons still stand guard like aging sentinels.
At the foot of the hill we enter the massive stone shell of Our Lady of the Rosary Church. The church bells once rang to signal ships coming into port. The closing of the port to foreign trade in 1872 stirred the renowned poet Henry Longfellow (1807-1882) to lament their silence in The Bells of San Blas.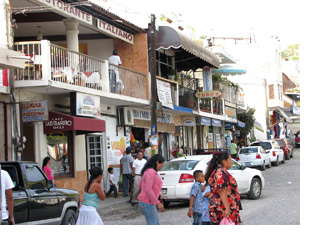 The next day's excursion brings us to the quintessential Mexican village of Bucerias. Shop owners give their best spiel as we pass by on the cobblestone streets. I purchase several pieces of intricately beaded native Huichol art in the open air market.
At a side walk café our waiter keeps the tejuinos coming (a refreshing semi-fermented corn drink) as we wile away the afternoon watching fisherman deliver their fresh catch. Benches by the water are filled with old timers gazing out to sea.
Families fill the streets by the time we dig into our specialty supper of grilled red snapper. Children dash about while their folks chit-chat with friends. It is long after sunset before we pull ourselves away from this tranquil setting.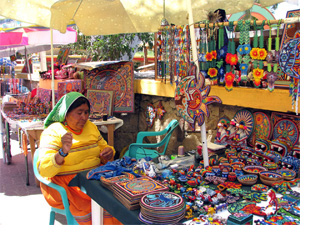 Our village hopping ends in San Francisco (also known as San Poncho). Well stocked with snacks from a local vendor of tart tamarind candy and jackfruit (tastes like a cross between banana and cantaloupe) we head for the beach. Between dense jungle and the turquoise sea we spread our mats on a patch of creamy sand.
This same stretch of beach is, at certain times, reserved for other than human visitors.
From mid-June to November the endangered Olive Ridley and Leatherback Turtles are so intent on egg-laying, they barely notice that members and volunteers of a local conservation group are on hand to protect them during their mission.
They then collect and transport the eggs to a hatchery. I would love to be here in September and October to watch the hatchlings being released and see them scurry to their briny home.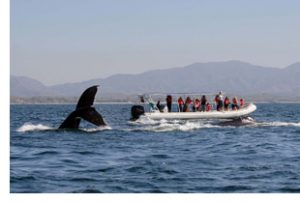 Being slightly past the winter season when Humpback Whales come to these warm waters to breed and give birth to one-ton calves, we can not believe our good fortune when a few stragglers are seen off the coast.
We quickly make our way to Vallarta Adventures Center and are soon in an APEX (rigid inflatable boat) squinting over the horizon for a sign of these huge cetaceans.
I gasp as the gigantic body of a lone Humpback surfaces about 100 metres away, making our vessel seem like a toy. A blast of water sprays from its blowhole and a huge eye looks up at us before he submerges with a tail slap that rocks our small craft.
There could not have been a more perfect "tail end" to our Riviera Nayarit visit.
About the author:
This week Traveling Tales welcomes freelance travel writer Irene Butler who lives in Richmond, a suburb of Vancouver, B.C..
Photos by Rick Butler:
1: A street in the village of Bucerias. Rick Butler photo.
2: A seller of native Hoichol art at an open market. Rick Butler photo.
3: A whale surfaces near our vessel. Rick Butler photo.
If you go:
www.visitmexico.com
www.rivieranayarit.com
Eco-turtles Group: www.project-tortuga.org
Vallarta Adventures: www.vallarta-adventures.com