by Leslie Jones
Ominous clouds pass quickly overhead as torrential rains, thunder and lightening sporadically deliver an impressive show direct from the Mayan Gods. Pristine jungles, intriguing archeological sites and ecological reserves intermingle with a plethora of tourist developments spreading quickly throughout this region.
Rich in history and tradition, the natural surroundings are still intact, complete with sparkling white beaches and coral reefs suitable for world-class diving and snorkeling. Numerous sinkholes, called cenotes, offer cavern diving for those professionals seeking a more exotic adventure.
Extending over 95 miles along the northern coast of the Caribbean Sea, Highway 307 runs from Cancun south to the town of Tulum. While Cancun is the primary location to begin the journey after disembarking from a flight, the area south of this is where the true adventure begins.
Venturing south, I begin noticing small market stands and villages springing up on the sides of the road. Colorfully woven blankets begin to appear along with small shade-covered restaurants.
Here in late September, the crowds have diminished, there are no hurricanes presently forecasted and I'm eager to begin exploring a handful of the region's highlights.
Xel Ha's Exhilaration
A symphonic blend of blue, yellow, rainbow and iridescent shades of various shapes and sizes, dances in unison against the rocky shoreline as schools of hundreds of fish are traveling together, undeterred by their human visitors. Pushing off shore for my early afternoon snorkeling sojourn through the central lagoon, I'm immediately transported into another world; one I'm in no hurry to leave.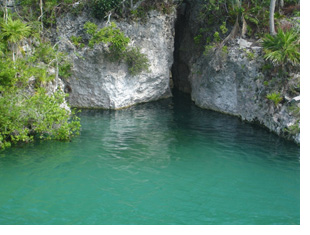 Several hours later, while still completely ensconced within this underwater domain, time has ceased to exist. Only the shriveling of the skin on my fingers and lunchtime hunger pangs tempt me to slowly retreat back to land. The vivid colors of the world beneath will again come alive in my dreams later that evening, along with several evenings to come.
This ecological park is located along the southern portion of the Riviera Mayan coastline, 76 miles south of Cancun. Offering a multitude of natural, ecological and water-related activities, a series of lagoons, ancient Mayan caves and underground fresh water rivers all merge within this natural paradise.
The Mayans called this area Xel Ha (pronounced shell ha) which loosely translates to 'where the water is born' or 'source of water'. Once used as a port and safe harbour while navigating the coastline, this was a designated spot where the Mayan Gods were said to have pooled their wisdom, dreams and appreciation of great beauty.
The Mayan Gods were so completely satisfied with their work, according to this legend, that they decided to let the mortals enjoy it, as well. They did, however, appoint the macaw, iguana and parrotfish as the guardians of Xel-Ha. All held in high esteem, they're considered keepers of the sky, land and sea respectively.
Snorkeling in the placid lagoon is just one of many outdoor opportunities presenting themselves here at Xel-Ha. Walking along the park's inspirational "Path of Consciousness", I find myself sharing the sidewalk with large iguanas.
Beautiful in a primal way and quite harmless, it's a respectful distance that suits both parties best. It's decidedly wise to watch where I'm walking at all times here on the pathway. They don't easily move to offer the right of way, especially when they're busy sunning themselves.
The landscape is spectacular while traversing through mangrove habitats, near a fresh water river and by a series of rock formations complete with petroglyphs. The bird life is plentiful, as well, as I spy several egrets back in one of the quiet lagoons.
While hiking this trail, others are drifting down the nearby turquoise-hued river in small rafts. While some are chatting with others, many are completely silent, merely taking in these breathtaking surroundings around them.
At the end of the trail's journey, Hammock Island patiently awaits for a quick afternoon siesta. Restaurants dot the area along with dolphin swimming excursions and additional snorkeling-related activities. This is truly a park for anyone with a child-like fascination with nature and genuine respect for its beauty.
Town of Tulum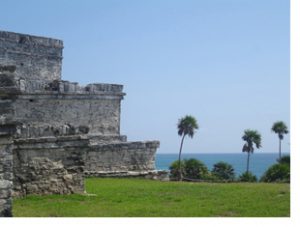 Since it's only a short 8-mile drive down to the Mayan ruins of Tulum, it makes sense to visit that location, as well. Tulum is well worth a visit just for its incredibly picturesque photo opportunities. I enjoy wandering around without the usual crowds to better enjoy the area's peacefulness. Intuitively I sense that some powerful force still resides within these walls.
A small group of traditionally-dressed Mayan dancers perform in the central plaza just outside this ancient walled city. I begin climbing a long, rocky stairway leading to the entrance while a majestic castle slowly comes into view, perched high on a cliff top. The vivid turquoise hues of the Caribbean Sea lie just below.
Entering the grounds through a breach in its western wall, well-preserved ancient Mayan palaces, pristine foliage inspired gardens, intricate rockwork walls and sheer cliffs are all deemed impressive.
Passing by El Castillo (the Castle), Gran Palacio (Grand Palace) and Templo de los Dioses Descendientes (Temple of the Descending Gods), these are but a few of the many ancient buildings to view.
Thunderclouds soon beckon once again overhead; perhaps it's best to call it a day. I've enjoyed the blue skies today here along the Riviera Maya. But I'm a mere visitor to a culture of another time and place.
The Mayan Gods remind me once again of their omnipotence as the first thunder clap echoes.

About the author:
This week Traveling Tales welcomes freelance travel writer Leslie Jones who makes her home in California.
Photos by Leslie Jones:
1: One of the lagoons of Xel-Ha.
2: Tulum ruins by the Caribbean Sea.
3: Dancers in traditional Mayan dress prepare to perform.