Story by J. David Cox.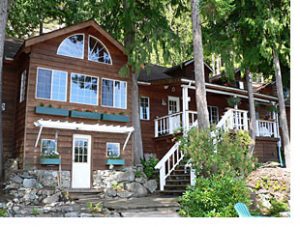 "We have seals, whales, bears, bazillionaires and hurricane-force winds up here in Calm Channel. It may be a lot of things, but it ain't calm!" Mark said this with his trademark grin on his face.
My wife and I had just remarked to him at how serenely beautiful the setting was for his Abby's Rendezvous Lodge. Looking across at the snow capped peaks of the Coast Mountain Range, while eagles and ravens soared overhead, it was hard not to be impressed. We were in Discovery Sound, an exceptionally remote and pristine part of the world. It doesn't get any better than this.
Lying approximately 130 miles northwest of Vancouver, on Canada's west coast, in the heart of the coastal rainforest are the Rendezvous Islands. The lodge is on North Rendezvous facing Raza Channel and just a kayak trip from Stuart Island, the 'bazillionaires' fishing retreat on the Yuculta Rapids. This 'neck of the woods' is at the mouth of Bute Inlet, home and source of the famous 'Butes', an outflow of wind that can exceed 150 kms (about 90 miles an hour) at times.
But it doesn't blow all the time and it rarely does in the summer when we were visiting. In fact, the weather was sunny, warm and welcoming. So were our hosts. And so was the lodge.
Rendezvous Lodge has but a short history. Built in the early '80s with hand split beams and back-breaking labour it was purchased recently by the McNeils and recently renovated to its current comfy charm. Although the lodge is spacious and the rooms generously comfortable, the ambience is personal, warm and exceptionally relaxed. A full-house is only12 guests.
I felt immediately at ease. I sank into a large chair overlooking the water and seriously doubted the ability of my wife or the hosts to ever get me to move.
But Abby had a trick up her sleeve. She is a phenomenal cook. Part of the lodging 'deal' is meals and there is no motivational problem for even the most sedentary of guests once the succulent smells start wafting through the lodge.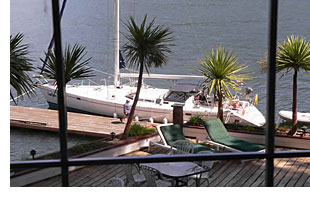 We could have kayaked. Or fished. Or even twisted through a yoga encounter. And Sally kayaked. I chose to read. We could have hiked, gone up the inlet to see the whales or the bears. Or we could have enjoyed the hot tub. Sally went hiking. I napped. We could have joined Mark on a Nature walk or cooked in the kitchen with Abby. Sal cooked. I chose to sip wine and watch the boats go by. Rendezvous Lodge has so many interests to pursue and sights to see, I decided that contemplation was the better part of valour. And I don't regret a second of it.
As phenomenally restful and receptive as the lodge is, getting there is a true adventure. Of course, there are a number of ways to do that and Mark and Abby (and their website: www.rendezvouslodge.com ) will advise you if you call.
We chose to make our own arrangements. We took the Vancouver to Nanaimo ferry, traveled up island to Campbell River and caught the 'every-hour-on-the-half-hour' ferry to Quadra Island. Then we went to Heriot Bay and took Ed Jordans's Sutil Charters water taxi to Rendezvous Lodge. All in all, it took about 5 hours, not counting breaks, lunch and waiting for the ferry. It takes the bulk of the day. The best part – it was a stunningly beautiful trip. And, doing it our inefficient way, it is flexible.
If you want to see some of Comox, Qualicum, Campbell River or Quadra Island (a very good idea for the artists studios alone), just stay at the Heriot Bay Inn (HBI) overnight and catch Ed or one of the HBI taxis later on.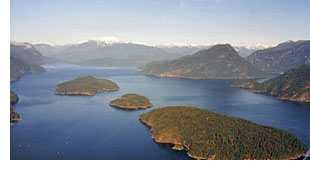 Surprisingly, and despite the remoteness, despite the distance and the various modes of transportation, it all worked out and it all worked out easily. You can travel quickly and efficiently or you can take your time and languidly explore the area. It is hard to imagine a better way to spend a few days.
The rates are reasonable and, as the credit card company would say, "the experience is priceless." Rendezvous Lodge is waiting for you.
About the author:
David Cox is a freelance writer and committed couch potato. His wife makes him move.
Photos courtesy of Rendezvous Lodge:
1: The Lodge
2: Mooring at the dock.
3: The Rendezvous Islands Group