Story by Chris Millikan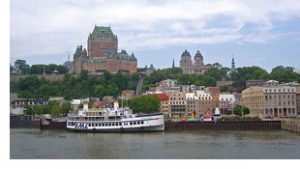 A huge excitement surrounds Quebec City's momentous 400th-birthday this year. Launched by a spectacular New Year's Eve party and concluded with Cirque du Soleil's one-of-a-kind extravaganza.
Even Quebec's native son, performing artist Robert LePage, is onboard with a new masterpiece; an added pizzazz will embellish beloved annual events. We check out just what this fuss is all about…
Monuments, 17th-century heritage houses, churches and museums introduce old Quebec's alluring past at almost every turn.
Even romantic horse-drawn caleches clip-clop past the venerable stone buildings, quaint squares and old-style manicured gardens, just as they did then.
A European-flavored culture and a distinctively French lifestyle surround us…without jetlag and the expense of flying overseas.
Starting our leisurely stroll in Lower Town's oldest neighborhoods, we find Vieux Port's once busy warehouses have morphed into government offices, high tech centers and charming boutique hotels.
Replacing old docks bordering the mighty St. Lawrence River, an extensive boardwalk now hosts an old-world farmers market selling local meats, pungent cheeses, fresh produce and bright flowers.
And Rue Saint-Paul's brothels and saloons have become antique shops, art galleries and bistros. Enticing alfresco cafes cluster around an open square where a stylized ship's figurehead soars above a splashing fountain.
Here, we relish traditional Quebecois comfort foods: rich meat tortiere, hearty pea soup and tarte au sucre, luscious maple syrup pie…
Over at the Museum of Civilization, Quebec's long history of exploration, commerce, conflict, cultural rebirth and controversy becomes clear.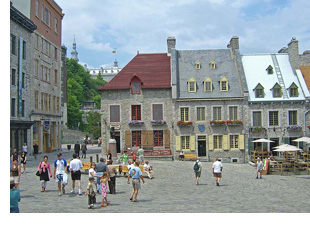 Donning high tech earphones, the voices of New France's founders recap their accomplishments; authentic artifacts provide compelling visuals of each era.
But it really all began in beautiful Place Royal, where in 1608 Samuel de Champlain established l'Habitation.
The Americas first permanent French settlement, wealthy merchants and fur traders later developed their mansions around this flourishing early marketplace.
Faithfully restored, these stone houses retain steep tin roofs, thick separating firewalls and roof ladders. Two such homes merged into Centre d'Interpretation de Place Royal, retelling past glories through local relics, photos and documented stories.
Dominating this celebrated plaza since 1688 and perhaps the continent's oldest stone church of its kind, Notre-Dame-des-Victoires stands on the original trading post foundations.
And on the edge of Place Royale, a small park faces one of several murals interpreting neighborhood histories. The Mural of Quebecers brilliantly depicts 15 key historic figures including Cartier, Champlain and Lord Dufferin.
Along the maze of quaint cobbled streets in Quartier du Petit Champlain, the old commercial district to the north, we discover quality Quebec-made products.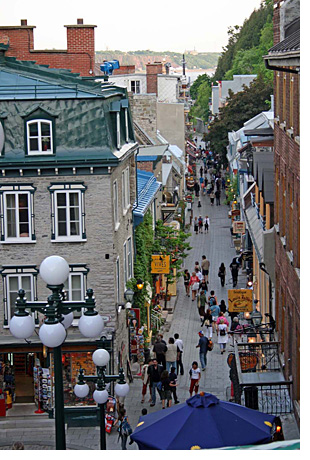 Rue Petit Champlain still flourishes with flower baskets, artisan studios, specialty boutiques and sidewalk cafés, where many linger over croissants and café au lait and we come across another intriguing mural, this time illustrating the activities of early Irish shipbuilders and their families.
As others launch upward on Funicular cable cars from the former home of French explorer-mapmaker Louis Joliet, we climb Break Neck Stairs, over sixty wooden steps to Upper Town, ending up on Dufferin Terrace.
Along its promenade fronting the famed Chateau Frontenac's medieval French-style turrets, sweeping panoramas over the St. Lawrence and Lower Town unfold.
Even higher above stands the star-shaped Citadel, official residence of Canada's Governor General since 1872. Constructed on earlier French defenses of British North America, regular troops still garrison the 'Gibraltar of North America.'
After surviving six booming sieges of Quebec in Musee du Fort…including the pivotal battle on the Plains of Abraham…we cross the square to magnificent Notre-Dame du Quebec.
Though destroyed three times by fire since 1647, the basilica's rich interior decoration renders us speechless. Governors of New France and Bishops of Quebec rest in the crypt below; first Bishop Francois de Laval lies inside.
And now housing Musee de l'Amerique Francaise Canada's oldest museum, the nearby Seminary of Quebec directed Quebec's early education systems, starting in 1663 and also shaped the foundation of Laval University in 1852.
Its chapel's hushed atmosphere and subdued lighting still provide an example of exquisite religious heritage.
Uphill we discover the first Anglican Church built outside Britain. Modeled after London's famous St. Martin-in-the-fields, Cathedral of the Holy Trinity was paid for by King George III.
And opposite city hall, Canada's oldest English-speaking congregation of Scottish origin continues worshipping at St. Andrew's Presbyterian, established in 1759 for General Wolfe's Fraser Highlanders.
At Saint-Louis Gate, interpretive panels border sentry paths along the Fortifications of Quebec, a National Historic Site. Although the French began this protective wall, it was completed under the British.
Outside these ramparts and gates Rue Saint-Louis continues as Grand Allee, its popular boutiques, restaurants and nightclubs remind us of the Champs Elysees in Paris.
Southward, heritage homes border Joan of Arc Garden. Formal British-style flower borders and the French martyr's statue honor those who died in battle on the Plains in 1759. And along the river nearby, Oh Canada rang out for the first time on St Jean Baptiste Day, 1880.
Adjacent, National Battlefield Park stretches over 108-hectares. In this a natural urban recreational area, Wolfe's British army defeated Montcalm's French-Canadians on the Plains of Abraham in 1759.
Students wearing French blue and British red regularly re-enact this history, flags proudly flying.
Close by, the National Museum des Beaux Arts showcases Quebec's greatest art treasures, past and present. Marking where he died, Wolfe's statue inspires my hubby to ask, "Wasn't this General shipped home to Britain preserved in a barrel of rum?" Apparently, he was…
Now a World Heritage Site…and last fortified city north of Mexico…this little fur trading post has blossomed into one of the world's most beautiful cities.
It has received accolades for livability, architecture, amenities and services.
Looking superb at 400, Quebec City has good reason to party all this year!
About the author:
This week Traveling Tales welcomes Chris Millikan, a freelance writer who lives in North Delta, near Vancouver B.C.
Photos by Rick Millikan:
1: The Chateau Frontenac towers above the Old Town.
2: Place Royale, where it all began..
3: Looking down the Rue Petit Cham
Quebec City  Travel Information:
• At www.bonjourquebec.com the Ministere du Tourisme provides tips on travel needs.
• And www.quebecregion.com offers details on hotels, dining, entertainment & arts
• Quebec City's 40 museum attractions are described at www.museocapitale.qc.ca plus www.museocapitale.qc.ca/cartema.htm presents information on the discounted museum passport, which includes a bus pass.
• Hotel des Coutellier www.hoteldescoutellier.com offers uniquely designed rooms with breakfast and a great location for strolling the Old City
• Old Port's Cyclo Services www.cycloservices.net rents bicycles with route advice.
• Taxi Co-op www.taxi-quebec.com enables convenient tours without car rentals.
• Scenic train rides www.viarail.ca depart from Quebec City's chateau-style station on the edge of Old Port. Montreal is less than two hours away.