by Cherie Thiessen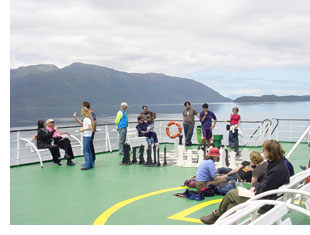 I hold unto the side of the building to prevent the unrelenting Puerto Natales wind from turfing me onto the busy road. It has already scooped up at least five travellers, backpacks and all. One of the airborne was my partner, who is now laid up in our hostería with his left leg in a cast. Ergo I've been sent to scout and report back.
An ubiquitous summer presence in Patagonia, this morning's "breeze" has enough attitude to prevent the hybrid cargo-ferry, the Magallanes, from docking and disgorging its passengers. On the narrow eastern shore of what's ominously called Last Hope Sound, the vivid primary coloured ship is a hulking presence. The sky and the waters are as angry as the captive travellers who bristle on its decks.
I'm reassured, though, by the vessel's size – 21.2 meters wide and 122 meters long doesn't mean a lot until you see it looming in front of you. I want size. This four-day voyage to Puerto Montt takes us through some infamous water:
"Passengers prone to motion sickness should consider taking medication prior to crossing the Golfo de Penas, which is exposed to gut wrenching Pacific swells", cautions a popular travel book. I get motion sickness on a lakeside wharf.
The wind wracked Magallanes, in Chile's region X11 beyond 49°S, gives its name to our passenger freighter which lurches across this Gulf twice a week transporting seafood, freight, trucks, cars and herds of unhappy cattle as well as intrepid travellers. The moaning bovines lend a certain ambience, especially after the open seas, when the rural aroma becomes more pungent.
This trip has become famous among backpackers, having been compared to Alaska's coast, New Zealand's Milford Sound and Norway's fjords. It's not surprising that the company, Navimag, has been experiencing increasing passenger loads since it started its service in 1979.
Eventually the ship's captain senses a miniscule lull in the wind and when the Magallanes lumbers to shore I return to assist my hobbling husband. Late that evening we board, are shown our cabin and burrow into bed. A few hours later, the shuddering and the jangling of heavy chains signalling departure rattle us awake.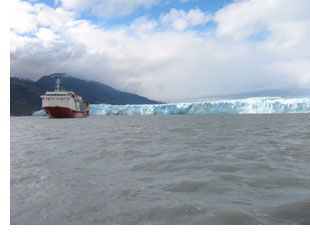 The next morning, after we inch through Paso White, the narrowest part in the trip at 80 meters, the mountains close in on both sides and we experience isolation far greater than anything we have ever felt on British Columbia's coast. No planes, no boats, no settlements, no fish farms, no clear cuts, instead only rivers, a milky sea and glaciers from continental ice fields nestling into the Andes Cordillera.
By dinner the first night we are nudging into an ice floe garden in Laguna San Rafael. Blue with cold, the chunky San Valentín Glacier stretches toward us. We retreat, shivering, and continue our incredible solitary voyage up the sheltered coast.
Each day a flyer slipped through our door offers a collage of information and activities. Twice-daily presentations in English and Spanish range from glaciology to history, from culture to fauna. Also offered are nightly films, pub entertainment and naturally, pisco sour happy hours. While most passengers eat in the cafeteria, we First Classers dine deliciously with the officers, consuming a choice of amazingly tasty local dishes and bottomless bottles of first-rate Chilean wines.
On our second day we idle near Cotopaxi, a wrecked Greek freighter that now serves as a lighthouse and we venture ashore at Puerto Edén. The tiny boardwalk settlement on the northeast side of Wellington Island is home to the last seven Kawéskar Indians who were relocated by the Chilean government in 1969. Other Chileans live here now, however, and all residents make their living from fishing, oyster gathering and us.
At our briefing on the third day we are given an update on conditions in the dreaded Gulf and urged to take precautions. I've already concealed a disc behind my hair but why take chances? I swallow gravol and slip on two wristbands, hiding them under my long shirt. I may be a wimp but the world doesn't have to know.
Soon after, the brave ship shimmies and begins its dance. Its flanks heave, its bow dips and rises and with incredible timing, dinner is announced. How can anyone hang unto their plates, I wonder, as en route to the dining room, I bounce with bruising regularity from one side of the narrow corridor to the other.
"You OK?" My partner asks solicitously. Surprisingly, I am.
Of the ten of us, two are missing. I gloat as I grab for the wine glass sliding away and lift it up to the placid waiter.
"Is this rougher than usual?" asks my pale companion on the left.
"No. We haven't turned yet. That's when it gets rough."
She thanks him, daintily takes a roll from the basket and says a gracious 'bon appetit' to the rest of us as she lurches out.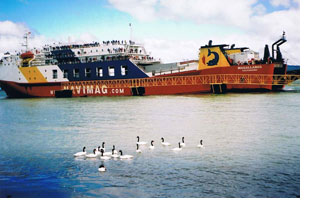 The exodus continues between courses, one couple retreats after spilling the soup course on their laps, two others battle out midway through the special Chilean dish. By dessert the boat has turned and only three of us remain. We say yes to more wine as the contents of the table clink and careen. I am jubilant with wine and victory.
The next morning Puerto Montt's harbour unrolls sunshine, beaches, warmth, no wind and the promise of prawns. I am hung over but smiling, proudly wearing my "I sailed on the Magallanes and lived" t-shirt.
About the author:
Cherie Thiessen is a freelance travel writer who makes her home on Pender Island, near Vancouver BC, on Canada's West Coast
The photos:
1: Passengers relax and play chess on the after deck. Navimag photo.
2: The Magallanes anchors at the face of a massive glacier. Navimag photo.
3: Our ship in harbour at Puertto Natales. C. Thiessen photo.