by Lauren Kramer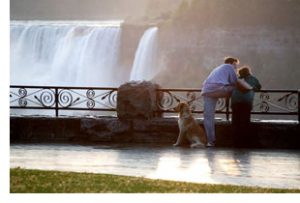 Niagara Falls has inspired generations with romance, Valentine's Day, or no.
There was a time when this city was cheesy beyond belief, replete with motels advertising red, heart-shaped hot tubs and tacky attractions. A few of those attractions remain, but Niagara Falls has witnessed a renaissance of sorts since the Fallsview Casino Resort opened four years ago.
That's meant the introduction of new spas at hotels and a general up-scaling of the offerings, according to Betsy Foster, media and marketing coordinator for Tourism Niagara.
One thing that hasn't changed over time is the sense of wonder that overwhelms you as you gaze at 600,000 gallons of water spilling 167 feet over the falls with every passing minute.
It's the kind of sight that makes you reach for your partner's hand and cherish the feeling of vulnerability and awe with someone close by your side. And it's a spectacle that has the power of perspective, for in witnessing the mesmerizing falls, other worries fade to the background.
Perhaps that's the reason honeymooners have flocked to Niagara Falls for decades, enchanted and inspired by its beauty and fearsomeness, and its ability to quell the mind of doubts and distractions.
Amid the deafening roar of vast quantities of water plummeting over a precipice, they obtain a focus of sorts, one that hints at the incredible power and timelessness of nature, the comparative smallness of humanity and the urgent need to seize the moment and live the day to its fullest.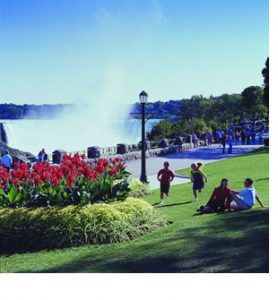 Among the 11 million annual visitors to Niagara Falls, 50,000 are honeymooners, who are rewarded with discounts aplenty from local businesses and honeymoon certificates from the tourism bureau.
Romantic celebration is intrinsic to Niagara Falls, an almost tangible quality that's evident in the dreamy gaze of fall-watchers, the abundance of couples utterly absorbed in their togetherness and the plethora of romantic opportunities.
In summer, you can feel the water soak your hair on the Maid of the Mist, a cruise that takes you past the American Falls and into the mist of the Horseshoe Falls, where you emerge damp and yet strangely invigorated.
There are aerial cable cars, walks along the Gorge rapids and journeys behind the falls, where you descend into their base by elevator, following a series of tunnels behind and under the Horseshoe Falls for a unique glimpse.
The tacky side of Niagara is good for a breezy, laughter-filled afternoon, and can be found in an area known as Clifton Hill. Here, the Movieland Wax Museum of Stars rubs shoulders with the Criminal Hall of Fame, Ripley's Moving Theatre, the Funhouse and the Haunted House.
The Great Canadian Midway is a complex containing rides, restaurants, sports simulators and more, but for a more flighty experience, visit the Bird Kingdom, a massive aviary home to over 500 birds from all over the world.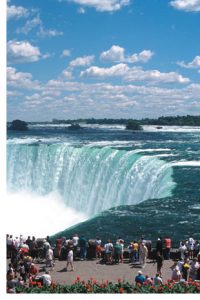 One way to experience the view is from a heated gondola on the Niagara SkyWheel, a 53-meter-high Ferris wheel that sweeps visitors to the summit for breathtaking views of the falls.
Another is to visit the Imax theatre on Fallsview boulevard, where you get an historical overview of the Falls, a seasonal perspective and a sense of the power of the water, as helicopter footage takes you virtually over the edge.
A few people a year discover what this actually feels like, – some in acts of suicide, while others attempt to ride the precipice of the falls for a thrill, hoping to live. Since 1901, more than two dozen people have challenged the falls, a handful of whom survived.
One daredevil to live accomplish this feat twice was Dave Munday, an Ontario man who first made it over the falls in a barrel and later in a diving bell. Though sustaining cuts, bruises and unconsciousness at the time, he is still alive and kicking.
Another recent attempt was made by Jessie Sharp, who went over the falls in a kayak in 1990. His body was never found and it is presumed he drowned. For those that survive, though, the price of fame comes with a hefty fine – as much as $500. "It's against the law and we don't encourage it," says Foster.
For most people, it suffices to imagine briefly what such a ride might feel like. The euphoria from visiting the falls comes from viewing their power and majesty, and not in taking a leap over the edge.
The good news is that a quick Valentines jaunt into Niagara Falls doesn't have to cost a fortune.
Romance packages are standard year-round in this neck of the woods, and the Sheraton Fallsview Hotel & Conference Centre (www.fallsview.com; (800) 618-9059), one of the city's high-end hotels that overlooks the falls, offers a romance package for $259, which includes a night's accommodation for two, a bottle of wine, a $75 voucher towards dinner for two and breakfast.
About the author:
This week Traveling Tales welcomes freelance travel writer Lauren Kramer who makes her home in Richmond, a suburb of Vancouver B.C.
If You Go:
For more information, visit www.discoverniagara.com or call (800) 563-2557
Tickets to the Imax cost between $20 and $14, with discounts available for online bookings at www.imaxniagara.com (866) 405-IMAX
Maid of the Mist ( www.maidofthemist.com) costs $14 for adults and $8.60 for kids age 6-12. There are no advance reservations and the sailings occur daily April through November.
Photos courtesy of Niagara Tourism:
1: Romance is in the air at The Falls.
2: Families enjoy one of the many beautiful parks..
3: Visitors are thrilled with dramatic close-ups.