by Kathleen Walls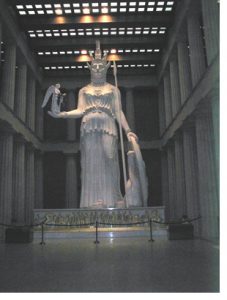 The history of Nashville, Tennessee is liberally sprinkled with women who didn't know "their place". So if you've been feeling like you have to keep on your toes to survive in "a man's world". Music City is a great place to visit. There is much more to see and do in Nashville than country music.
To start with, there is Athena, Nashville's own resident goddess. She is a pretty muscular gal and it's pretty hard to imagine even Zeus attempting to harass her. Her home is among the sun dappled trees of Centennial Park It stands both a memoriam to times gone by and a beacon to the future ages.
The Nashville Parthenon is a work of art in its own right. It is an accurate, full-scale restoration, built for the 1896 Centennial Fair. To make it even more appealing to woman travelers, one of the major sculptors was a woman. Belle Kinney Scholtz and her husband, Phidias, carved the pediments. Belle is also known for her sculpture,
Women of the Confederacy Monument and statues of Andrew Jackson and John Siever that stand in the Statuary Hall in the Capital Building in Washington, D.C. This Parthenon is a fitting abode for this ivory and gold statue of the Goddess Athena, arrayed in all her armor and balancing Nike in her right hand.
(No, Nike isn't the patron of tennis shoes. She is the Goddess of Victory.). Eight years in the making, Nashville sculptor Alan LeQuire's Athena is 42 foot tall making her the largest indoor statue in the Western world.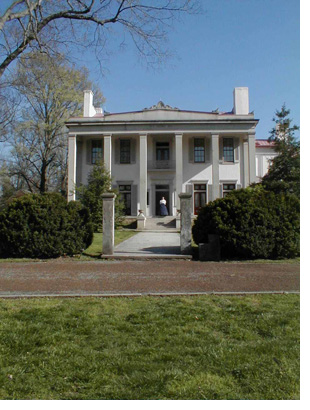 Even thought she is pretty hard to top, some of the flesh and blood women have left a larger than life legacy. Take the nineteen-year-old Selene Harding of Belle Meade Plantation. She was the ultimate cheerleader.
Belle Meade was the headquarters of Confederate Gen. James R. Chalmers of Nathan Bedford Forrest's cavalry. In December of 1864, the Union army attacked the mansion and fierce fighting ensued in the front yard of the plantation.
Despite the bullets flying around her, Selena remained on the porch waving her handkerchief to cheer on the Confederates. When you visit, be sure to look for the bullet holes. They can still be seen in the porch columns. Belle Meade Plantation is known as the "Queen of Tennessee Plantations" but is not the only one with a strong female figure.
For a real life Scarlet O'Hara, visit Belmont Mansion. It was built in 1850 by Adelicia Acklen.
She was a wealthy young widow during the Civil War.
She only married husbands number two and three after they agreed to sign pre-nuptial agreements leaving her in charge of her own wealth. She must have been pretty good at convincing people to see things her way.
As the battles raged in the South, she traveled to Louisiana and managed to smuggle her cotton crop out by convincing both sides she was going to turn over the profits to them. With one side guarding her by land and the other on the high seas, she transported it to Europe where she received almost a million dollars for the crop.
Of course, she never got around to sharing the profits with either side. She managed to become one of the richest women in America at a time when women were supposed to be just pretty playthings. When you visit Belmont, you will appreciate the scope of her talents. Of course, we can never forget Rachael Jackson who was a pipe-smoking divorcee when "nice women didn't".
The Hermitage has been extensively restored to its 1830s splendor and reflects the taste of a president who was "a man of the people." But more than Jackson's presence is preserved in the Hermitage. His controversial wife, Rachael, chooses the spot and made it a home.
During Jackson's presidential campaign, deemed the dirtiest in history, Rachael's reputation was tattered due to her marriage to Jackson before her divorce was finalized. Although they remarried afterwards, this was a major issue in the campaign. One Jackson felt caused the death of his beloved Rachael shortly before his inauguration.
When he left the White House, he never failed to spend time each evening in Rachael's garden where she was buried. At his death he was buried besides her. You can still see traces of the flowers and herbs Rachael planted..
A tour of the capital building shows women, although unable to vote, still made their influence felt in Tennessee when the nineteenth amendment came up for the vote. Tennessee was the state that cast the deciding vote.
Nashville is filled with stories of courageous women who helped bring us to the place we are today. One of Nashville's newest attractions, The Fox Trot Carousel, is a combination of historical tribute, fine arts and just plain fun.
The carousel, located downtown in Riverfront Park, includes many of Nashville's most memorable women.
Charlotte Robinson, wife of one of the city founders, saved Fort Nashborough from an Indian raid. She later founded the first school in the area.
Anne Dallas Dudley led the fight for women's rights and became the first woman delegate at large to the Democratic Convention. Modern women are represented there as well.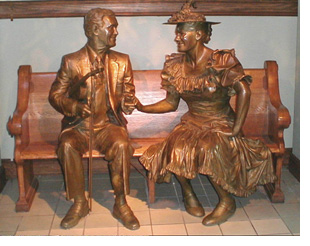 Kitty Wells, first woman to be elected to the Grand Ole Opry and Lula Naff who managed the Ryman Auditorium for fifty years and is credited with collecting the autographed photos, playbills and programs of those who preformed there over the years.
Speaking of the Ryman, no trip to Nashville is complete without a visit to this legendary music shrine. Be sure to see the life-size bronze sculpture of one woman who carved an unforgettable niche in what had been a male dominated field without relying on her looks or build. Minny Pearl shares the entry way with her longtime friend, Roy Acuff.
Almost anywhere you go in Nashville, you will find traces of the women who made this city great. It's a place that's not afraid to show its feminine side.
About the author:
This week Traveling Tales welcomes publisher, author and freelance travel writer Kathleen Walls who lives in St.Augustine, Florida.
Photos by Kathleen Walls:
1: Athena, the world's largest indoor sculpture
2: The Belle Meade Mansion
3: Sculpture of Roy Acuff and Minny Pearl
More Information:
The Parthenon www.parthenon.com 615-863-8431
The Hermitage www.thehermitage.com 615-889-2941
Belle Meade Plantation www.bellemeadeplantation.com 800-270-3991
Belmont Mansion www.belmont.edu/about/mansion.cfm 615-460-5459
Foxtrot Carousel 615-254-7020
Ryman Auditorium www.ryman.com 615-889-3060
Capital Building 615-741-2692