by Jane Cassie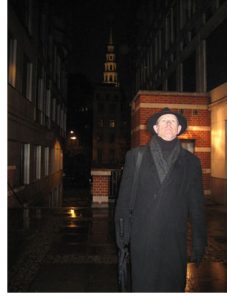 He's dressed from head to toe in raven black and melds seamlessly into the pitch-dark night. In one hand is an umbrella that doubles as a cane. In the other, is a flashlight, waiting to come to life. Timing is everything, and when the nearby bell of St Andrews begins to toll, he goes into action. "It's the bell from Gabrielle, who sends your soul to heaven or hell…" The cue has been perfectly timed with our guide's performance and following the lyric he sheds light on yet another spooky tale.
Shaughan has led the way on Original London Walks for sixteen years, and we are captivated by his haunting vignettes. The slapstick routine is creatively interspersed with songs, and is more like a Shakespearean play than a ghost hunt.
While weaving around London's dimly lit alleys, we hear about ruthless royals, cruel slayings, and returning spirits. Men who were boiled alive in 1305, have come back to deal with their executioners. Chained prisoners who were gruesomely disembowelled have been heard clanking over rooftops.
There's been whistling in bell towers, mysterious cries within walls, and phantom galloping over cobblestones. Throw in a few bodiless heads and headless bodies and you have one haunted heyday!
But in spite of historical reports, it's all in good fun, and we will snooze well beneath London's full moon tonight.
Although we have our fill of spooks after this stroll, two evenings later, we're lured like werewolves to the Richmond district where more eeriness awaits.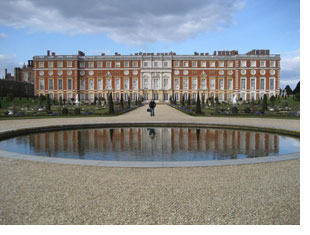 Ham House is the perfect place for spectres. The isolated Stuart mansion hugs up to the River Thames, and when nighttime falls, its Tutor silhouette takes on an ominous glow.
John Mills, our burly guide, turns out to be another ghoul guru. We gather in the Grand Hall, once a party place for the royally rich, where he provides a Coles notes version of history. "The house was built in 1610 for Sir Thomas Vavasour," Mills explains, "and then was gifted to his best friend, William Murray, a.k.a. the Earl of Dysart."
Generous guy, I'm thinking. But, as we soon discover, money doesn't always breed nice people. The Earl's daughter, a spendthrift and an unfriendly gal, inherits the haven. She goes through a couple of husbands, makes some poor financial choices and her entire domain goes belly up.
Ham House becomes an abandoned time capsule after her death in 1698, yet in spite of its vacancy, a few spirits still linger.
We discover that the resident chaplain, Gilbert Spink, was quite enamoured by this gal. "When her apparition returns, dressed in black, the spirit of Spink is close behind," Mills says, "and so does the resident pooch, a King Charles Spaniel."
We check out the canine's skeletal remains, well preserved under glass, and look at the past residents whose images are portrayed on canvas. Sticking close to Mill's shadow, we mosey through the fine interiors boasting period décor, then head to the chilly outdoors.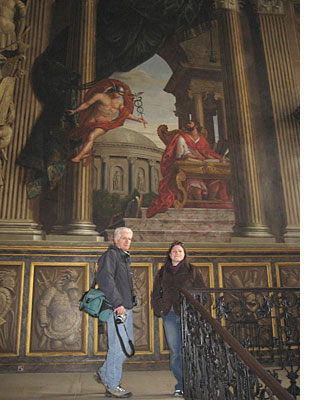 Just beyond the arboretum, is the celebrated Cherry Garden, an orangery and the scene of, yes, more ghostly sightings. After hearing about love-crushed servants and returning World War I heroes, we've had our fill of phantom fun-at least until the following day.
Further up the Thames is Hampton Court Palace -sixty lush acres, colossal citadel-the whole bastion bit. Initially, the fortress was built for Henry VIII, the big-bellied king who had the reputation for killing off wives.
While being led through his palatial quarters by costumed guides, we're given the run down of those hapless women who have made a comeback to haunt these halls.
Henry's third wife, Jane Seymour, has been seen wandering the Clock Court. His fifth fair maiden, Catherine Howard, has been heard shrieking in the Haunted Gallery and his second in line, Anne Boleyn, seems to be here, there and everywhere.
As well as around Hampton Court, we discover that her presence is predominantly felt at the acclaimed Tower of London, another popular hang-out for the incorporeal crowd and London haunt where history literally comes to life!
About the author:
This week Traveling Tales welcomes the freelance travel writer/photographer team of Jane and Brent Cassie, who live in South Surrey, a suburb of Vancouver B.C.
Photos by Brent Cassie:
1: Shaughan leads the way on our ghost walk.
2: Hampton Court Palace and home to Henry VIII.
3: Winding staircase to the King's apartments.