by Anna Marie Benton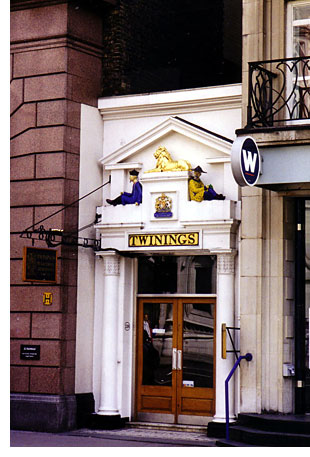 The guidebook stated that there was not much worth looking at in London's Chancery Lane. When the courts were open, one could see the bewigged barristers, or there was the original Twinings Tea, the oldest continuously run shop in the City. With a lazy Saturday afternoon to wile away, and the Law Courts closed, tea it would be. I reached Twinings' front door, with its Chinese mandarins brightly decorating the eaves, mournfully marked "Closed." I could still smell the unmistakable scent of Lapsong Souchong wafting out of its long narrow shopfront into the street as I walked away.
To be so near, and yet so far from my goal was frustrating. I walked aimlessly for a while, marveling at the lack of tourists and traffic, just as the guidebook predicted. After passing by a statue of Thomas More looking saintly and uncomfortable in his niche, and a pub with wigs and books of common law decorating its windows (also closed), I noticed a very small sign.
"National Trust, Prince Henry's Room, Open 11-2, Saturdays, FREE, Upstairs"
Prince Henry? In Fleet Street? Which Henry was it? The building was too new for Henry I through VI. It looked Tudorish, maybe the infamous Henry VIII? But the sign said specifically, Prince Henry, and besides, anything to do with Henry VIII would at least "be" in my guidebook.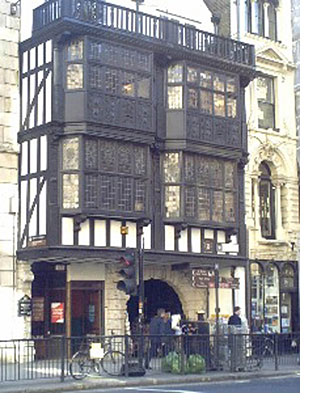 I walked into a room 400 years old, with oak paneling, wide-planked floors and leaded windows in a bay overlooking the street. Looking upwards, I saw an exquisite Jacobean plaster ceiling, with vines and budding flowers. I was surprised such fragile beauty survived. I had just visited the Imperial War Museum, and the ravages of the blitz were firmly in my mind.
As I was gaping, a docent appeared, enthusiastically telling me that I was the first visitor of the day. Then, with a twinkle in his eye, he asked me which "Prince Henry" did I think the room belonged to? Here was the one place that my graduate work in history would come in handily; smiling, I asked if James I didn't have a son named Henry?
From that point, Lane and I were fast friends. (He later confessed it was rather disheartening that so many people assumed it was a room of Henry VIII's!) After telling me that he had been a Fleet Street Journalist, he then proceeded with the official tour. This room indeed had the last Jacobean plaster ceiling in London, and Lane pointed out that in the middle was young Henry's crest, with its three curved plumes.
Prince Henry was an interesting and ultimately tragic royal. His portrait in the National Gallery shows a ruddy-cheeked handsome young man, with physical prowess and charm.
Lane told me that the Prince had this particular meeting room built to collect rents from his London properties. Prince Henry was very much the treasured heir, and most likely would have been a glorious monarch, a Henry IX to redeem the memory of his previous Tudor namesake. But he died at eighteen, leaving his younger brother Charles I to rule and ultimately to die even more tragically outside Whitehall, executed at the close of the English Civil War.
After Prince Henry died, his meeting room miraculously escaped the Great Fire of 1666 (which stopped about a block away), and the room served subsequently as a pub, a storage room, and as part of a waxworks and later described by Charles Dickens. The building fell into disrepair, and yet that ceiling survived.
Finally, Lane explained that the Samuel Pepys Society, a gentleman's club, decided to save the room by turning it into a museum dedicated to the author of the world's most famous diary.
Pepys was apparently born just around the corner and lived in the area, so a period room seemed a perfect spot to display memorabilia and to attract tourists. Pepys was a friend of Isaac Newton's, and became Secretary of the English Admiralty after working his way up through the civil service.
Though the tourists were absent, there was memorabilia in a variety of wooden cases, a painting of the Thames in the Great Fire of London, and a portrait of Pepys in his wig, no doubt picked over for lice by his wife, who was ever patient with his roving eyes and infidelities.
Lane chortled, pointing at Pepys, "Oh he was a rogue, a rogue," and then launched into a story about Nell Gwyn, an actress and mistress of Charles II that Pepys had an eye on. "Pretty witty" Nell got her start selling oranges in a London theatre, eventually having a thriving career on the London stage, and in the king's bedroom.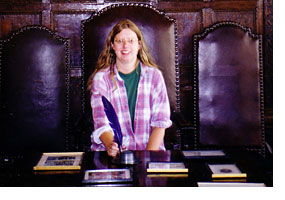 But the best artifact of all was a line of leather chairs, Pepys' dining room set, and a long table with his pewter inkwell and a plume. I imagined him sitting at the table, in the beginning of his career perhaps eating nothing but pease soup with his wife, supplemented by dinners at his patrons' homes.
And later, I could visualize him at the height of his career in the admiralty, energetically writing with his quill and inkpot at his office.
As I was thinking, Lane said, "You can sit in the chair if you want," and "I'll take your picture holding the quill." Seated at the table, for a brief moment, I was in seventeenth-century England, its atmosphere redolent in a small room that accidentally survived a prince's death, a fire, and barroom brawls, to commemorate both a royal and a rogue.
I firmly decided from that point on that guidebooks were not to be trusted.
About the author:
This week, Traveling Tales welcomes travel writer Anna Marie Benton, an English historian and a research associate in the History of Medicine Unit at Oxford University
About the photos:
1: Exterior view of Twinings Tea. Anna Marie Benton photo.
2: The house where Prince Henry's room is located. Janet Digby photo.
3: The author, quill in hand, sits in Samuel Pepys's chair. Anna Marie Benton photo.