by Rick Millikan
Adventurous curiosity attracts my wife Chris and I back to Lana'i, a small Hawaiian Island renowned for its longtime production of Dole pineapples. Only twenty acres of this luscious golden fruit remain…so one could say Lana'i's off the Dole and fully into tourism! A comfortable catamaran ferry whisks us from Lahaina's wharf to Manele Bay; a bus shuttles us upward through Lana'i City's pastel buildings. Plantation-style grocery stores, venerable hotel, theatre, small home galleries and bistros surround Dole Park.
On the grassy hillside, the former Dole administration building encloses Lana'i's Cultural Center. Students walk and cycle from school into bordering neighborhoods of small homes festooned with vibrant tropical flowers.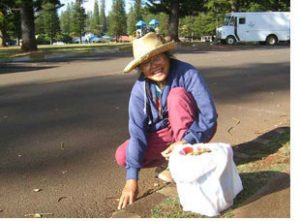 Along the sidewalks, elderly matrons harvest seeds from its many emerald evergreens.
One lady confides, "I get a dollar a pound for these." Once planted to gather moisture on this dry island, these towering Cook Island Pines embellish Lana'i, shading its central park, lining both the main road and distant ridges.
While Chris chats with locals, I enter "Dis and Dat," a notable shop and experience thunderous gongs, a hundred plus wind chimes melodiously tinkling, perfumed incense and Buddha statuary. Wow!
Many overnight at Four Seasons Resort at Manele Bay, catering to water sports…or its Lodge at Ko'ele serving upcountry endeavors. Fortunately, we luxuriate at both. Our lodge balcony overlooks a putting green and extensive manicured gardens. We watch wild turkeys roam beneath us and discover later our feathered neighbors roost nightly in nearby 300-hundred-year-old guava trees.
With only 30 paved miles, many visitors seek unique off-road adventures. Arranging for a jeep the next day, a raven-haired wahine asks my name for the necessary forms. I grin, "Indiana Jones…" Luana grimaces, but helps me initial my responsibilities on the rental agreement.
Then I wink, "Where can I wrestle down a tusked boar or tasty wild goat for dinner?" Smiling, she reports, "These animals overgrazed our native plants, so were eliminated. Now hunters stalk the later introduced mouflon sheep, axis deer, pheasants, quail and wild turkeys. Good luck!"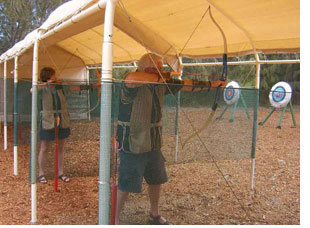 Such hunters may drive, as we do, through a grove of ironwood trees to Lana'i Pine Sporting Clays to hone their prowess. After initial lessons on laser-guided pellet rifles, we're plinking targets. Next knocking fleches and drawing bowstrings, we plunk arrows around bulls-eyes.
And after being instructed to safely carry, point and squeeze a shotgun trigger, I aim at wily clay disks, which quiver like quails, race like rabbits, dart like ducks and turn tail like ptarmigans. On fourteen platforms, I'm blasting these saucers into biodegradable sauce.
Driving onward, we descend onto a barren, windswept slope dotted with silvery grasses and low-lying shrubs. Sighting bright orange vines coiled atop drab foliage, we stop to examine a kauna'oa. Its small pearly blossoms are official island flowers. Further along we spot a rusted World War II tanker stranded on the northern reef far below…
Parking atop a plateau, we examine an otherworldly setting of rusty reds, sulphurous yellows, metallic blues and purples. Garden of the Gods recalls a local legend. In the fifteenth century, a Maui Chief banished his troublesome son to this island. After several weeks, the prince vanquished Lana'i's infamous man-eating ghosts using his magical spear. We imagine the Garden's eerie squat boulders are petrified spirits.
Out of Manele Bay the following morning, our Trilogy rafting group is photo-shooting spinner dolphins. Like everyone else, I'm trying to capture the essence of these amiable creatures with my camera. This local pod contains over a hundred frolickers.
Rugged black lava walls extend along Lana'i's northern coastline. Cave-like lava tubes appear at the waterline of these sheer cliffs. Thirsty brown grass covers the desolate slopes above.
Noting three weathered shacks, our rafter captain explains, "Fishermen lived there to be near a perfect spot for catching marlin, mahi-mahi, tuna and barracuda! Hawaii's first king, Kamehameha often left Lahaina, Hawaii's old capital to fish here!"
Snorkeling in a pristine cove near Shark Fin Rock, a mottled turtle swims above arrays of colorful fish and coral. Due to conservation efforts, sociable green sea turtles are often observed.
When a crew member dives down to snag a small octopus, he offers an encounter with this very elusive creature. He places the tentacled beauty on the shoulders of two snorkelers, a primo photo op. And before returning him homeward, he allows me to cuddle the eight-armed charmer!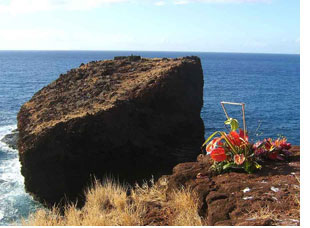 Early the next day we hike along Hulopo'e beach and up a well-worn trail through jagged black lava to visit Sweetheart Rock. Romantic souls had placed a beautiful floral tribute at a cliffside spot overlooking this legendary sea stack topped with a rock tomb.
This site memorializes Hawaii's Romeo and Juliet tale. It is said that stricken with a Maui princess's beauty, a Lanai warrior brought her to live with him in a nearby sea cave. When she tragically drowned, he buried her atop this 80-foot rock; then heartbroken, leapt to his death.
Before returning to our plush ocean view suite to pack, I snorkel in Hulopo'e Bay Marine Preserve.
I swim with kaleidoscopes of dazzling fish, including black durgons, tangs, unicorn, puffer and butterfly fish. Exotic yellow, black and white Moorish idols parade among purple and pink coral. Red squirrelfish peek out of rock cavities. Whiskered yellowfin goatfish scavenge and stir the sandy bottom.
All good things don't end. Our Lana'i adventures will remain as treasured memories.
About the author:
This week Traveling Tales welcomes freelance travel writer Rick Millikan who lives in Delta, a suburb of Vancouver B.C.
Photos by Chris Millikan
1: A local matron gathers pine seeds from the sidewalk.
2: The author, and wife Chris, on the archery range.
3: Lana'i's famous Sweetheart Rock.