By Chris McBeath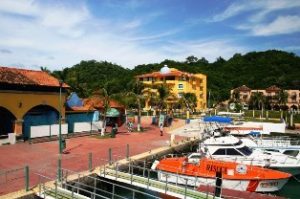 The van bumped and cajoled its way up into the Sierra Madre del Sur mountains, kicking pebbles into the jungle precipice from the dirt track and lurching to a standstill every so often for us to view the local wildlife: a tarantula the size of Boris Karloff's hand, an armadillo waddling out of our way, and a rattler warming its length in the Mexican sun.
Huatulco, (pronounced, wah-tool-co), lies 400 km south of Acapulco in the state of Oaxaca, and is a far cry from the party-central excesses of Cancun or Puerto Vallarta. In fact, the folks at Fonatur, Mexico's state-run tourism organization would like to keep it that way. In the mid-1980's, Fonatur expropriated land to develop Huatulco into a Pacific resort and also set aside some 40,000 acres as a nature reserve to protect the tropical hillsides. In addition, governances were put into place to protect the wild and extensive shorelines – some of the most pristine in Mexico, against the over-indulgent developments like Fonatur's other successes that include Cancun, Baja and Ixtapa.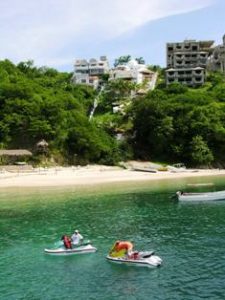 While the resort area comprises facilities for two cruise ships, and several major hotels, most are so underutilized it feels as if the parade has passed them by. In reality the parade has yet to come. The exception is Quinta Real Huatulco. Small, personal and beautifully laid out, the hotel stands atop a hill and offers spectacular views from multi-level patios for sun bathing, fresco dining and simply relaxing. Each of the spacious 28 suites is intimately private, some even have private pools, and all have shaded patios with double-sized hammocks.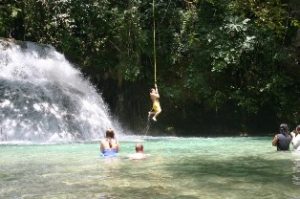 The name Huatulco comes from the Hahuatl word cuauhtolco, meaning "the place where the wood is adored." According to legend, the great civilizing god Quetzalcoatl left the inhabitants of the bay of Santa Cruz a wooden cross. Another legend talks of an old, white man with long hair and a beard arriving from the sea. He carried a beautiful timber, like a cross, and stayed to teach them many things; when he departed, left them the holy timber.
La Crucecita, Huatulco's city center, is charming. It comprises a heritage market square with a church boasting the largest Madonna painted on a ceiling, and a good assortment of local restaurants, and stores selling trinkets, hand woven rugs and blankets, clothing and jewellery. Huatulco is the only place in Mexico to buy black pottery (clay polished with quartz before firing) and if your Spanish is up for it, bartering is the order of the day. Since most of the workforce here earns less than US$1 per 12-hour day, you might not want to barter too hard even if the store does advertise, "Let's make a deal, Monty Hall style."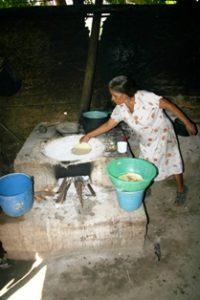 Most visitors do not come to Huatulco for the shopping. They come for the hospitality of 'old style' Mexico, for the safety (honest — this community is about as far removed from Mexico City as you can get), and to experience the country's new style of eco-tourism: birding, diving, golf, mountain climbing, or shooting the whitewater rapids of the Rio Capalito where three different rafting trips are offered based a visitor's skill level and fear factor. Or you can take an ATV, horse or hardy four-wheeler into the Sierra Madre del Sur mountains in search of their "green gold" ……pluma coffee.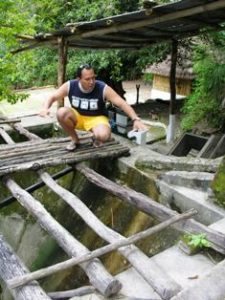 This was where our van was heading. After an hour of driving, we reached a remote village dating back some 400 years. Another hour of travel and some magnificent waterfalls at the head of the Rio Copilato were a welcome respite to the hot journey. Finally, we arrived at the Lagloria coffee plantation, a ramshackle group of adobe buildings and rather crude processing barrows and slatted drying racks surrounded by 550 acres of tangled bush. At 2000m above sea level, the ecological coffee has acquired a mythical status for its one-of-a-kind high altitude taste – smooth like chocolate yet dark, full bodied and without a hint of bitterness. Harvesting the beans is gruelling work earning pickers –primarily women for their smaller, nimbler hands, US$4 per 12-hour day. And even though the coffee plants grow wild amidst thorny bushes and jungle undergrowth where multi-colored tarantulas and deadly Naouyaka snakes make their home, danger money isn't even a consideration.
But this is the reality of authentic Mexico and the visit to the plantation, without doubt, is a highlight of the area.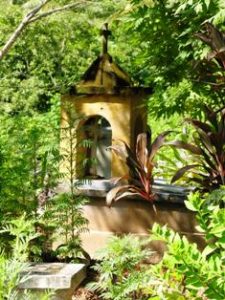 However, if you are looking for an alternate pace to this ecological paradise, you won't be disappointed. The inevitable tequila tour boats can be found. They travel the coastline, music blaring, past nine mesmerizing bays, 36 lovely sandy beaches, most of which are inaccessible by land, to crystal clear snorkelling waters. The entire experience seems to fly in the face of the eco-message Huatalco is trying to promote. And while eco-tourism here is barely on the map, it holds the promise to be its salvation. So you might want to make tracks to this sleepy and beautiful part of Mexico before the pleasures of these party boats start to make their mark.
Note: Huatulco has earned Green Globe certification, awarded to destinations that are particularly earth-friendly. That said, previous experience in Mexico still questions the "do drink the water" signs.
Where to stay:
Quinta Real Huatulco
Tel: 888/561-2817 or 958/581-0428 www.quintareal.com
Ask about Quinta Real's money-back guarantee if the sun fails to appear, mid November-mid June.

Cruise Port Insider Guide to Huatulco

#ad
For information: www.oaxaca.gob.mx
Photos by Chris McBeath