by Margaret Deefholts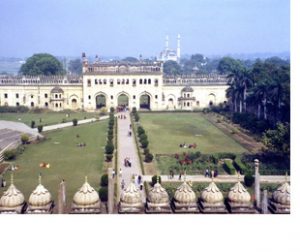 India's history holds many ghosts. It is a land of old loves, ancient hatreds, tarnished dreams and fleeting glory. I am in Lucknow in North India, and I am drawn into a story of extraordinary courage in the face of insurmountable odds.
Lucknow was ruled for centuries by the Muslim Nawabs of Oudh. The last ruler was ousted by the British in 1856, ostensibly because he was a dissolute wastrel. While there was some truth to this, Wajid Ali Shah was also a cultured nobleman and generous patron of the arts.
The Province of Oudh was, however, of strategic importance to the British and it was in their interests to secure domination over it by whatever means they could employ.
It was a step that they would regret.
The annexation of Oudh was just one of the factors which ignited the tinder-box of rebellion in 1857, and brought about the Great Mutiny now referred to as The First War of Independence, by Indian nationalists.
In May 1857, insurrection had broken out in other parts of the country, and Sir Henry Lawrence, the gallant Chief Commissioner in Lucknow, prudently moved British and Anglo-Indian civilians (my great-grandmother among them) into the 60-acre walled defences of the British Residency.
Today, 150 years later, I sit under a tamarind tree, on a bench bordering the lawns of the old Residency, listening to the drone of bees, and the harsh cawing of crows. Dust devils whirl briefly in the warm afternoon breeze, and the air carries the scent of marigold flowers.
If I'd been here in 1857, these sounds would have been drowned by the bursting of shells, the acrid smell of gunpowder, and the almost continuous bombardment of cannon. The surroundings would have been shrouded in the grey dust of crumbling masonry.
Within the buildings around me today, was a defensive army of about 850 British officers and soldiers, backed by about 700 loyal native sepoys, plus a handful of civilian volunteers and several hundred non-combatants, including elderly citizens, women and children, most of whom were crammed into an underground warren of rooms known as the "Tykhana."
As I walk into the Tykhana today, it is as if the shadows around me are alive with ghosts of women soothing the fevers of dying children, tending to soldiers' bloody and torn limbs while around them the whine of bullets and the heavy crash of cannonballs, continue to slam against the walls of their brick shelter.
The searing heat of June that year, gave way to torrential monsoon rains in July; malaria, typhoid and cholera took their toll.
Emerging into the sunlight, I am glad to be free of the weight of so much sorrow yet there are other reminders scattered throughout the Residency. The splendid ballroom, converted into a hospital, bears the scars of shellfire.
A few residences still stand, their mildew-covered walls like rotted teeth lying open to the sky. The cemetery headstones tell their own tragic tales of bereavement.
It would be 141 days of fierce bombardment, before Sir Colin Campbell and his Highland battalion backed by other army detachments, came to the rescue. Only 800 soldiers and non-combatants, along with about 550 ragged and painfully emaciated women and children survived the ordeal.
As the conflagration of the uprising blazed across the Indo-Gangetic plain, the carnage on both sides left scars of bitter mistrust. As a result, the British government took over the reins of administration from the East India Company, and in 1858, India became Britain's "fairest jewel in the Crown."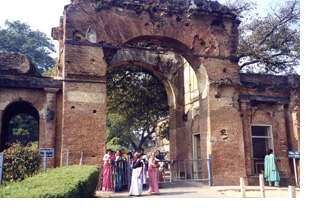 Apart from the ruins of the Residency, Lucknow is filled with crumbling, yet once splendid Islamic mosques, tombs and mansions such as the romantically named "Dilkhusha Palace (Heart's Delight).
I dismount from my rickshaw near the Rumi Darwaza, a magnificent gateway to the old city, to explore a building built in 1784. The Bara Imambara (once the residence of an Imam, or religious leader) is a marvel of architecture: its 15-metre high vaulted central hall stretches for 50 metres (the longest in the world) without any intermediary supporting pillars.
The upper floor consists of labyrinthine passages – the "Bhul-bhuliaya" – and visitors are challenged to find their way out of the maze. Few succeed and guides are poised to come to the rescue.
The labyrinth's acoustic engineering is such that a whisper against one wall can be clearly heard even beyond several turns and twists of the corridors. Always suspicious of conspiracies, this is how the rulers of Lucknow guarded against disloyalty on the part of the keepers of the Imambara.
Lucknow is, of course, is much more than its historical monuments. The modern commercial area of Hazrat Gunj is the hub of air-conditioned shops, restaurants and concrete office buildings.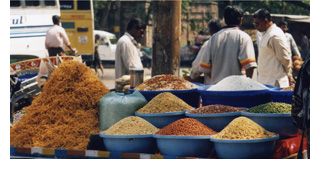 By contrast, the narrow lanes of Aminabad bazaar in old Lucknow seethe with colour and movement. Popular film music blares out from small food kiosks, sidewalk sellers offer marigold garlands, and fruit and vegetable stalls are piled high with produce.
Cows amble through the crowds, unhindered by shoppers, and vice-versa. At a small clothing store, I buy a strawberry pink cotton kurta (tunic) adorned with "chikkan" work – a type of shadow embroidery unique to Lucknow – for less than the cost of half a bag of groceries in Canada!
At a restaurant overlooking the old city, I dine on Lucknow's legendary Moghlai cuisine. Domes and minarets dominate the skyline and, bathed in the glow of twilight, they evoke a dreamy "Arabian Nights" landscape.
The old city had, and still has, a distinctive ambience born of centuries-old traditions of courtly etiquette and stately manners. Urdu literature and Islamic art, fine apparel, exquisite jewellery and adornments, continue to be part of a genteel lifestyle among the descendents of Nawabi families, many of whom still live in rambling, if now rather shabby mansions.
Like their ancient city, they too are relics of another, more gracious world.
About the author:
This week Traveling Tales welcomes Margaret Deefholts, Canadian author and freelance travel writer who lives near Vancouver on Canada's West Coast.
Photos by Margaret Deefholts:
1: A view of the entrance and pathway from the terrace of the Bara Imambara.
2: The Baillie Gate to the Residency which took some of the heaviest fire from the rebels during the siege of Lucknow.
3: A street hawker's stall near the entrance to the Residency.
IF YOU GO:
Getting There:
Lucknow has daily flights to and from most major Indian cities such as Delhi, Kolkata, Mumbai, Jaipur, Goa and Hyderabad. The air conditioned Shatabdi Express train runs between Lucknow and Delhi (6 hours), and other express trains fan out towards Allahabad, Varanasi, Mumbai, Kolkata etc. Long distance buses ply to most major destinations.
Where to Stay:
Hotels run the gamut from budget to top end, but none of them offer 5 star accommodation.
Carleton Hotel (once a palace) has large rooms, and an air of decaying elegance. Hotel Clarks Avadh is a modern hotel with luxury fittings, a restaurant, coffee shop and bar.
Best Time to Visit:
Between October and March. The winter evenings can be chilly with night temperatures dipping to near freezing levels. The summer temperatures routinely soar to 40oC.
Restaurants and Shopping:
Modern Lucknow city is noisy, dusty and crowded. However, Hazrat Gunj (the main drag), and its adjoining lanes, is an upscale shopping area with western-style malls, clothing and souvenir shops.
This is also the location of a number of restaurants serving fine Lucknow cuisine: sizzling kebabs, linen thin Rumali (handkerchief) rotis, aromatic pilaffs, and kulfi ice-cream—all fit for a Nawab's discerning palate! Forego ice cubes in pop, and drink only chilled bottled water. Spicy Indian chai and creamy Indian-style coffee are popular (and safe) after-dinner beverages.
Government emporiums offer quality handicrafts, but their prices are non-negotiable. Ram Advani's bookstore, also on Hazrat Gunj has an eclectic selection of Indian literature ranging from novels and non-fiction paperbacks, to illustrated coffee table books.
The bird sellers' district in old Lucknow's Chowk market is interesting to browse through. Pidgeon keeping and cockfighting have been popular in Lucknow from the time of the Nawabs.
Other:
Liquor in India is relatively inexpensive, but certain days of the week are designated as "dry" and the liquor stores are closed. Hotel bars and restaurants will, however, serve their clientele without any fuss. Indian dark rum ("Old Monk" or "Hercules XXX") is excellent—fruity and richly textured; Indian whisky and gin is passable, but standards vary from brand to brand. "Kingfisher" beer is served chilled and on a hot day, or as an accompaniment to a fiery curry, it goes down very smoothly.
Most comprehensive guidebook: "Lonely Planet—India". Don't leave home without it!