by Katherine McIntyre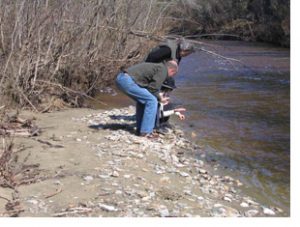 With a wild and turbulent history behind it, Dawson City mines for tourist gold these days.
But, it was mining for real gold that turned this First Nation fishing village, on a piece of swampy permafrost, in the Canadian Yukon into an instant ramshackle city of 40,000 miners and hangers on.
It happened in 1896 when George Carmack, a local prospector found gold in neighbouring Rabbit Creek (now named Bonanza Creek). When the news of his discovery spread across the world; thousands of 'stampeders' answered the siren call of riches. They headed north to make their fortune scrabbling for gold.
At the same time, slick entrepreneurs with another vision discovered an easier way to mine for gold. They opened sawmills and built casinos, dance halls, hotels, saloons, restaurants, and houses for the successful.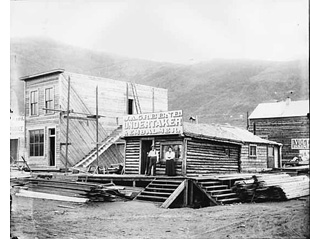 Then in 1899, it stopped. The Gold Rush was over, the miners moved on. Dawson City reverted into a sub-Arctic community with a difference – a ghostly aura of the dancing girls and fast living hovers over the town.
The wooden sidewalks and dirt roads resemble the town the miners vacated at the end of the gold rush.
Buildings restored by Parks Canada with false facades, painted yellow, blue, green, or buff line the streets. Their windows display the same items that were on show in the glory days when Dawson City was known as the Paris of the North. Mme.
Emilie (Fortin) Tremblay gave up prospecting for high-end fashion. Her store window displays a white cotton blouse with huge leg -o-mutton sleeves. Ruby's Place, combined a laundry and the last legal brothel in Canada. There is only tin washtub in her window. Other buildings lie empty and forlorn,
Bombay Peggy's Inn and Tavern is one old house that didn't want to die. Standing vacant and sinking into a swamp, it flashed a signal to two Klondike women, Kim Bouzane and Wendy Cairns. They interacted with its elegant lines, peeking out from a sorry façade, and envisioned a restored Victorian style inn. Not easy in Dawson City where building by-laws dictate that all renovations must conform to the total historic appearance of the city.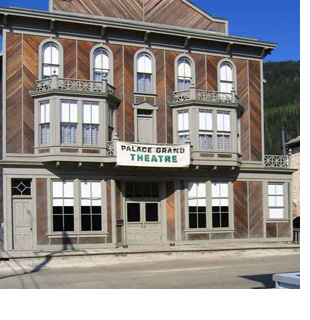 But these were two determined women who met about fifteen years ago. "I was passing through at the time," said Kim, "and Wendy was a dancer at Diamond Tooth Gerties Gambling Hall." As they got the feel of the historic town with its wooden sidewalks, dirt roads and historic buildings, the lure of the Yukon seduced them and they determined to stay.
Uta Reilly and Leslie Chapman have each turned their historic old timers into boutique and craft studios. At her Fortymile Gold Shop, Leslie works natural unalloyed 20-carat gold nuggets, mined from her family's claim on the Forty Mile River, into unique pieces.
Uta's jewellery includes diamonds from northern Canada's booming diamond mines with her Klondike gold at her Klondike Nugget and Ivory Shop. Both shops feature ivory, carved from tusks of the ancient mastodons that roamed the Yukon in ancient times. Now an extinct species, trade in their ivory is legal. Dawson City Museum dramatically explains why mastodons roamed the area thousands of years ago.
Formerly the Old Territorial Administration Building, the impressive stone building is now a National Historic Site,. No one visiting the building should miss seeing the documentary City of Gold in which Pierre Berton recounts the 'stampeders' agonizing journey to the fabled gold fields through steep mountain passes on freezing winter trails.
But what makes the whole story of Dawson come together involves a trip outside Dawson, to Claim #6 on Bonanza Creek just about a half mile downstream from where George Carmack found the first gold nuggets in 1896.
Anyone can try their luck with a pick axe, shovel and gold pan provided by the Klondike Visitors Association – and if they find gold they can keep it. Is there gold? Yolanda, our server at Klondike Kate's Restaurant points to six gold nuggets dangling from a chain around her neck "There's gold, I found these on my own claim."
At night, in the eerie glow of the midnight sun, the sparkling lights, the can can girls and the roulette tables at Diamond Tooth Gertie's Gambling Hall beckon.
Named after a dance hall queen, who distinguished herself with a sparkling diamond wedged between her two front teeth, the hall rocks with the jangle of slot machines, and the pounding honky-tonk beat of the musical extravaganza.
On the other side of town Bombay Peggy's Pub serves up twenty-two varieties of martinis, or twelve different single malt whiskies to the twanging music of a local band.
But no show can compete with the Northern Lights. By late August, when the sun drops below the horizon, they ripple into the night sky in shimmering greens, reds, purples and blues.
Then, in their mystical ghostly glow Dawson City reverts to its mystical ghostly past.
About the author:
This week Traveling Tales welcomes Katherine McIntyre a freelance travel writer who lives in Toronto, Canada.
About the photos:
1. Searching for gold in Bonanza Creek. Katherine McIntyre photo.
2. "J.A. Greene Establishment" undertaker and embalmer c.1900. Anton Vogee, fonds.
Yukon Archives photo.
3. Where can can girls kicked up their heels. Katherine McIntyre photo.
How to get there:
By Air from Vancouver or Edmonton to Whitehorse
By Car via the Alaska Highway to Whitehorse and then the Klondike Highway, or from Skagway, Alaska via the Klondike Highway
Dawson City Tourism
www.DawsonCity.ca
Places to Stay in Dawson City
Bombay Peggy's Pub and Inn
2nd and Princess St. 867 993 6969,
info@bombaypeggys.com, www.bombaypeggys.com
The Aurora Inn and Pub
5th Street, Dawson City www.aurorainn.ca
Klondike Kate's Cabins and Restaurant
3rd Avenue and King Street
www.klondikekates.ca
Things to Do:
Diamond Tooth Gerties Gambling Hall
Queen St. and 4th Ave. www.DawsonCity.ca
Dawson City Museum
5th Ave between Hanson and Turner
Claim #6:
Turn off the Klondike Highway and follow Bonanza Creek Road past Dredge #4 and the historic Discovery Claim. Watch for signs on the left hand side of the road – about 14 km
Jack London's Interpretive Centre
Corner of 8th Ave. and Firth Street
Dznojz Zho Cultural Centre Of the Klondike's First People
Front St. Dawson City