by Margaret Deefholts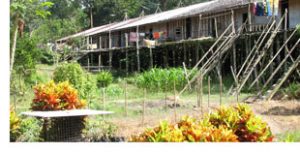 The human skull looking down balefully at me through a wicker framework suspended from the rafters of the Serubah Longhouse in Sarawak is unsettling, but according to our guide, Bong, it embodies a benevolent spirit who protects the community who live here. "They are hospitable towards visitors," Bong adds, catching my apprehensive upward glance. "So don't worry!"
The tuai rumah, (headman) of the Iban longhouse also smiles reassuringly, while a young woman graciously welcomes us with glasses of tuak—a home-brewed rice wine. The milky liquid is sour-sweet with an acrid, but not unpleasant edge to it, and I savour the sensation of warmth as it travels down my throat.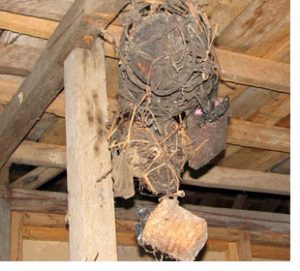 The practice of decapitating enemies has long vanished in tribal Borneo in the wake of widespread Christianity. Nonetheless ancient taboos, rituals and a regard for the spirit world remain ingrained in the minds and hearts of the Iban, the Kadazan and other Dyak tribes who live in the jungles of Sabah and Sarawak.
"When a warrior brought home the head of his enemy," says Bong, "it was skinned and smoke-dried over a fire, and then displayed on a pole while everyone celebrated the victory with feasting and dancing.
Because the spirit of the departed was believed to remain within the skull for seven days, the shaman would then perform special rituals of appeasement to make sure that the skull's previous inhabitant had no vengeful hang-ups, and would instead act as a guardian of the longhouse by warding off demons and other evil influences."
In keeping with this idea, wicker baskets surrounding the skulls above us have a collection of small offerings to make the spirits happy, and I notice that these include a few cigarette butts. Nicotine addiction evidently still persists in the afterlife. I drain my glass of fiery tuak as I raise a toast to the shrunken heads, which have now actually begun to look quite friendly.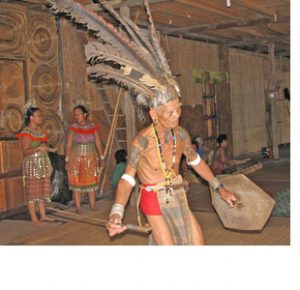 The headman introduces us to his predecessor, Budit anak Libau now in his mid-to-late 80s and retired from his office as tuan rumah. Budit's skin is like aged brown leather, and his gaunt upper torso is thickly embroidered with tattoos.
They tell a grisly tale, for the old man, despite his gentle smile and frail appearance today, was a formidable head-hunter in his youth; the tattooed emblems decorating his throat, chest, arms and back are his badges of bravery; the skulls on display at the entrance just above our heads include some of his trophies.
The Serubah Longhouse at Nanga Sampa lies deep in the jungles of Sarawak and to get here, we'd travelled for over an hour from the swanky Hilton-owned Batang Ai Longhouse Resort into a different world.
Our dug-out canoes, which looked as frail as peanut shells, bobbed and tossed their way along the rushing waters of the Lemanak River. Dense tropical vegetation, trailing vines and outcrops of roots squeezed the flow into narrow channels, and frilly whirlpools of white water had me grabbing the sides of the canoe until Bong cautioned, "Better not do that…the crocs around here love ladies fingers!"
As I stand now at the entrance of the Longhouse, the ruai or communal gallery seems to stretch a long, long way to the far end. The slatted wooden floor is perched on stilts and the area below, glimpsed between the planks, boasts a clutch of hens and a vociferously crowing cockerel.
The 25 rooms leading off the hallway are family units which accommodate anywhere from between 4 to 14 members and while families prepare meals in the privacy of their own rooms and manage their own farmland plots independent of one another, they all get together here on the ruai hallway to socialize, attend council meetings, and celebrate festivals.
I can't imagine what it would be like to live alongside about 250 relatives (and some of their friends) on a daily basis, but in this closely knit tribal society, the longhouse functions like a village under one roof and affords security and a comforting sense of unity.
As we walk along the vast hallway, women smile or nod as they carry out their daily chores, a granny flashes us a toothless grin, mothers rock their babies in little bamboo cradles and a small boy, absorbed in whittling a stick, ignores us as he frowns in concentration.
We sit cross-legged on the floor, while watching the Ngajat, a traditional Iban dance of welcome. The ancient ex-headman, Budit, re-appears this time wearing a slit loincloth, several bead necklaces and a feathered headdress that all but sweeps the ceiling.
Moving majestically, arms waving in flowing movements, he advances, retreats, stamps his feet and utters a series of shrill cries (which sound more warlike than welcoming) while brandishing a spear and an octagonal wooden ceremonial shield.
A couple of young women wearing coronets as delicate as spun sugar, beaded necklaces trimmed with red pom-poms and aprons of silver coins, take centre stage. They smile and beckon us to join them. We circle the floor in a gleeful performance that owes more to tuak inspired confidence than talent.
The time has come to say farewell and we present the tuai rumah with boxes of candies and cookies in appreciation of their Iban hospitality. The kids hop up and down in excited anticipation while the women lay out equal portions for each family on the hallway mats.
No doubt the bony, hollow-eyed amicably grinning "guardians" at the entrance to the hallway received their fair share as well.
About the author:
This week Traveling Tales welcomes Margaret Deefholts, an author and freelance travel writer
who lives in Surrey, a suburb of Vancouver B.C.
Photos by Margaret Deefholts:
1: Overview of the I ban Serubah Longhouse.
2: Skull Trophies at the Iban Serubah Longhouse.
3: Tattooed Budit performs the Ngajat dance of welcome.
NOTE: Malaysia celebrated its 50th anniversary of Independence on August 31st and 2007 has been designated as "Visit Malaysia Year." Party celebrations and splashy festivities will continue to keep the excitement at fever pitch across the country over the next twelve months to August 2008. There's no better time to drop by for a visit! Go to http://travel.tourism.gov.my/ to explore their calendar of events.


Half-Day Visit to Borneo Traditional Living Mari Mari Cultural Village

If you go:
Getting There:
EVA Airlines flies from Vancouver to Kuala Lumpur (via Taipei) – contact your travel agent for flight details and costs, or click on www.evaair.com/html/b2c/english/ for on-line reservations. Malaysian Airlines has frequent flights between Kuala Lumpur and Kutching the capital of Sarawak in Borneo.
A daily shuttle service runs between the Hilton Hotel in Kutching and the luxurious and scenic Hilton Batang Ai Jungle Resort, a journey by road and boat that takes approximately 3.5 hours. Set in landscaped tropical gardens overlooking the Batang Ai Lake, and designed to resemble a tribal longhouse, the Lodge offers well appointed, air-conditioned rooms with a rustic ambience. Click Hilton Batang Ai to visit their home page.
Borneo Adventure Tours Sdn Bhd is a reputable and long established organization which runs overnight trips to the Serubah Longhouse at Nanga Sumpa. The also cater to small groups and individual bookings. For more information on their longhouse tours and other special interest trips go to:
www.borneoadventure.com/public/home/default.asp
Contact information:
Borneo Adventure Tours Sdn Bhd
55 Main Bazaar
93000 Kuching, Sarawak
Malaysia
Tel: +6082-245175
Fax: +6082-422626 / 234212
Email: info@borneoadventure.com