by Sandra Harper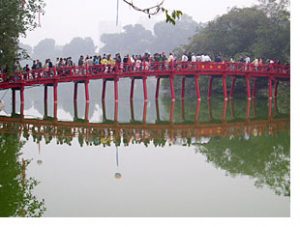 Late one January afternoon I arrived in the center of Hanoi, the capital city of VietNam The sun sets early in the winter so the first thing I did was rush to one of the lakes that dot the city to savour the warmth.
Standing by the Hoan Kiem Lake I saw the circular reflection of Hanoi's cityscape on its calm waters. Modern Asia blended with French style. After years of recovery, Hanoi was a brilliant star again. The still-life portrait entranced me and I was hooked on Hanoi.
Next morning, 6:00am, I savoured coffee, a fresh tasty baguette, and pho noodle soup before I headed back to the water. All around the circular lake Vietnamese – young and old, male and female – were practicing tai chi, aerobics, running, walking, badminton, meditation and playing flutes.
The rhythmic calmness of their movements was in harmony with the misty dawn peeking over the Buddhist temple on a tiny island connected to the shore by a bright-red bridge.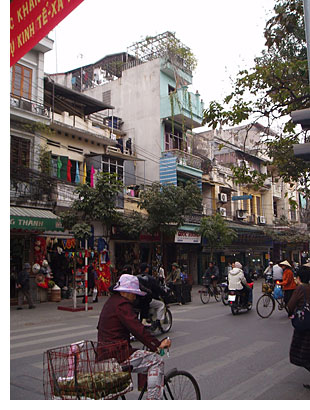 Finishing my stroll, I headed into the dynamic Old Quarters now celebrating its 1000th year. During the last 800 years it has been the commercial heart of Hanoi. Hurly-burly action pervaded every narrow street, though old trees seductively trailed their branches over young women cooking thin pancakes on grills.
Beautiful girls carried fresh produce on a traditional don ganh, the ancient bamboo pole across the shoulders with a basket of rice hung on each end, while men sat around low tables in courtyards and sipped their tiny cups of coffee.
Market shops burst with fresh green leafy vegetables, buckets of live fish flicking their tails, and an array of fruit that bedazzled the palate – elegant dragon fruit, lumpy jackdaws, branches of lichees, golden mangoes and infant-size bananas.
I noticed that the streets – lined with three-storied narrow building with residences above the street-level shops – changed their names to match the type of stores on them. Pho Hang Gui was the street for silk shopping because every shop had silks by the yard or silk outfits or embroidered silk for sale.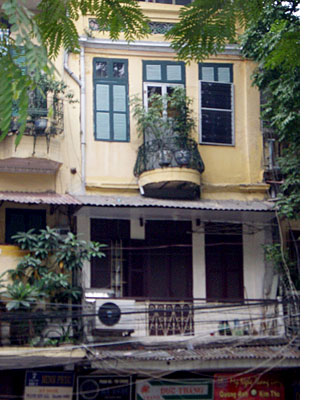 I couldn't resist the traditional ao doi, a long sleeve Chinese tunic slit up the side to the waist with fitted long pants, that looked as delectable in the windows as they did on women walking by or riding bikes.
Days easily could be spend wandering the maze of busy streets and alleys that ended in places that had no beginnings and challenges of returning to where I started. But the mellow temperatures and the seductive passion to find just one more different place nudged me on until I found the French Quarters.
There I stayed awhile. Elegant buildings with long shutters, balconies and flowers brought back the past when the French were in this country.
Along Pho Nha Tho Street, were multi-cultural restaurants, including two good French ones, coffee bars, cafes, and boutiques of finely designed clothes, lacquered dishes, and household items.
At the end sat St. Joseph's Cathedral with startling stained-glass windows and opened doors spilling songs out over the square.
Next day, in the large modern part of Hanoi, I saw culture existing side-by side with commerce. Hotels, cafes and restaurants were scattered among offices and businesses all over the city. The Opera House was down the street from the Water Puppet theatre and concert halls to make choices easy.
My experience getting into the Ho Chi Minh Mausoleum, the number one place of pilgrimage for the Vietnamese, was novel. On either side of the long lines of people going into the mausoleum were soldiers with rifles to guarantee orderly, respectful behaviour.
Its museum provided abundant information about a leader who had made such a difference in recent history. No one, I found, wants to talk about the past war that we saw years ago on television. The present and future was the focus.
On the edge of Hanoi, the Museum of Ethnology was impressive. Inside, displays illustrated the diversity of Vietnamese culture and, outside, replicas of homes of the various Minority People – a title used for their aboriginal tribes – were situated in parklands. Visitors and local residents together admired this world-class museum.
Afterwards, the best part to see be was with people sitting in coffee bars all over the city watching the world change, as they conducted business deals.
It appeared that Vietnamese were born business-people: always creative, working hard from sunrise to sunset, and selling skillfully. I wished I had a suitcase to fill with the exquisite products sold at such reasonable prices.
Cuisine always has enhanced a country. An old Vietnamese proverb said people should learn to eat before they learn to speak. In Hanoi people were always eating in public.
Their cooking was a series of still life gems whose tastes satisfied my every longing.
I tried many types of food, from pho, a soul-satisfying noodle soup for breakfast – to regional dishes, such as cao lau, flat noodles stirred together with croutons, bean sprouts, greens and pork.
When I desired a taste of home, meals in French and Italian restaurants transported me.
All of this adds up to a beautiful city to visit, but the clinching fact is that everything in Viet Nam costs less than it does in most any other countries. You definitely can visit this grand city without harming your bank account.
Hurry now to Hanoi.
About the author:
This week Traveling Tales welcomes author and freelance travel writer Sandra Harper who makes her home in Vancouver, on Canada's West Coast.
Photos by Sandra Harper:
1: Morning reflections on Hoan Kiem Lake.
2: The Old Quarters, the commercial heart of Hanoi.
3: Very narrow buildings identify the French Quarters..
If you go:
For assistance in planning your trip go to www.footprintsvietnam.com