The Bellingham to Alaska Ferry is Rich With Travel Experiences
Story and photos by Lies Ouwerkerk
Alaska, – "the great land" in Native American -, with its snow-capped mountain ranges and majestic, often inaccessible wilderness, had been on my travel wish list for quite some time. But the mere thought of an expensive cruise kept me from making any concrete plans. Until I learned about the affordable Alaska Marine Highway Ferry System, that is. Then I didn't think twice, booked ferry and cabin for the stretch from Skagway (Alaska) to Bellingham (Washington) on the spur of the moment, and immediately started to figure out how to get there. In the end, I decided to fly to Whitehorse, Yukon, about a 2 hr. drive from Skagway.
Most people who join the bus ride between Whitehorse and Skagway hop halfway, in Fraser, on a tourist train to reach Skagway via the White Pass Railroad. But continuing the scenic drive as the only passenger left on the bus with an extremely knowledgeable driver as my private guide, proves to be an excellent – and much cheaper – alternative.
We arrive in Skagway, once a gold-diggers joint that gave access to the famous Klondike area, and presently a fixture of most Alaska cruise lines.
There are just a few hours left to savour a hearty clam chowder at the Skagway Fish Company, to wander along downtown's restored houses which evoke the romantic ambience of a legendary past, and to get a taste of what many other tourists seem to be heading for: jewelry, ice cream, and gift shops.
My cabin on The Columbia is small but comfortable, with a bunk bed for 2 people, a chair, a sink, and an en-suite bathroom with shower.There is even an internet connection for those who happen to carry their laptop.
During the 3 days/ 4 nights ride, there is no need to stay in the confinements of my own little domain, however. There are several roomy lounges with comfortable chairs and windows all over the front and sides, for optimal views of the glorious scenery.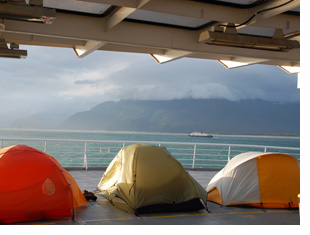 The side decks are sought after by photographers, sun worshippers, and smokers, and on the upper deck there is an opportunity to put up a tent if you are in the mood for a more "extreme" experience (bring duck tape to secure the lines!). A reasonably priced restaurant, a modest cafeteria, and a bar cater to the grumbling stomach or the thirsty throat.
There are also some organized programs on board. A maritime wildlife ranger gives talks on Alaska's flora and fauna, and there are regular movie showings, announced in advance over the ferry's intercom.
But gazing at the spectacular skies and sunsets, and the pure and peaceful landscapes of island-studded waters, snow-capped mountain peaks, seacoast glaciers, fjords, and spruce forests is also a fascinating pastime, so is trying to spot whales, sea lions, black bears and bald eagles.
These pursuits also serve as a perfect way to strike up impromptu conversations with other gazers and spotters, and to find out what inspired them to take this trip. Here are clearly birds of all feathers flocking together.
A retired couple from Iowa use their savings to make a long-dreamed adventure come true and they remain, armed with binoculars, all day glued to their very front seats. Locals from one remote island visit relatives on another, and a couple of European students are halfway on their trip around the world.
A group of jolly executives from South Carolina return from a month-long motorcycle trip from the most Southern tip of Florida to the farthest point in Alaska, and a Californian realtor seduced by a precious collector's item on eBay had to pick up his treasure in Anchorage. Here, on the ferry, there are no human barriers: quips, chips, and tips are exchanged as if we are one big family.
Besides short stops in various local communities along the way, the ferry docks twice for an extended period of time in larger harbours, allowing passengers to leave the ship and explore the unknown settlements on shore.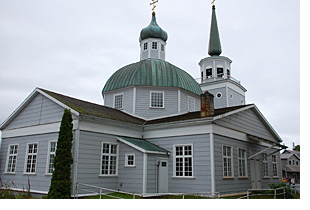 One of them is Sitka, on day 2, where a domed church, artifacts of Russian settlers, and hand-carved totem poles are reminders of the town's unique heritages.
The next day, in Ketchikan, also called "the King Salmon Capital of the World", I accidentally fall into the hands of a bush plane company official, who claims to have just one ticket left on the next float plane for an hour-long birds-eye view of the absolutely grandiose Misty Fjords National Monument, situated in the panhandle of South East Alaska.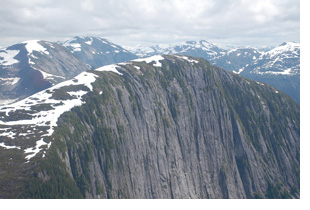 And what confirmed adventure traveller could really resist the opportunity of flying high above those stunning, remote, nearly vertical cliffs that separate the glacial valleys below, filled with mountain lakes, dense forests, and little islands, under a completely clear sky?
In the early morning of day 4, with the sun just rising above the pink horizon, we arrive in the harbour of Bellingham. After bidding farewell to the attentive crew and newly-made friends, the magic of absolute peace and formidable scenery slowly evaporates, as more mundane activities compete for our attention.
Passengers with vehicles have to return to the lower decks, and those without one rush off to catch the commuter trains at the little station nearby, heading either northbound to Vancouver, or southbound to Seattle.
About the author:
This week Traveling Tales welcomes freelance travel writer Lies Ouwerkerk who lives in Montreal, Canada.
About the photos:
1: Camping on the upper deck of the Alaska Ferry.
2: Russian heritage in Sitka, Alaska.
3: Flying in a bush plane over The Misty Fjords, Alaska.
If you go:
The Alaska ferries accommodate foot passengers, dogs, cars, RVs, motorcycles, bicycles, and kayaks. Reservations are recommended.  There are also ferry services further west into Alaska, reaching Valdez, Whittier, Homer, Kodiak, and Unalaska. One may leave a ferry in any of the ports en route, and resume the trip on the next available vessel.  Special tours are also possible, ranging from a 2-day mini-escape to the Kenai Fjords, to a 14-day "Gems of Alaska" tour.
For all information regarding schedules, destinations, prices, and reservations: 1-800-382-9229/ 1-907-235-7099, reservations@akmhs.com, or www.akmhs.com