by Katherine McIntyre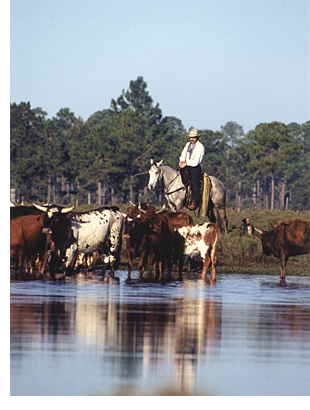 When a cold front from the north turned our sunny beach into a windswept wasteland, my husband and I searched for things to do and places to see. With hiking in mind, we headed to Lake Kissimmee State Park in Central Florida. With fifteen miles of trails, in 6000 acres, it is an oasis for naturalists and a sanctuary for about fifty species of endangered animals. It is a glimpse of Florida the way it was before it was taken over by tourists.
Following Ranger Dan, a park guide, we found ourselves back in the year 1876, at a re-enactment of a frontier cow camp. It contained a primitive holding pen for the cows and a thatched roof hut for the hunter.
There, we met Mr. Chester, a rugged cowboy, crouched beside an open fire, pouring himself a cup of coffee. In the southern twang of old Florida, he said, "I throws in a few grounds of coffee and adds some water when I needs it, and change the pot about once a month." As for the mosquitoes, I slaps them and cusses them."
Jack his "catch dog", a black and white mixture, is trained to hunt the "scrub cows". These strange looking small, lean animals, with their long curling horns, are direct descendants of the Andalusian cows brought into Florida by Spanish settlers in the 16th century.
Abandoned when their owners left the territory, they multiplied and ran wild for three hundred years, in the vast prairies and deep forests that covered Florida. Mr. Chester, pointing to the cows says, "I sell them in the market in Ponderosa. I gets an ounce of Spanish gold for one cow. I like 'em fat. I don't want their bellies touching their backbone."
The cow camp was then, this is now. We continued our trek with Ranger Dan, over rough paths, thick with pine needles.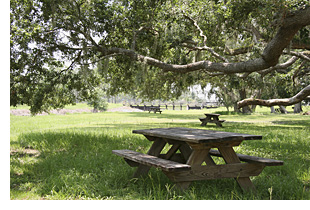 With a broad sweep of his arm, he pointed out a peculiar natural phenomenon, open spaces shaded by heavy clumps of Spanish moss hanging in surreal patterns from the branches of ancient spreading oak trees "We call these places hammocks." he told us," its and old Indian word, means shade and comfort. The oaks have outlived the pine, but if there is a fire, the oaks burn and pines don't. Fire in the forest is nature's way of cleaning it up."
The park and its trails are an escape into a varied landscape of sun dappled flatlands, wide open prairie, thick forests and sparkling water; a place to paddle a canoe, hike, camp or just relax. If you are lucky you may catch a glimpse of the shy white-tailed deer, a possum, an armadillo, an otter sliding into a river, or even the elusive bobcat. You are sure to hear the songs of birds and the chatter of the fox squirrel.
Captain Mack Road, right beside Lake Kissimmee State Park, led us to our next stop, a rustic marina on the banks of the Kissimmee River, in Tiger Creek Wilderness Preserve. The river is part of Central Florida's vast water system of the 600 lakes, which form the headwaters of the Everglades. Powerboats, canoes and tour boats were moored at its old wood docks, which are nothing more that a few planks set on stilts.
There was a "Who has caught the biggest black bass tournament" taking place as we arrived. Fishermen were bringing in their days' catch, huge black-mouthed bass, to be measured, weighed and then tossed back into the water, following the "catch and release rules of the tournament. But fishing was not on our minds today; we wanted to see what the local people call, "the way Florida used to be".
Our choice was a trip on a tour boat through the shallow water system. In a group of twelve, we journeyed down Tiger Creek into a vast area of unspoiled wilderness. The boat was quiet; the water still as we glided by reedy, green banks touched by the colours of yellow water lilies, and pink alligator weed. This was the slow leisurely Florida of 100 years ago when there were only a few cattle ranches in the area and not much more.
Dave, out tour leader knows his birds. "Although, he admitted, "I couldn't tell one from another until I started taking birders into the wetlands." Suddenly he called "Take a look, there's a snail kite, with a snail in its beak."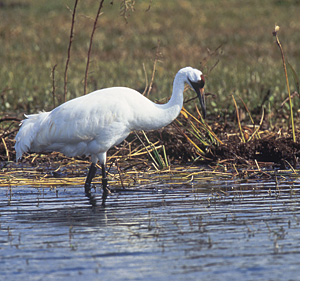 This was a first sighting for one of our group and he happily added this rare bird to his life list. We spied stately cormorants, green backed herons, a crested cara cara, black ducks, osprey and a shy limpkin. "People come from all over the world to site just one of our birds. That's a birder for you."
The nearly extinct whooping crane winters in Tiger creek and summers in the Canadian Arctic. We did see one bald eagle perched on a dead tree, and another soaring to its nest a massive structure of branches and twigs that weighs over a ton.
This was our kind of trip, our kind of Florida, an outdoor adventure, in untouched open spaces. It was a complete change of pace and best of all there were more parks to explore and sights to see on another cold and windy day.
About the author:
This week Traveling Tales welcomes Katherine McIntyre, a freelance travel writer who lives in Toronto, Canada.
Photos by Katherine McIntyre:
1: A Florida cowboy rounds up his herd.
2: Spanish moss hangs from the branches of ancient oak trees.
3: A nearly extinct whooping crane browses the local marshes.
If You Go:
Central Florida is 25 miles east of Tampa and 35 west of Orlando.
Lake Kissimmee State Park is near Lake Wales at the junction of US Hwy 27 and State Road 60, a left turn at Boy Scout Road, drive for 3 miles, a right turn at Camp Mack Road, then 5 miles to the entrance.
1428 Camp Mack Road, Lake Wales Florida 33853
There are 60 campsites, 30 have water and electrical connections
Reservations; Call 1 800 326 3681 or 1 863 696 1112
Cow camp is open Saturday, Sunday and Holidays
Fishing Licenses required.