by Susan Deefholts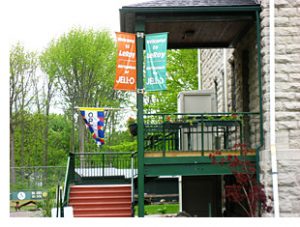 It's one of those grey, rainy spring days-cold enough to feel like we're about to regress back into winter. We've driven into the small town of Le Roy, New York in search of bright, jewel-toned colours and happy memories of childhood.
Word has it that the Jell-O Gallery is just the ticket. Our guide, Ruth, a diminutive woman with a twinkle in her eye, leads us into the foyer of the museum.
Jell-O was created, she tells us, when Pearle Wait, a carpenter, came up with a fruit-flavoured version of 'setting' gelatin. His wife, May, named it Jell-O, but the pair lacked the experience and know-how to market the product.
Ruth gestures at a photo of an earnest-looking man with brilliantine slicked-down hair. "That's where Orator F. Woodward came in. He bought the recipe for $450 but after taking his own crack at selling the product, he had reached his wits' end. In a low mood, he offered to sell the recipe to a friend for $35! The friend refused! Sad, isn't it?"
Ruth gives us a tragic look, but the gleam in her eye hints at further reversals of fortune to come. "All seemed lost, but then, thanks to the distribution of the first-ever free samples, which placed recipes and packets of Jell-O in the hands of housewives across the country, the product soon caught on. The recipe that Orator couldn't sell for $35 was soon worth millions."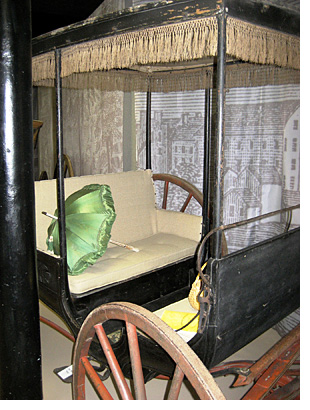 Ruth guides us through an accelerated history of Jell-O, pointing out that they were one of the first companies to use eye catching, full-colour advertisements in magazines. She indicates a series of oil paintings, depicting Norman Rockwell-esque scenes of early Americana-eager, bright-faced children clustered around elaborately molded Jell-O sculptures in glowing oranges, reds and yellows.
It seemed that no-one could resist Jell-O. "You see," adds Ruth, "before that, jelly required almost two days to make-only the rich could afford it-and even then, it was very bland. But now, between the attractive molds, the lovely colours and the fruit flavours, it became the dessert of choice."
Ruth leans towards us, her expression earnest. "Now, I don't want to alarm you, but I do have a question: what does Jell-O have in common with the human brain?"
We shake our heads, stumped.
She grins. "They both emit the same radio wave frequencies!"
I am thunderstruck. "What?"
Her grin widens. "Well, all right, yes, that's not quite true. However, a few years back, a doctor who wanted to make the point that all the electrical interference in hospitals was skewing the results of the EEG machine. So he hooked one up to a bowl of Jell-O-and sure enough, the results were strikingly similar to the ones that registered from a human brain."
Ruth wraps up the tour soon afterwards, leaving us to browse through the displays. A tribute to Bill Cosby* includes a television, showing some of the many commercials he made when he was the Jell-O spokesman. I can't resist a chuckle-they take me right back to when I was the same age as the giggling kids in the ads.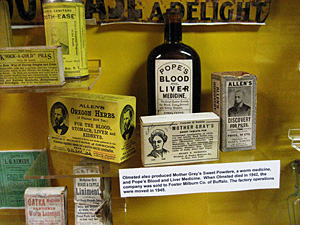 Downstairs, we find a non-Jell-O related display of fascinating memorabilia: locally-manufactured snake-oil remedies, vintage bicycles, buggies and automobiles.
As I wander by the posters and various bits of Jell-O themed paraphernalia-moulds, toys, even books-I begin to see that the story of Jell-O also demonstrates the belief that entrepreneurs who are determined enough to work through challenges, will ultimately achieve world-wide success.
The Jell-O Gallery in all its playful kitschy glory is a show piece for that all-American dream!
About the author:
This week Traveling Tales welcomes Susan Deefholts, a freelance travel writer who lives in Ontario.
Photos by Susan Deefholts:
1: The Jell-O Gallery in Le Roy, New York.
2: A "Surrey With A Fringe On Top" at the Museum.
3: Snake-oil remedies manufactured in Le Roy, New York.
If you go:
For further information: www.jellogallery.org
Bill Cosby and Jell-O clip on YouTube: www.youtube.com/watch?v=OpUybAMfa-0
*EDITOR'S NOTE: This article was originally published in 2012, about six years before Bill Cosby was convicted of sexual assault.