by Leslie Jones
The rugged Santa Lucia Mountains gracefully tumble down to the Pacific Ocean along California's Central Coast. Towering high overhead, their majestic size safely guards many secrets of this intriguing area's cultural and historical past. Rolling hills of gold, visualized in highly-esteemed California author John Steinbeck's novels, gracefully mesh with nearby panoramic ocean vistas.
From a vantage point high up on this coastal range, Morro Rock is visible in the distance while just north, along the coast, stands Hearst Castle, also known as "The Enchanted Hill". A world-renowned and heavily visited location for close to a million tourists each year, this is just one of many must-sees along California's majestic coastline.
Situated half way between Los Angeles and San Francisco, the lure of Big Sur's southern coast offers a gleaming assortment of outdoor and cultural jewels. From world-famous Hearst Castle and nearby historic missions, to the elephant seal rookeries and the immensity of Morro Rock, found a bit further to the south, this southern portion of historic Highway One is overflowing with outdoor pursuits and scenic displays.
Historic Highway One
Considered a National Scenic Byway, it's one that is recognized by the U.S. Department of Transportation for its archeological, cultural, historic, natural, recreational and scenic qualities. Officially honored as an All-American Road, it has features that don't exist anywhere else in the U.S. and are scenic enough to be considered tourist destinations themselves.
The views around each turn are breathtaking with deep valleys and long stretches of isolated beach. When California's scenic Highway One was completed in 1937, it offered the opportunity for travelers around the world to visit Hearst Castle and other prized destinations nearby.
Hearst's Dream
Hearst's dream began in 1865 when George Hearst, a wealthy miner, purchased 40,000 acres of ranchland in the area. His only son, William Randolph Hearst eventually inherited the land from his mother. By then the ranch had grown into 250,000 acres.
Originally known as "Camp Hill," the surrounding wilderness offered a place for the family and their friends to enjoy camping trips. With the help of famed architect Julian Morgan, their collaboration escalated into what has become one of the world's greatest architectural dreams.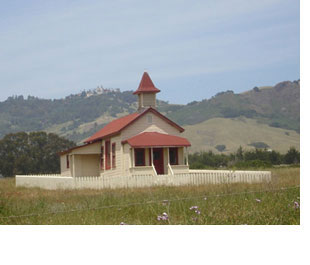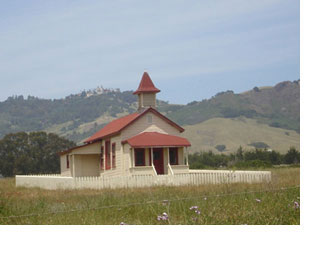 The vast majority of those who visit the Hearst San Simeon State Historical Monument (Hearst Castle) each year never stop to admire the historic village of San Simeon, just across the road. Old Spanish-style buildings, an historic general store and the nearby abandoned schoolhouse share intriguing stories of long ago.
The economy of San Simeon itself was enhanced by the support of William Randolph Hearst and his ranch hands. Spanish-style homes were built along the shore for Hearst employees.
When Hearst died in 1951, the family donated a plot of land on the beach to be used as a day facility. Named William Randolph Hearst Memorial Park, there's a plaque dedicated to him at the entrance. Dedicated by the County of San Luis Obispo, it honors the memory of him as a distinguished publisher, American patriot and public benefactor.
Mission San Antonio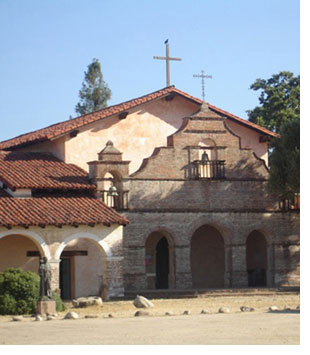 On the inland side of the majestic Santa Lucia Mountains, between the Hearst Castle and US Highway 101, lies a beautiful valley and mission. Mission San Antonio de Padua, the third mission established in the California system, also has historic Hearst connections.
The interior of the Mission's long corridor offers an excellent historical perspective on those who have lived in the area. A museum sends you back to the days of the Salinan Indians, the Hearst Family, Mexican and Spanish rulings of California. Take the time to venture through this museum…the displays are incredible and the narratives describe a long, historical lineage.
In the late 1880s, small farms were consolidated into large cattle ranches and, in 1920, William Randolph Hearst purchased as much local land as possible. Later, the Hearst Foundation financed one of several restorations in 1949. The land was then traded to the U.S. Government and today it lies well-preserved within a military base.
Elephant Seals of Piedras Blancas
Although hunted almost to extinction for their oil-rich blubber, elephant seals are found in large numbers near Piedras Blancas, along the southern range of Big Sur, near San Simeon.
Coming ashore to form colonies for a few months out of the year, they give birth to their young during their stay. There are now areas of the surrounding beaches that are literally covered with these massive creatures during the early spring months. Thousands venture to this area each year to view them and their young.
Morro Rock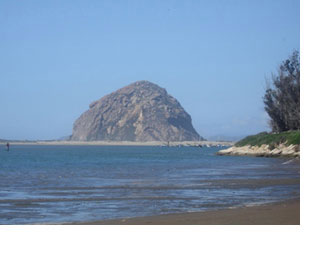 Another one of Highway One's world-renowned locations is Morro Rock, easily found on the outskirts of Morro Bay. Peregrine Falcons, considered endangered species, nest on the top and only the Chumash Indians are allowed to climb, on occasion, for ceremonial purposes.
As one of nine sisters of extinct volcano peaks in the area, stretching from Morro Bay down to San Luis Obispo, Morro Rock is considered the "Gibraltar of the Pacific." Standing at 576 feet tall, its immensity and scenic setting are awe-inspiring.
Surfers catch the waves of the day just below Morro Rock and a multitude of otters, pelicans and sea lions intermingle with the boats that head through the bay's entrance. The long stretch of sand, known as "the strand", is a favorite beach walking location.
The entire Morro Bay Estuary is well worth exploring. Kayaking back into the inner bay offers a peaceful sojourn. A natural history museum, located on a perch high above the estuary, offers educational insights into the entire area. Each January, a popular bird festival is held in and around the Morro Bay Estuary. Hundreds of bird species are viewed and counted each year.
California's Central Coast is historically intriguing, brimming with panoramic views enjoyed around each turn. Visit the museums and missions, enjoy the plethora of wildlife and wildflowers, and relish in the coast's untamed beauty.
About the author:
This week Traveling Tales welcomes Leslie Jones, a freelance travel writer who makes her home in California.
About the photos:
1: The historic schoolhouse at San Simeon.
2: Mission San Antonio de Padua.
3: Morro Rock, "The Gibraltar of the Pacific."