by Allan A. Swenson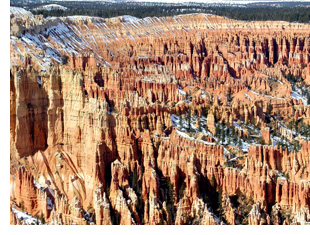 America is blessed with many magnificent natural wonders. Two of the most splendid are Bryce and Zion National Parks. Fifty yeas ago I stood in awe when I first visited these incredible marvels of stone. My wife had never been "out west" so a trip to these parks was a special treat.
Bryce Canyon is a small national park in southwestern Utah, named after the Mormon Pioneer Ebenezer Bryce and became a national park in 1924.
It is famous for its extraordinary series of horseshoe-shaped amphitheaters carved from the eastern edge of the Paunsaugunt Plateau. Frost-wedging and the dissolving power of rainwater shaped the colorful limestone rock into bizarre shapes including slot canyons, windows, fins, and spires called "hoodoos.
"These whimsically arranged rocks provide a marvelous landscape of mazes, offering exciting and memorable walks and hikes. The term Hoodoo means to cast a spell and no doubt these astounding formations do cast a spell on all who see them.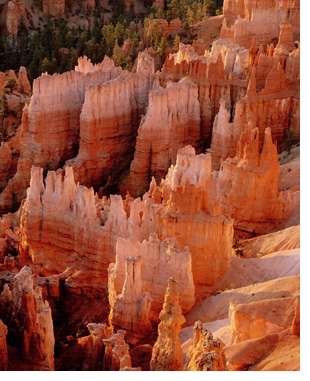 Towering Ponderosa pines, high elevation meadows and fir-spruce forests that border the plateau rim abound with wildlife. Scientists say that this area boasts some of the world's best air quality. It also offers panoramic views of three states with nearly 200 miles of visibility.
Because Bryce transcends 2000 ft. elevation, it has three distinct climatic zones: spruce and fir forest, Ponderosa pine forest, and Pinyon pine and juniper forest However it is the uniqueness of the rocks that caused Bryce Canyon to be designated as a national park.
These famous spires are formed when ice and rainwater wear away the weak limestone that makes up the Claron Formation. Take time to stand and marvel them. Keep your camera handy because as the sun rays change you'll see many fascinating photo opportunities of colors, shades, tones for some truly artistic pictures worthy of framing.
People have lived in the Colorado Plateau region for bout 12,000 years according to archeologists who have found traces of ancient peoples.
The Paiute Indians occupied the area around what is now Bryce Canyon starting around 1200 A.D. and were known for their seasonal hunting and gathering activities, but there is no evidence of permanent settlements.
Ancient Indian folklore says that once the Legend People, To-when-an-ung-wa, lived there. They were of many kinds including birds, animals, lizards and such, but looked like people. They were not people but had power to make themselves look that way, the folklore continues.
For some reason the Legend People were bad and did things wrong. Because they were bad, Coyote turned them all into rocks. As the story goes, you can see them in that place now all turned into rocks; some standing in rows, some sitting down, some holding onto others. You can see their faces, with paint on them as they were before they became rocks. The name of that place is Angka-ku-wass-a-wits which means red painted faces.
Bryce offers many activities from hiking and biking to horseback riding, viewing wildlife, camping and photographing the vast vistas of natural beauty. Remember to have different film speeds so you can record scenes in early morning and at dusk for special effects.
From this remarkable park just follow the signs toward another amazing and inspiring national preserve, Zion National Park. It too is a captivating area you should not miss.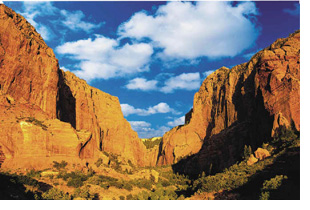 The best way to experience Zion's massive canyons walls that soar skyward is to walk among the towering cliffs or through small narrow canyons. These unique sandstone cliffs range in color from cream, to pink and red and have been described as sand castles crowning desert canyons.
Within Zion's 229 square miles is a fascinating landscape of deep canyons, soaring cliffs,cool pine-covered plateaus to scorching deserts, Avid hikers will find many trails that range from simple short walks to strenuous day long adventures.
A variety of life zones and habitats makes wildflower walks in spring and brilliant leaf color in autumn especially attractive. Photographers will find colorful opportunities to capture the colors and textures in various light.
Birdwatchers add to their lists from 271 species of birds. For bicycle enthusiasts, the Pa'rus Trail offers a paved, car-free alternative to connect with the Zion Canyon Scenic Drive. Shuttle buses are equipped with bike racks.
Park Rangers offer programs about animals, geology, plants, human history and there are Ride with a Ranger shuttle tours, guided hikes, daytime talks and evening programs at Watchman Campground and Zion Lodge. All programs are free.
Zion's unique geographic location and variety of life zones provide a variety of habitats for a surprising array of plant and animal species.
It borders the Great Basin and Mojave Desert Provinces and is home to plants from each region in some of the most scenic canyon country in the United States. You'll discover high plateaus, a maze of narrow, deep sandstone canyons and striking rock towers and mesas.
For history buffs, you'll find evidence of ancient Puebloans, known as the Anasazi, from 2,000 years ago. After the Anasazi moved southeast 800 years ago, Paiute peoples brought a life style fine-tuned to desert seasons and thrived.
After settlement by Mormon pioneers in the 1860s, John Wesley Powell visited Zion on the first scientific exploration of southern Utah. His discoveries of the rivers and canyons are worth exploring yourself some day.
Park visitation in 1920 was 3,692. In 1996 it reached 2.5 million attesting to Zion's appeal.
Mark your calendar for a Great Western Adventure and plan your inspiring visit to Bryce and Zion National Parks, two of America's most memorable natural wonders.
About the author:
This week Traveling Tales welcomes freelance travel writer is Allan. A. Swenson from Kennebunk, Maine, USA.
Photo choices:
1: A canyon-rim view of Bryce spread out before you. Tanya Milligan photo.
2: Peering down into one of hundreds of colourful canyons. Barry Galzier photo.
3: The steep canyon walls of Zion National Park. Cowboy Ted Hallisey photo.