by Jane Cassie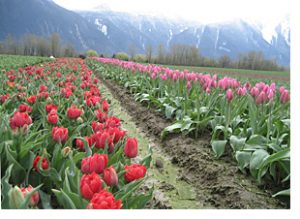 If you grow them they will come. Well, they did and we have. I'm returning home from Harrison Hot Springs Resort and Spa after a much needed retreat with two women friends when we stop, and literally take time to smell the flowers.
Over thirty types of tulips that were planted last autumn are now rising on Seabird Island Farms. Vibrant reds, sunshine yellows, and virgin whites hug up to blooms of fuchsia, tangerine, and magenta. The rainbow of colour carpets the Fraser Valley floor and is a dazzling contrast to the distant wintry peaks.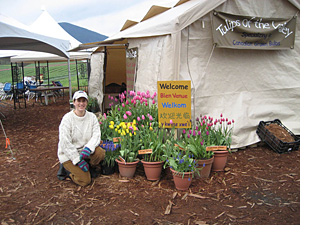 Mother Nature determines when flowers are going to flourish, and during this unusually chilly spring, the tulips have had a tough time raising their pretty heads. Kate Onos-Gilbert would know. As owner of Tulips of the Valley Festival she definitely understands how her garden grows.
Onos Greenhouses is a family run business that Kate married into. In addition to operating greenhouses in Rosedale they have leased land from the local Seabird First Nation Band for the past three years.
When starting out in 1991, they planted around five acres of bulbs in their Rosedale fields. Thanks to the prolific reproduction of these shoots, their planting stock has grown to fill 45 acres of land.
"My goal is two-fold," Kate explains, as we tiptoe around her tulips. "I want to share our fields with visitors and provide them with Canadian grown bulbs that they can enjoy in their own garden."
Instead of having to order all of their stock from Holland, these blooming beauties are now home grown in this rich plot, just east of Agassiz.
The bulbs are initially used in their Rosedale greenhouses for cut tulips. They are then planted in the fields and reach full size after three years. They can be purchased at the festival that runs until May 4th (weather / bloom permitting) or by mail order, and are sent out in September, well before the first frost.
Although Kate combats today's breeze in her wooly sweater, she gleams beneath the brim of her cap when revealing next week's forecast. "Higher temperatures mean more blooms and more people."
During this month-long event, she's hoping to attract ten thousand, a personal quest that will also help others in need. Part of the proceeds during the show will be donated to the local Child Development Centre, a facility where Kate was previously employed as an Occupational Therapist.
"Find nature…just up the road" is the well-known catchphrase for the nearby community of Harrison Hot Springs. After leaving Kate and her fields of dreams behind, ironically that's what we continue to discover.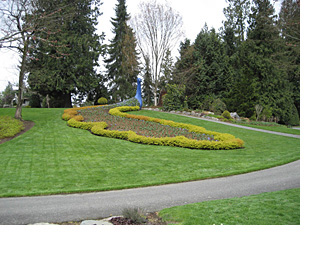 When Brian and Faye Minter purchased their property at the base of Mt Cheam, they had a vision. If they built a world class garden on this site, they hoped people would come. And they did. Ever since May, 1980, when Minter Gardens came to life, so did their dream.
The glorious displays, just off Highway #1 at exit 135, sprawl over thirty-two undulating acres. The unique topography, resulting from a massive mudslide centuries ago, left behind a number of hilly knolls, life-size boulders and old growth timbers.
Asphalt walkways lace the manicured terrain like silver ribbons and lead us around twelve uniquely-themed plots. The Fragrance Garden heightens all senses while hosting hyacinths, heliotrope and other heady species.
The Lake Garden's sculptured pineapples will soon fill in with a vibrant display of marigolds, and by mid June everything will be coming up roses when over seventy-five varieties share their perfume.
Although spring has been delayed this year, our knowledgeable guide, Pamela Garrity, provides us with a Coles Notes version of what's to come.
"In another month our peacock will have new feathers," she explains, while we saunter along the Cherry Walk. The bird graces a neighboring hillside and beneath his cocked head is a bed where purple ageratum will become his new plumes.
Two southern belles are also ready for floral finery. These flower girls, donning ivy skirts and lacy forget-me-knots, will welcome visitors to the Alpine and Stream Gardens.
There's water, water everywhere –gurgling streams, tranquil ponds, bubbling fountains. "As well as muffling the nearby traffic," Garrity shares, "this natural resource beautifies and relaxes." After reveling in the aquatic wonderland at our Harrison Resort, where healing mineral pools and spa treatments calmed my crazy biorhythms, I can totally relate.
Our trail leads to the property's loftiest bluff where a wedding pavilion hosts over a hundred love-struck couples every year. Petals cascade from moss baskets in the foreground and a chapel façade nestles beneath distant conifers.
When the weather warms, the landscape will transform into a kaleidoscope of colour and, while backed by the majestic peak of Mt Cheam, it will be an awesome photo spot for anyone tying the knot.
"We're the most popular wedding venue in the valley," Garrity proudly reports. "In our two facilities we can host up to four hundred guests and our Hospitality Manager, Sara Riemersma, can make any wish come true."
The light-drenched reception conservatories also dub as dining venues and on any given Sunday, live performances entertain satisfied foodies. After all the gourmet grazing we've done at Harrison Hot Springs Resort & Spa this past weekend, we're feeling like pros.
And with plates piled high we take time out to smell more than just the flowers.
About the author:
This week Traveling Tales welcomes freelance travel writer Jane Cassie who lives in South Surrey, a suburb of Vancouver, B.C..
Photos by Jane Cassie:
1: Blooms are on the rise at the Tulips of the Valley Festival.
2: Kate Onos-Gilbert poses in front of her pretty pots.
3: Mintner Gardens peacock will soon boast a new set of feathers.
Where to go:
Tulip Festival:
Chowat Rd: is just off Lougheed Hwy east of Agassiz, B.C.
There's no road address but it's close to 3579 Chowat Rd.
604-796-3496
kate@tulipsofthevalley.com
http://www.tulipsofthevalley.com/
Minter Gardens
Exit # 135 off Highway #1
Only 90 minutes east of downtown Vancouver, BC
52892 Bunker Road Rosedale, British Columbia Canada
restaurants: (604) 794-7044
office: (604) 794-7191
toll free: 1-888-MINTERS
www.mintergardens.com/
You'll "Find nature…just up the road" at
Harrison Hot Springs Visitor information
499 Hot Springs Road, Harrison Hot Springs,
604-796-5581
www.tourismharrison.com
Where to Stay:
Harrison Hot Springs Resort & Spa
100 Esplanade Avenue, Harrison Hot Springs,
British Columbia, VOM 1KO, Canada,
Reservations 866-638-5075 or 800-663-2266.
Tel: 604-796-2244.
www.harrisonresort.com/