by Rita Cook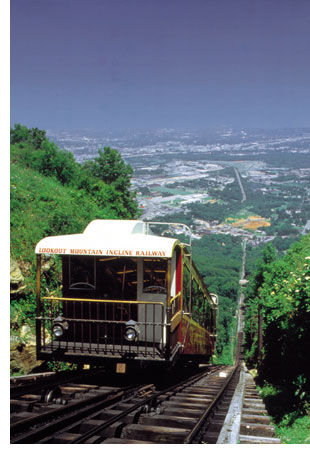 After being notably horrified as named one of America's dirtiest cities, Chattanooga, Tenn. took a 180 degree turn and became one of the most pleasant little finds in the south. Indeed, Chattanooga has been a tourist destination for many years with the likes of Ruby Falls, Rock City and the Incline Railway. However, more recently Chattanooga has undergone a $120 million waterfront revitalization and with it visitors can now expect not only family fun, but also a romantic look at the past.
The name Chattanooga comes from the Creek Indian word for "Rock coming to a point." Of course this refers to the main attraction in the city known as Lookout Mountain. However, nowadays Chattanooga is so much more.
In fact, to get a good first impression of Chattanooga's revamp stop in first for a visit to the Bluff View Art District and stay right in the heart of it all at the Bluff View Inn (800-725-8338).
A tour of the art district will take you from towering Magnolia trees overlooking the Tennessee River to mansions built in the 1800s to pastry kitchens, coffee houses and even sculpture gardens with permanent and changing exhibits.
It wouldn't be Chattanooga without stopping early on for some spelunking fun. In fact, a trip is not a trip to Chattanooga without a Ruby Falls visit.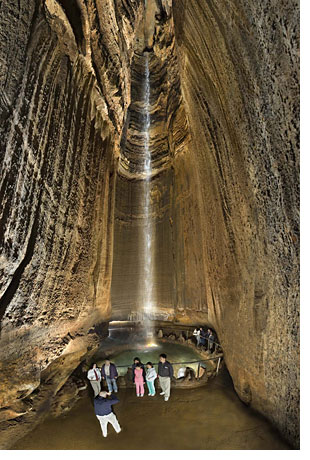 Since 1929 this place has been attracting tourists deep within the underground caverns of Lookout Mountain. The final result is a magnificent 145-foot thundering waterfall that is worth the walk among the various types of formations and rimstone pools.
The waterfall is quite romantic too and yes, you can exchange your vows there. As for the name, "Ruby," it was the name of the founder's wife – Ruby Lambert.
Following a trip underground opt for the world's steepest passenger railway and "America's Most Amazing Mile." The Incline Railway is over 2000 feet above sea level and offers spectacular panoramic views of the valley below.
The grade of the track is 72.7% near the top and is not for the faint of heart. On a clear day you can see the Great Smoky Mountains 100 miles away and you can also come away with the knowledge that the Incline Railway is a national historic site.
My favorite spot in Chattanooga is Rock City Gardens on top of Lookout Mountain. Opened in 1932 the place was originally advertised on barns and birdhouses throughout the south and became quite the popular drive destination.
Featuring pathways through rock formations and gardens the final and most exciting experience however is the little gnome world called Fairyland Caverns and Mother Goose Village. As you walk inside Fairyland Caverns it is lit with ultraviolet black lights showcasing Mother Goose displays that delight children and adults alike.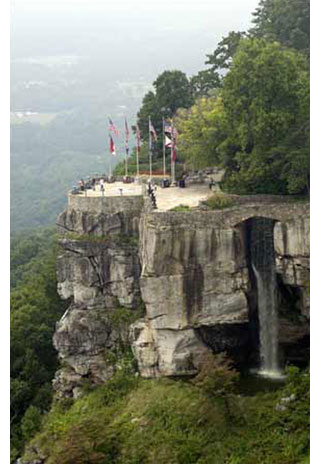 There is a panoramic view of seven states (Alabama, Georgia, Kentucky, North Carolina, South Carolina, Virginia and, of course, Tennessee) and as they say "on a clear day you can see forever" while standing atop this historic mountain.
Of course, if you aren't afraid of heights cross the swinging bridge as well and get a look at Lover's Leap where, according to folklore a young Indian brave fell in love with a Cherokee maiden, but their tribes were engaged in a battle. The two lovers ran off together, were caught and instead of being apart jumped from the tip of what is now called Lover's Leap.
With Chattanooga's revitalization many new and exciting attractions have been added. One of the most exciting and well visited is the Tennessee Aquarium. It is the world's largest freshwater aquarium with saltwater adventures to be found as well.
See the coral reef's 10-feet long sharks, barracudas and stingrays as they move gracefully through the water. And don't miss the IMAX 3D theater housed at the aquarium as well.
Another exciting addition to the waterfront is the $19.5 million expansion of the Hunter Museum of American Art where you can stay all day enjoying the permanent and temporary exhibits, the outdoor sculpture garden and the café and gift shop.
No river experience would be complete without a little adventure on the actual river so don't forget to try out the Southern Belle Riverboat for lunch, dinner or a sightseeing cruise. It's also another chance to get a glimpse of Lookout Mountain and the city skyline from a different angle.
Chattanooga's Waterfront also offers a wonderful public art display showcased along First Street between Market and Walnut Streets.
The Chickamauga-Chattanooga Military Park was the nation's first military park named as such in 1890 and it is still one of the largest of its kind today.
Finally, no trip would be complete to such a naturally beautiful city without the chance to take part in renewing nature. The Chattanooga Nature Center offers a "Adopt a Red Wolf" program with an emphasis on survival planning for this and other endangered species in the area.
Since there are only 100 Red Wolves in the wild and a mere 200 in captivity the Red Wolf exhibit is a crucial step in survival for this majestic animal (for more information call 423-821-1160 ext. 103) and meet the wolves on your next trip to Chattanooga.
Aristotle said "In all things of nature there is something of the marvelous."
Whether he was talking about animals or plants, it is sure to see that Chattanooga has indeed made the land they call home marvelous and vital and ready for adventure.
About the author:
This week Traveling Tales welcomes freelance travel writer Rita Cook who makes her home in North Hollywood, California.
Photos courtesy of Chattanooga Area CVB
1: The Incline Railways nears the summit.
2: Ruby Falls deep in the caverns under Lookout Mountain
3: On a clear day you can see seven States from the lookout point.