by Leslie Jones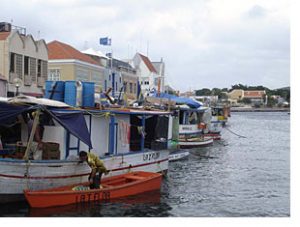 Colourful hues of blue, orange and aquamarine tower over the waterfront's edge with matching umbrellas serenely situated below. A vivacious outdoor farmer's market offers a vast sea of exotic fruits and vegetables, many foreign to those visiting from afar. A vibrant display of papayas, melons and tomatoes are viewed along the nearby floating market now boasting its many offerings. Vendors often sail their boats over 35 miles from Venezuela every morning to sell their goods here in this port.
With much of its food imported, a multitude of international flavors, spiced with a uniquely local flair, are readily available. Dutch, Spanish, Creole and Indonesian-inspired favorites can all be sampled at Curacao's famous old market "Marsche Bieuw", located in downtown Willemstad. Possibilities include: bami (noodles with vegetables and meat), sate (skewered meat with Peanut sauce) and Yuana (stewed iguana) for those bravely seeking a truly authentic experience.
Even on a dismal looking day in Curacao, the vibrant sights, sounds and aromas are invigorating.
Curacao is largest of the ABC Islands, and Willemstad, the capital of the Netherlands Antilles, is home to almost two-thirds of the population.
Of the many possible origins of the word Curaçao, the most likely explanation stems from the Spanish calling the island "Corazon" (Heart). Famous Portuguese mapmakers adopted this word into their own language as "Curaçau" or "Curaçao." Today, to many of the locals, the island is known as "Dushi Korsou" (Sweet Curaçao).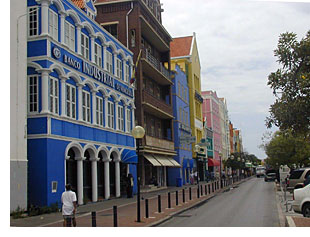 The architecture effortlessly blends its intriguing Dutch heritage along with an adornment of the Caribbean's celebratory pastel shades. The people of Curacao are of Dutch, African, Spanish origins along with nearly every other race and nationality imaginable.
The native tongue, Papiamento, can be heard along the streets wherever you roam. A combination of Portuguese, Spanish, Dutch, and African dialects, developed early on by the slaves—it became the main means of communication when the Dutch West Indies Company claimed the Island in 1634.
Punda, the colorful downtown sector, offering a wide selection of outdoor markets and shopping escapades, is best known for its Dutch colonial architecture, dating back from the 1760s. The new leaders began to build Fort Amsterdam, to protect their settlement. Soon, thereafter, the city began to flourish.
Combining tourist-oriented shops, local shopping areas and outside vendor fairs, Punda's multifaceted personalities are all intriguing and well worth wandering through. Everywhere you look, on the outside walls of both homes and businesses, are a wide assortment of beautiful colors, making Willemstad one of the Caribbean's favorite photographed cityscapes.
The story is that one of the early Dutch governors, under the context of medical advice, outlawed buildings being painted pure white. He was supposedly told that the reflection of the sun glaring off of them could cause major headaches, leading to eye inflammation or even blindness. After his death, it was discovered that he quite ironically had shares in a local paint company.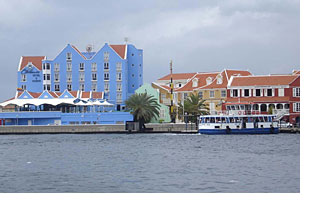 Looking across the bay, a quick ferry ride from Punda across the channel to Otrabanda transports you toward a long line of shopping stalls, old hotels and several wonderful restaurants. Look back and you'll see the towering Queen Juliana Bridge, which allows the largest of ships to pass underneath to the oil refineries found back in the inner harbor, Schottegat. After oil was discovered at Lake Maracaibo in Venezuela in 1914, the Caribbean petroleum Company had decided to build a refinery on Curacao.
In 1707, building permits were granted for Otrobanda, "The Other Side." The buildings along Otrobanda's Breedestraat are similar to those in Punda, with commercial space downstairs and living quarters on the upper floors. Off Breedestraat, a grand residential neighborhood was built by those desirous of mansions reflecting their higher social standing.
By 1774 Otrobanda was as large as Punda and in the 18th and 19th centuries, free blacks began to migrate to the city. By the 20th century, Otrobanda had become a major cultural center for the rising black middle class. Many of the island's notable politicians, professionals, artists, and musicians grew up there.
A mural in the waterfront's colonial-inspired Gouverneur De Rouville Restaurant, where a delightful Caribbean lunch is served, again offers the rich hues of blue, green, earth-tone reds while telling stories of old. Be sure to try the plantain squash soup…it's unbelievable with a hint of curry mixed in. Enjoy the views across the bay of Punda and take a look at the restaurant's quaint secluded courtyard with a beautiful fountain out back.
Ordering a Curacao margarita appears to be appropriate here so naturally lunch includes one. Curacao, a liquor known best for its blue-colored dye, is now a generic term for liquor flavored with bitter oranges.
If you have the chance, travel to the Curacao liquor distillery, just a short tour or taxi ride away, to gain a better perspective on the area's liquor making industry. It's a great place to pick up a few small gifts, gain a little history and sample numerous flavors of rum all in one inclusive stop.
While heading back to town, you'll pass through Scharloo and Pietermaai, home to a wealth of gorgeous restored mansions. These two suburbs are listed along with Willemstad on the UNESCO World Heritage List, commemorating their unique value to the world's cultural and natural heritage.
Museums plentifully abound in and around Willemstad's many unique sectors. The Curacao Maritime Museum, the Jewish Cultural-Historical Museum housed in the oldest continuously operating Jewish congregation in the Western Hemisphere's Mikve Israel Emanuel Synagogue, and the Museum Kura Hulanda, offering an insightful overview of the one-time extensive slave trade of the islands.
The day ventures by much too quickly, as usual, as the hour approaches to re-embark on our cruise ship. Time to move on to new ports, however, the Corazon of Curacao remains alive and well in your mind long after you leave.
About the author:
This week's guest freelance travel writer is Leslie Jones who make her home in California.
The photos:
1: The floating market along Punda's waterfront. Leslie E. Jones photo.
2: Colourful architecture commonly seen throughout Willemstad. Lori S. Fisher photo.
3: Ferry crossing between Punda and Otrabanda. Leslie E. Jones photo