by Rick Millikan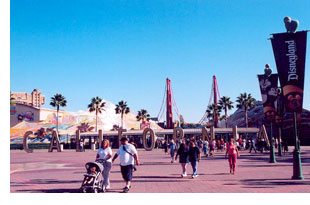 Who could guess that a quiet agricultural community would change so radically?
German farmers settled around Anaheim in 1857, planting various crops. When a plague wiped out their wine grapes twenty-three years later, acres of orange trees replaced them. Locals were puzzled when Walt Disney wanted to transform a large successful orchard into an amusement park.
Yet Walt created a family-oriented theme park, realizing an ingenious dream. Disneyland opened with enormous fanfare in 1955. Very soon, Anaheim mushroomed into Southern California's fun destination.
Whether sailing aloft to Peter Pan's Neverland, taking Mr. Toad's Wild Ride, zipping around Roger Rabbit's Toon-Town, tripping into Alice's Wonderland or drifting through dolled-up It's a Small World, rides accommodate kids of all ages.
Seeking bigger thrills, families bobsled the Matterhorn, rocket through Space Mountain, rollick through the western frontier on Thunder Mountain Railroad and float serenely into Brer Bear's Splash Mountain domain, ultimately plunging through a briar patch.
Amidst Disneyland's 50th Anniversary celebrations, my wife and I return as empty nesters to enjoy its innovative adventures and playful activities.
Staying at the Grand Californian Hotel, we stroll the bustling shopping mall, cross Park Plaza to Disneyland's Mainstreet and board a double-decker omnibus.
We soon re-explore a tomb with Indiana Jones, re-encounter swashbuckling Pirates of the Caribbean and re-experience a cryptic trip through the Haunted Mansion. Purchasing sarsaparillas at the Golden Horseshoe, we applaud, whistle and laugh as Billy Hill and the Hillbillies entertain with an array of bluegrass, classical, heavy metal, rap and rock.
Walt Disney once said, "Disneyland will never be completed. It will continue to grow as long as there is imagination left in the world."
Growth is evident. Tarzan's family has moved into the former Swiss Family Robinson Tree-House. Where Bear Country Jamboree once jammed, we journey into blustery fun with Pooh Bear and friends.
Dining in a New Orleans bistro, we behold the evening 'Parade of Dreams' down Main Street. Depicting Walt's most dazzling animated features, protagonists smile, wave and cavort atop brilliant floats, while below, whimsical characters dance and strut their stuff.
Next morning we enter the newly adjacent California Adventure Park for 'Soarin' over California.' Our bench wings upward into a gigantic wraparound Imax screen, banking and swooping over scenic wonders. Feeling the wind in our faces, we smell the blue Pacific's salty air, sweet orange blossoms and aromatic pine forests.
Theatres line the Hollywood section. After guffawing at merry mayhem caused by Kermit and his beastly cast in a 3-D Muppet Movie, we explore a nearby edifice to animators.
Interactive screens allow me to develop an animated personality. Dubbing in voices for notable cartoon characters, I sing my own renditions of showy songs and growl villainous lines.
After watching lively street entertainers, we attend 'Aladdin' in a spacious theatre. This musical extravaganza features bejeweled elephants, camels, jovial blue genie and 'authentic' flying carpet. Hollywood Tower Hotel looms near. Chris bids farewell and I take the wildly erratic elevator trip into the eerie twilight zone.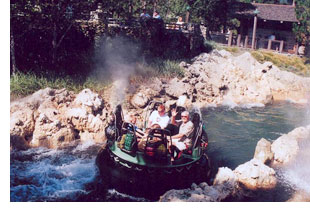 Falling back to earth, we trek into the Sierras and ride the raging Grizzly Bear Rapids. Ratcheting upward to Wolf Rock, the exhilarating descent begins. Our raft twists and turns under icy waterfalls, through howling caverns and over boiling white rapids.
We forego Paradise Pier's genre of loop-de-loop rides, including a humungous rollercoaster and Ferris wheel and meander through faux Monterey and San Francisco. There we see prize-winning 'Golden Dreams' featuring inspired vignettes of state history.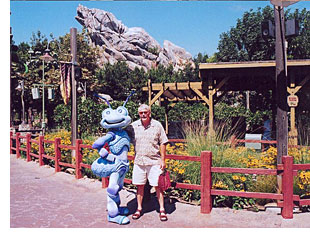 In nearby Bug's Land, we literally feel the light-hearted earthy revenge from misunderstood insects in Flik's multi-sensory flick 'It's Tough to be a Bug'.
On our last day, the futuristic Disneyland Hotel monorail whisks us straight into Tomorrow Land. Where once we encountered the giant squid on Captain Nemo's Nautilus, stylish submarines will soon track down Nemo, that beloved, elusive fish.
Across from Star Tours' ongoing battles with Darth Vader, Buzz Light Year recruits us as space cadets to fight evil Emperor Zurg. Chris pilots our madly whirling rocket while I fire wildly at vile villains, laser guns blazing from each hand; we ace our way to stellar promotions.
Its lobby overflowing with fascinating memorabilia, Mainstreet Opera House presents 'Disneyland: The First 50 Years,' a worthwhile visit. An early Magic Shop employee, Steve Martin hosts a five-decade tour of 'his' Magic Kingdom. Dazzled by Walt Disney's imagination and foresight, we leave 'the happiest place on Earth.'
Disneyland set the local entertainment industry in motion. The nearby Crystal Cathedral attracts the faithful and the curious to gaze upon its white lace-like trusses framing more than 10,000 windows of tempered, silver tinted glass.
From this soaring cathedral, Robert Schuller broadcasts the international 'Hour of Power', while in the neighboring stadium, the Angels play baseball and on Arrowhead Pond, Mighty Ducks shoot pucks.
Further amusement lies within a short distance. Once a roadside-stand selling fresh boysenberries and fruit pies, Knott's Berry Farm evolved into a rip snortin' frontier themed park.
As a teenager I rode its stagecoach, read tombstone inscriptions at Boot Hill, panned for gold, stumbled through its haunted shack and watched melodramas at Birdcage Theater.
Decades later, I led my family into new adventures. We'd travel back in time, conquer road rage in bumper cars, raft rivers and enjoy a myriad of wild western ways.
Crossing the highway, we'd enter Movieland Wax Museum, becoming nostalgic over star performers, favorite movies and television shows.
Some evenings, we'd return to a Medieval Castle. Wenches would serve sumptuous feasts while magicians conjured and mystified. And Andalusian knights demonstrated artful swordplay, jousting and falconry.
Now orange trees are rarely seen, but good times are easily found. Wearing smiles and mouse ears, we head homeward with fun-filled memories.
About the author:
Rick Millikan is a Canadian travel writer who makes his home near Vancouver B.C. on Canada's West Coast.
Photos by Chris Millikan:>
Disneyland's Adventure Park Plaza
Riding the Grizzly Rapids Raft
The author with Flik at California Park Bugland
If you go:
Disneyland – http://disneyland.disney.go.com Fiftieth Anniversary Celebrations continue until November 2006.
Anaheim Tourism- www.anaheimoc.org