by Chris Millikan
My hubby Rick and I had always dreamed of going on a safari into distant exotic wilds. We just didn't expect it to be aboard a sleek jet boat in the heart of Viti Levu, Fiji's main island…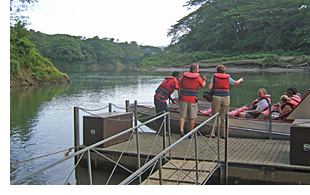 Picked up early from our charming resort at magnificent Natandola Beach, we're transferred into Sigatoka town and joining ten other intrepid travelers, soon begin our safari, first in a van!
Our 10-mile journey parallels the river running through Fiji's "salad bowl," the fertile Sigatoka Valley known as for its abundant fresh produce.
Pointing out flowering sugarcane fields, luxuriant taro and cassava plots, plentiful papaya and banana plantations along the way, our driver grins broadly, "You open your mouths…we fill'em!" he jokes.
Arriving at our remote riverside departure point, spectacular cliffs surround us on all sides; fertile farmland lies at our feet. Buckling ourselves into flaming orange life jackets, we hike down a short dirt trail through lush jungle, emerging at a wharf perched on the banks of the mighty Sigatoka River.
Helping us aboard one-by-one, guide Jay gives a safety briefing before introducing us to the magical jet boat we're in. "Unique in Fiji, these vessels are custom built in New Zealand…and all our drivers have been specially trained on rivers there…"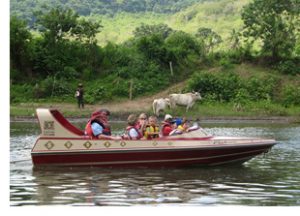 Glancing at this gleaming boat, Vicky whispers worriedly, "Oh, my…I soooo hope this doesn't turn out to be Fiji's version of a high-tech Disney ride…" With that, engines growl to life, everyone shifts their weight fully forward and the jet boat skims quickly away from lurking sandbars, heading quickly upriver. Along the riverbanks, rural life unfolds before us.
Women and children from the many remote villages lining the river enthusiastically wave to us. Clutching sunglasses and hats, we wave back, shouting out joyous "Bulas!"
Families on horses cross shallow waters, others pole-fish from shore; women scrub clothes on the rocks, singing in the sun. Farmers guide pairs of glistening bullocks, slowly plowing their small fields. Other sturdy beasts graze…or soak in the river, glancing up benignly as we roar by. I muse, "It must be their day off…"
Jay pauses midstream, cueing the onboard Fijian storyteller. "The Sigatoka is Viti Levu's longest river, running from the hills of Navosa Province to the sand dunes along the Coral Coast…and the only route into the interior until the late 1950s.
It once took some villagers three days to travel downriver on their bamboo bilibili-rafts; return journeys took much longer. Locals depend on this river for freshwater mussels, fish, prawns, eels, drinking water and crop irrigation." Open nowadays to tourists like us, we're privileged to experience this untouched beauty first-hand.
Passing miles more of pristine scenery, Jay deftly steers the speeding boat, twisting and sometimes turning sharply to avoid snags and sandbars. Stopping abruptly in a quiet backwater along a muddy riverbank, he asks us to imagine a remote cave high in the mountains.
"It was a refuge for the last village resisting Christianity, possibly cannibals. To Christian Fijians, the old cannibal ways represented a frightening primitive practice for gaining personal power: chiefs ate eyes to gain vision; warriors, the hearts for courage; women, the backs for strength." Before long we reach our destination in the interior.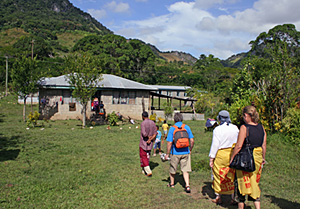 The village spokesman greets us at the top of a steep, muddy pathway. As we women drape yellow, red or emerald-green safari Sulus around our waists, he beams, "Call me Amos…welcome to Toga Village, my home… "
We parade toward the meetinghouse, remove shoes and sandals and enter a large, bright room where villagers await us. Seated cross-legged on woven mats, we face rows of grinning men; groups of women and children sit to the side and back, all smiling. Amos introduces us in Fijian, presenting our bundle of yanqona roots, a gift and distant relative to the pepper plant.
In a welcome ritual honoring guests for centuries, elders mix up these pounded yaqona-roots with fresh water in a large wooden tanoa-bowl. Our esteemed chief-for-a-day, Ratu Peter solemnly drinks first from a coconut-shell-cup, claps and says "Vinaka!" (thankyou). Next, the hereditary chief chugs down his cupful. Then in turn, we all receive kava. Calling 'Bula,' we gulp down the popular national drink, clapping three times according to ages-old custom.
Village women then place floral wreaths around our necks and pat rose scented talcum powder on our cheeks. While we chat with the chief and villagers, a fellow visitor distributes small gifts to eager children.
Later touring the village, Amos tells us that there are thirty-five houses here, 'modern' cinder block or clapboard construction. These villagers farm, selling their produce downriver at the Saturday markets so popular all across Fiji. Roosters, piglets and dogs wander the grassy yards; children pose excitedly for pictures…
Back inside the meetinghouse, a remarkable, colorful buffet beckons from a patterned aqua-blue cloth spread out atop the floor-mats.
Feeling right at home, we try this generous selection of typical foods: plates of taro leaves layered with coconut cream, steaming purple sweet potatoes, luscious papaya wedges, juicy-ripe pineapple and fresh squeezed orange juice. Mealy cassava-root-chunks quickly become my favorite…until a toothless matron beams, "Too much o' dat gonna make ya' fat!"
Before we're ready, it's time to go. Harmonizing voices sing Isa Lei…Fiji's farewell anthem moves us to tears, making it difficult to leave the warmth and hospitality of the community.
Back aboard for the return trip downriver, our thoughts drift often to the serenity of Toga Village. Because this safari visits different villages each day, intrusions on traditional lifestyles are minimized, and our cultural encounter deep in the Fijian highlands leaves hearts brimming and spirits high. Meeting these beautiful interior villagers proves to be a safari like no other.
About the author:
This week Traveling Tales welcomes the travel writer team of Rick and Chris Millikan who live in North Delta, a suburb of Vancouver, B.C.
About the photos:
1: Loading up at the dock. Rick Millikan photo
2: Jet Boat up close. Photo courtesy of Sigatoka River Safari
3: A view in one of the villages. Rick Millikan photo.
When you go:
* For charming digs at Fiji's famous beach contact Bob- natandola@connect.com.fj
* For an inspiring river safari into Fiji's remote highlands- jay@sigatokariver.com
* For general travel info contact the Fiji Visitor's Bureau- infodesk@fijifvb.gov.fj OR Keti at kwaqavonovono@fijifvb.gov.fj