by John Clites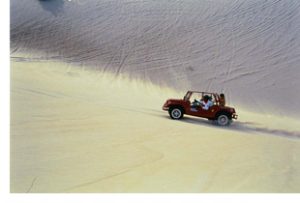 Our buggy hurtled up the dune, and I grabbed the roll bar with both hands, preparing again to leap the crest a la the Rat Patrol. At the last second Sergio, our bugueiro, yanked the steering wheel to the right and we slued to a stop just below and parallel to the ridge line.
We hung motionless for 3 long seconds. Then gravity exerted its inexorable tug. I caught a quick glance of Sergio's eyes in the rearview mirror. He was looking at me, and laughed at my confusion. We were now sliding sideways down the dune at an alarming clip, and I knew with absolute certainty that we were going to flip.
But we didn't. Sergio took us to the edge several times that day, but always maintained control.
As we left the dunes for the 2-lane asphalt road back to town, I thought again, "Why does no one know about this place?"
Natal, at the point where Brazil juts farthest into the South Atlantic, is an adventure-lover's paradise. A dune buggy ride is only one of the many activities you can enjoy in this sun-drenched paradise by the sea. Wind surfing, snorkeling, and fishing are also popular.
But Natal, though the capital of the state of Rio Grande do Norte and with a respectable population of 800,000, has yet to be discovered by North Americans. The only reason I knew about Natal was that a good friend of mine, Miguel, had married a woman from there.
Miguel, his wife Marilia, and her sister Ana arrived at my hotel just after breakfast. Five minutes later, Sergio arrived in our buggy, and after some discussion about seating arrangements (4 passengers is a squeeze), we set out for a full day of sun and adventure.
Turning off onto the coastal highway, the sensation of freedom was immediate. The cool morning air, rumble of the exhaust pipes, and Sergio's constant jinking back and forth through traffic had me welling with anticipation before we had gone a mile.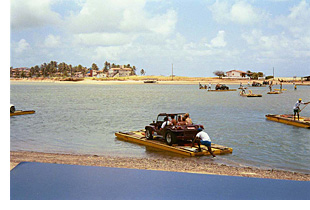 We arrived at the Potengi River, where a couple dozen other dune buggies queued up to board a ferry. While we waited, we took pictures and bought bottled water. Hawkers sold sunglasses, sunscreen, and floppy hats – all absolute necessities, as Natal lies only 5 degrees south of the Equator.
Debarking from the ferry a half hour later, we went off-road. Sergio raced with a couple of other buggies down a beach, sometimes cutting high on the beach, sometimes flirting with the surf. From my perch in the rear, sitting on the trunk and holding the roll bar, I felt like a Viking in the wind and salt spray.
Rocketing past beach loungers and a horse-drawn cart loaded with sand, we returned to the road. Soon we came to another river. This time, instead of crossing on a large, modern ferry, we would be poled across on rafts.
When our turn came, Sergio gunned the engine, shot us onto a raft, and slammed on the brakes. The buggy's momentum launched our simple craft, then our gondolier took over.
Now, I thought, we have arrived. We were all anxious to take on the dunes, but first Sergio signaled that we would stop for something to eat. My disappointment faded when we pulled in to one of the more interesting rest areas I've seen.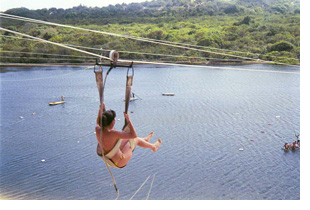 Around the periphery of a small freshwater lake, plastic tables and chairs were placed in the shallows, shaded by thatched sun umbrellas. Around to the right, a tower had been erected which the more adventurous could scale for a ride down the aero bunda (literally, "air butt"), a zip line which dumps riders off in the lake. Miguel and I had to give it a go, and took our turns getting unceremoniously dunked.
Twenty minutes later, we reconfigured our seating arrangements and headed off for the park and the dunes. Sergio was a master bugueiro. He bulleted us over hard pans, then pulled the emergency brake to spin us into a 180.
He charged down the back of one dune, gaining speed for the next, which we would rocket up and over, slamming down on the far side. We raced with other buggies, the drivers playing a game of HORSE, taking turns doing maneuvers which the other had to then duplicate.
But the most exciting stunt was the sideways slide. The drivers would assault a dune, then slue sideways and enter a controlled (one hoped) slide back down the dune. They were masters of this maneuver, but I always prepared to leap out, just in case.
Throughout the day, many other side adventures were offered. You can fly in an ultralight airplane for a view of the littoral north of Natal. We didn't go up that day, but I did return to try it, and the view was sensational.
You can also ride a camel (still haven't done that yet), or zip down a much longer aero bunda cable. Miguel and I also tried the ski bunda (right, "ski butt"), sitting on short surf boards and attempting to make it down a dune without wiping out. We did not distinguish ourselves.
Mid-afternoon, after a full lunch and a half hour in a hammock to prepare for the return, we climbed, a bit slower now, back into the buggy. Sergio took us through other dunes, and we got some great shots of Natal and the Atlantic from the peaks.
Retracing our path to the rafts and the ferry, we returned to the hotel about 4:00, ready for shower and naps before an evening of seafood and dancing.
It had been a great day. I felt more alive than I had in ages. Certainly I would return. I still hadn't ridden that camel.
About the author:
This week Traveling Tales welcomes freelance travel writer/photographer currently Living in South Florida.
Photos by John Clitess:
1: Sergio at the wheel as our buggy tackles the dunes.
2: Rafting across the river.
3: Riding a zip line is a real adventure.
Brazil Travel Tips:
Getting There: Natal is served by Augusto Severo International airport (NAT). American Airlines and TAM have service to NAT. Likely you will have to fly first to Rio or Sao Paolo. A good strategy is to book a flight through Rio and schedule a layover there at no additional cost. If you'd like help booking a flight, contact Brazilian Wave Tours in Ft. Lauderdale (954-561-3788).
Visas: Currently U.S. citizens need a visa to visit Brazil, which costs $100 and is generally good for 5 years. For details, visit www.brazilsf.org/other_consulates_eng.htm. Note: The Brazilian legislature is moving to lift the visa requirement.
Language: The official language of Brazil is Portuguese, though Spanish spoken slowly is often understood. You'll find English-speaking staff at most hotels and restaurants, and many beach vendors speak a bit.
Where to stay: A great value in a great location is VIP Flats (www.vippraiahotel.com.br). Contact them for rates, which vary with the season. Rates include tax and a wonderful full Brazilian breakfast. The staff can arrange any tour or activity.
Favorite restaurants: Camaroes (Shrimp) and Casa do Carangeju (Crab House). Both are within walking distance of VIP Flats. Tip: In this area, plates are often intended to be shared by two people. Inquire when ordering!
Renting a car: Unless you are adventurous, hire a local driver. While the roads in Natal proper are good, and the drivers less aggressive than elsewhere in Brazil, the roads deteriorate quickly once you leave town, and signage is poor at best. Note: Only specially licensed guides may drive buggies on the dunes, both for the safety of passengers, and for the protection of this beautiful habitat.
Money: The currency of Brazil is the real (pronounced HAY-all). At press time, one US dollar buys about 1.96 reais (HAY-eyes, the plural form). One real buys roughly what one dollar does back home, although you'll be pleasantly surprised to find that food and drink are relatively cheap throughout Brazil.
Tipping: While not required, tipping is becoming more common with the influx of Europeans. 10% is considered a good tip. Check first to see whether a charge for service was added to your bill.