Story and photos by Joanne Lane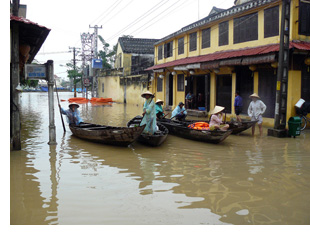 I'm wading down a Hoi An street with my latest purchase held shoulder high to escape the floodwaters. It's our last day in Hoi An but I'll be danged if I'm going to let the annual rainy season prevent me from picking up my new tailored silk dress. After all the tailored clothing is one of the reasons you come to this town on the Central Vietnamese coast, a place that beats to the sound of clacking wooden looms.
Yes ladies you read correctly, this is where you come for skirts, dresses, pants, jackets, suits and ties that are tailored for a perfect fit and cost a fraction of what they would at home. You just might have to brave a bit of a deluge to get to them.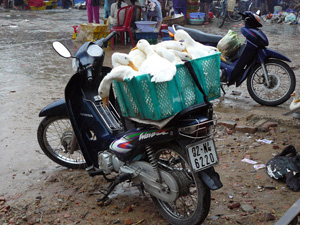 Every rainy season this small town transforms into a watery Venice. Motorbikes are replaced with wooden dories or bicycles, the tantalizing aroma of frying fish takes over from the choking smell of two stroke and the only sounds competing for attention are the lapping of water and the excited chat of uniformed children on their way to school.
And we found it somewhat of a blessing because you usually spend a lot of your time in Vietnam trying to cross roads unscathed. Motorized transport has become god in this nation and the lack of traffic was like getting a whiff of an age passed – albeit it edged with a flavour of geese, mud and damp clothes.
The peace and quiet was equally wonderful although I couldn't help but wonder what climate change is going to mean for the 80,000 citizens here perched along the banks of the Thu Bon river.
Hoi An has been one of South-East Asia's major international ports for centuries so no doubt they're used to weathering the storms. And perhaps it's for this reason that working around the annual floods, particularly in October and November, is simply par for the course.
It must help to have the perennial good nature the Vietnamese seem blessed with. Certainly in the market it's business as usual with fish, toads, prawns, vegetables and chickens simply sold under umbrellas and raincoats just metres from the encroaching floodwaters.
It's also a fair way of evening out trade as the shops and restaurants a few blocks back from the picturesque waterfront receive more business when the sought after harbour spots become unreachable.
Water or not, it's still easy enough to get around. We soon perfected our water wading techniques and the art of gunning it through water with our feet up off the bicycle pedals when we wanted to feel a little dare devilish. And when we wanted some Asian-damp romance we flagged down a boat taxi and headed down the main street gondola style.
Hoi An has become one of the must sees in the tourist destinations of Vietnam. We also discovered we weren't the only people that spent most of their time here.
The mellow and friendly locals certainly sell the place. But there are also a number of historic and natural elements to enjoy such as the UNESCO World Heritage listed buildings and bridges in Hoi An, the 1500 year-old My Son temple ruins a short drive away, the cruises on the Hoai river and even the sun-seeking opportunities on the nearby beaches.
Thankfully Hoi An was left largely unscathed by the American War and wandering the streets is still much like it was in the 19th century. The warehouses on the waterfront may now be restaurants but everything is well preserved. A lot of the homes once owned by merchants have been restored and it's possible to enter some for a small fee.
There's a tangible sense of history here that the Dutch, Portuguese, Chinese, Japanese and other traders have all contributed to. In fact this fusion of cultures was also one of the reasons UNESCO inscribed it as a world heritage site in 1999.
Once we'd had our fill of old buildings and bridges we were pleased to discover there was also plenty for the foodie in Hoi An, which is renowned for seafood.
Squid, prawns, snapper and mackerel grace most menus and there are fabulously atmospheric places to eat it. The most elegant lie along the portside road but some of the best places we ate were also the simplest and hidden in the streets further back from the waters edge.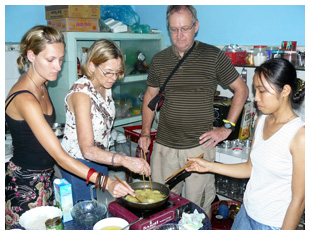 Many restaurants in Hoi An offer cooking courses and for as little as USD $8 you can be taught a three course meal and eat it afterwards. There's even local wine to wash it down. You can choose a menu but you may want them to teach you local specialties like cao lau, flat noodles with Asian greens and pork slices, or fried wonton.
You can do these courses just about anywhere in Hoi An and the choice can be boggling. Our method of selection was as good as any – we simply chose the place we'd enjoyed the food the most.
The other thing to do here is shop. Hoi An is known for its woodcarvings, shoes, rice paper paintings, ceramic goods and mat woven souvenirs. It also produces cotton in workshops all over the town and if you wander about you'll soon come across rooms full of wooden looms clacking and whirring beneath their attendant.
Of course it's this fabric, along with silk, that is piled high in the tailor shops dotting the streets. Tailors and seamstresses are a dong (Vietnamese currency) a dozen here. If you want to leave with an entire new wardrobe, you simply have to browse a catalogue for the cut, choose a fabric and wait for the tailoring.
Items can be literally made up overnight, just make you leave plenty of time in your schedule for any alterations and plenty of room in your suitcase.
About the author:
This week Traveling Tales welcomes is freelance travel writer/photographer Joanne Lane who lives in Queensland, Australia.
About the photos:
1: Floating taxis await customers.
2: Ducks on the go via motorcycle. .
3: Students learn the art of local cooking. .
Other things to do:
Get up early to enjoy the waterfront markets. There's plenty of fresh vegetables and fish to oggle at or you can haggle with the friendly sellers for souvenirs such as jewelery, t-shirts and coffee makers.
There are some pleasant sandy beaches at Cua Dai, about five kilometres east of Hoi An, where you can enjoy lunch or dinner or chill out over an evening cocktail. If you rent a bicycle and fancy some exploration, take it across on a boat to Cam King Island from the D Hoang Van Thu Dock. The little laneways over here are fun to cycle and you can spot master woodcarvers at work.
If you enjoy watching the local artisans Thanh Ha is where pottery is produced about three kilometres to the west. Tours to My Son are available from agents in Hoi An for about USD$6 for half a day or you can rent a motorbike to get there. My Son is a UNESCO World Heritage Site with monuments of the Kingdom of Champa from the 2nd to the 15th centuries.
Getting there:
Hoi An is about an hours drive from Danang airport or a USD $12 taxi ride. Daily flights travel to Hanoi and Ho Chi Minh City and less frequent services will take you to minor destinations.
The Reunification Express train linking Hanoi and Ho Chi Minh City also passes through Danang, the journey from either location takes roughly 24 hours. Buses and minibuses in Hoi An link with Nha Trang, Hue (via Danang) and My Lai.
For getting around locally, bicycles and motorbikes can be rented for a small daily fee. Paddleboat trips are available on the Thu Bon River and leave near the rowboat dock. Ferries to the islands also leave from here.
Where to stay:
It can be busy here in the peak seasons (August-October and December-February) and it is advisable to book ahead. It also spares you the hassle from touts on arrival. Most hotels in other parts of Vietnam will be happy to ring ahead for you. Places closest to the waterfront fill first and are generally a little smaller and more expensive. The average price of a room is about USD$12.