by Caroline M. Jackson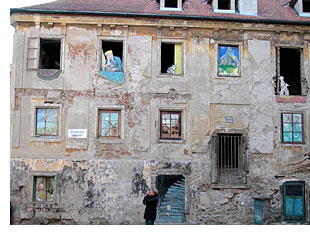 Situated on the river Danube, Vienna is the ideal place to experience a cornucopia of culture. We based ourselves in a Benedictine monastery bordering the inner city and from here we were able to walk or take the underground train (U-Bahn) to the city's finest attractions.
Number one on our sightseeing list was Schloss Schonbrunn, the former summer palace of the Habsburgs. Second only to Versailles, it boasts 1,400 rooms. Fortunately our self-guided tour encompassed only forty of the opulent staterooms.
After all this exercise, we followed a horde of German visitors down to the cellar where mouthwatering apfelstrudl was being baked on the spot and sold to hungry patrons. Afterwards we wandered around the magnificent gardens and climbed up to the Gloriette which afforded us a beautiful view over Vienna and the famous Vienna Woods.
As dusk encroached upon the city, we visited the famous Naschmarkt. This long market is a drawing card for the "after hours" chic business crowd. Young people stand at counters or perch on tiny bar stools sipping wine. Others intent on restocking their larders, buy exotic cheeses, and choose from a selection of dates, fruit and spices that would surely compete with the markets of Marrakech.
Having worn through a layer of shoe leather on our first day, we decided to go at a slower pace the following day which happened to be a Sunday. Being mid-October, we managed to purchase a couple of last minute tickets to hear the Vienna Boys' Choir singing at Sunday Mass.
It certainly was a treat to sit on the balcony of the 13th century Royal Chapel and hear the angelic voices hit the high notes. An interesting quirk is that the tickets allow most patrons to hear, but not necessarily see the choir, except on an overhead screen.
Having read much about Vienna's famous coffee houses, we decided to splurge on a visit to Café Mozart which was established c. 1794. Surrounded by gilt-framed mirrors which reflected the crystal chandeliers, we sipped our coffee from delicate china.
Vienna is well served with an excellent public transport system. To orient ourselves with the centre of the city, we took the number one red and white tram around the Ringstrasse – a wide, tree-lined boulevard which follows the circular perimeter of the old city walls.
Following a recommendation in our trusty travel book, we headed to the Café Restaurant Palmenhaus for lunch. Built in 1882, it is a replica of the one in London's Kew Gardens. It has a relaxed ambience and we sat outdoors overlooking the palace garden while tucking into chestnut crepes followed by Sacher Torte – a chocolate cake with a layer of apricot jam in the centre.
Feeling well rested, we headed for one of Europe's finest museums, the Museum of Fine Arts. The building itself is magnificent with elaborate murals and its walls resplendent with famous paintings by Rembrandt, Rubens, Bruegel and Canaletto.
On this, our third day, we decided to see one of the world's finest Baroque palaces, Schloss Belvedere, which was home to Prince Eugene of Savoy. The upper and lower palaces are linked with a long baroque garden laid out in Classical French style.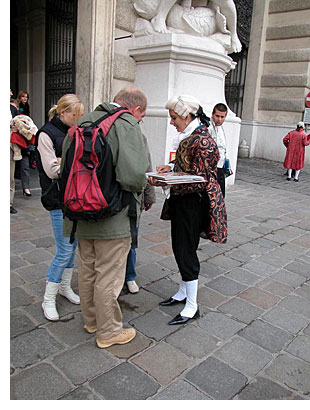 While strolling along one of the paths, a young music student with powdered wig, talked us into returning the same evening to enjoy a musical concert evening in the adjacent Orangery. We were not disappointed.
One of the most popular daytrips from Vienna is a visit to Melk Abbey. Just one hour by train west of Vienna, our daytrip ticket included our train journey, a self-guided tour of the monastery and the return trip by boat along the Danube. Perched on a hill, the magnificent Benedictine Monastery dominates the town of Melk and offers a splendid view of the surrounding countryside.
After visiting the ornate Abbey church, we wandered through the lovely formal park and tarried in its Baroque pavilion. The two-hour return boat journey along the Danube meanders through an area known as the Wachau. Reputed to be one of the most beautiful stretches of the river, we passed picturesque wine growing villages, terraced vineyards, ruined castles and churches.
On our last day, we ventured east to visit Bratislava, capital of the Slovak Republic. The train journey should have taken just over an hour, but border controls delayed us for quite some time as an émigré without the right papers was found in the adjacent carriage. Eventually he was brusquely escorted off the train and left standing in what looked like a frozen turnip field. It would be a long walk back to Vienna.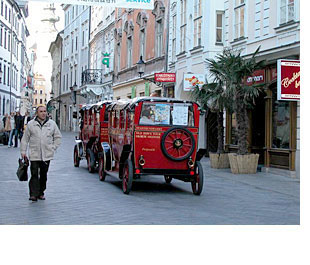 Bratislava's train station is over a kilometer north of the city's historical centre, so rather then struggle with the foreign currency (Slovak crowns), we walked into town. En route, we were joined by a delightful university student who wanted to practise her English skills and became our impromptu tour guide.
The old part of town is compact with interesting Gothic churches, museums and alleyways. We found the little guided red tram tour was by far the best way to see everything in a short time.
For some refreshment, we headed to a Slovak pub. Warmed by an upright wood stove, we sat at a wooden table adorned with beautiful hand-embroidered table cloths. The menu offered us a choice of tripe soup, pirogi dumplings with bryndza (Slovak sheep cheese) or sausages. I caved in after a few forkfuls.
Towards dusk we took a grinding tram ride back up to the train station. En route, we passed grey uniformed police huddled in the lee of large communist-era monuments.
Office buildings were now shrouded in darkness and street lights were sparse. As I paced the stark train platform and munched on a small bag of hot chestnuts, it seemed incongruous to think that within an hour I would be once again walking along the palatial streets of Vienna.
About the author:
Caroline Jackson, and her husband Hamish, are a Canadian travel writer/photographer team living in North Vancouver B.C. on Canada's West Coast. View their website at www.crestlynn.com
Photos by Hamish Jackson:
1. Even art flourishes on building facades in Bratislava,
2. Music students sell concert tickets in Vienna.
3. Old Town Tour of Bratislava.