by Barb Rees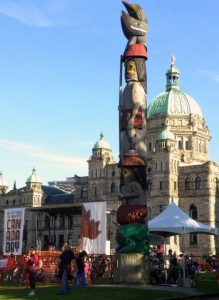 On Canada's 145th birthday, we started celebrating with Vancouver Island's biggest swap meet at Western Speedway in Langford. We'd camped next door at All Fun RV Park and Campground for the weekend and woke Sunday at 6:00 a.m. with the sound of vehicles going through the lot.
Too early for a race? Puzzled I peeked out to see vendors arriving for the All Fun Swap and Shop held on the race track from April-Sept, 7:00 a.m. to 2:00 p.m. The entrance fee is $2 unless you're staying at the campground. Oh, what a perfect way to start Canada Day! We were prowling the aisles by 8:00 a.m. If you can't find what you're looking for at this swap meet, it probably doesn't exist.
Our day trips from Victoria continued by heading up the Saanich Peninsula to Victoria Spirits, 6170 Old West Saanich Rd.   Along a pastoral road, we found this family run business. Peter Hunt, the Master Distiller's background was in the field of cancer but now is producing Canada's first premium gin. In his spare time he volunteers in Uganda building schools for Partnerships for Opportunity Development Association. He introduced us to the wood fired still which heats botanicals and produces an alcohol distillation at 85%. The first portion, the "heads" aren't drinkable but they will run your car. You could be the only one on the block with a "gin fueled car." The second portion, the hearts is 86% alcohol, still not drinkable. The third portion, the tails, is used for bitters which you can purchase upstairs in the tasting room. The hearts are blended, and spring water added to make a 45% spirit. Victoria Spirits are sold as far east as Quebec and up to the Yukon. Upstairs in the tasting room, we were introduced to Oaken Gin, Victoria Gin, Hemp Vodka, Gin Bitters, and distilled wine. Oh my, so delicious!
Peter recommended going across the street to de Vine Vineyards. Overlooking the Saanich peninsula de Vine Vineyards panoramic setting is breath taking. Inside, an outrageously beautiful blown glass chandelier shaped like a berry made by Chris Windsor with Yesterday's Sand graced the room. Ryan Windsor introduced us to the wine selection. De Vine Vineyards started in 2007, and now produces 24,000 bottles annually. We left there with a bottle of crisp Pinot Gris.
The last stop was Canada's birthday party taking place in and around Victoria's Inner Harbour. Colorfully outfitted crowds on the Parliament Buildings lawn were being entertained. Down in the harbour, buskers made people laugh, and vendors tempted with various crafts. We came away with seasoned sea salt made from local sea water, a dream catcher, and stomachs full of delicious Greek food. Thousands of people mingled, and munched. At the end of our day, we were pleasantly tired from all the things we'd experienced. Victoria and area overflows with a wide variety of things to "swap, sip and see" any time of year.
About the author:
Barb Rees, travel writer, author, and speaker, with husband Dave has taken four working holidays from coast to coast to northern coast of Canada. She is passionate about finding human interest stories. It's reflected in her books. They include: "RV Canada On A Dime And A Dream," "RV Canada With Boo The Menopausal Van," and the latest "RV Canada's Far North On A Dream." The fourth in the series will be on tour to Newfoundland in 2013.Owner of LoveToGo Writing she can be reached in Powell River, BC at www.write2dream.com