by Lauren Kramer

What could be more romantic than hurtling through the darkness in the bed of a luxury train car, the soothing rhythm of the train on the tracks lulling you to sleep?
Train travel brings with it the nostalgia of a yesteryear form of transportation. It has an old-world grandeur, a mystique and a formality you just can't experience in a 'plane or on a cruise ship.
On most trips, the transportation is the dullest part of the journey, but travel by train and the journey becomes an integral part of the trip, sometimes overpowering the very destination. Though it will always carry a certain timelessness, train travel has changed a lot in recent years.
Just ask Eugene Restiaux, a service manager with VIA Rail. "I started at the age of 18, and realized, some 18 years later, I was a lifer," he jokes from the bar of the park car. Restiaux and long-standing members of his team have seen the railway adopt a more modern façade, particularly over the last decade or so.
Five years ago, for example, smokers were welcomed on the railway, and the third seating at dinner was reserved exclusively for those who couldn't resist the habit. Today, there is a zero tolerance policy for smoking on the railway, a rule that has resulted in a cleaner smelling environment on board, but one that annoys many a passenger who happens to be a smoker.
Restiaux well remembers the days when flushing the toilet on board meant its contents were splattered at high speeds on the tracks.
It wasn't difficult to persuade passengers who insisted on sticking their heads out of the window to come back inside, back then. "I'd say to them, do you feel that water on your face? That means someone on board just flushed the toilet," he says with a smile. "They'd retract their heads pretty quickly!"
The method of disposing of human waste on VIA's trains changed five years ago, when vacuum toilets, not unlike those on an airplane, were installed. Today's toilets store their contents in retention tanks, discharging them in a more hygienic manner every four days in Toronto or Vancouver's terminals.
There have been other changes, too. In 1989, steam generators were exchanged for electric. In a 1999 cosmetic overhaul on VIA's cars, hot showers were installed, as well as thicker mattresses and new upholstery on the seats.
Traveling by rail has not lost its romance, its mystique or its simple pleasure over the years.
Time becomes deliciously irrelevant when you're on the train. Sealed into a fast-moving capsule, there is time enough for anything.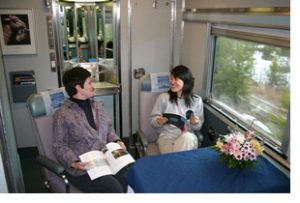 Time to lounge in bed over a decadent breakfast. Time to read a riveting book cover to cover. Time to mull over the ultimate word in a game of Scrabble, and time to have long, uninterrupted conversations with your traveling partner, or the people seated opposite you at dinner, or the service managers and staff, as they begin to relax at the end of a long day.
That's when the stories come out. Like the one about the young guys hired by drug dealers to ship their narcotics east in December 2006. "There were red lights going off all over the place for us," says Restiaux, whose team undergoes Jetway training to learn to recognize suspicious activity.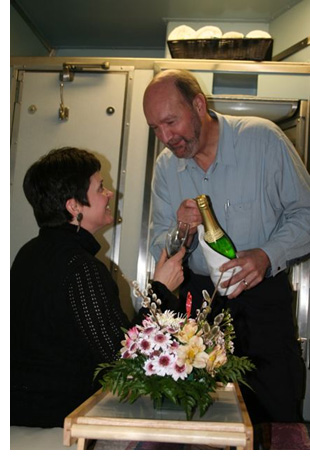 "They paid for their tickets minutes before boarding, in cash, but were suspiciously young to be carrying so much money around," he recalls. "They checked in two large hockey bags that were disproportionately heavy, and they had no hockey sticks.
And as soon as they came on board they starting flashing more money and demanding an upgrade." Restiaux quickly alerted the RCMP, who apprehended the drug dealers in Winnipeg.
In 31 years on the job, he has seen relatively little passenger misbehaviour on board, as those who choose to travel by rail do so to appreciate a relaxing journey, many of them traveling in VIA's Silver & Blue service, launched in 1992.
Unlike Comfort class passengers, those in Silver & Blue enjoy fine dining meals in the dining car, hot beverages and snacks in the Bullet Lounge and at night, a turn-down service where their roomette reveals a comfy bed with clean linens and chocolates on the pillows.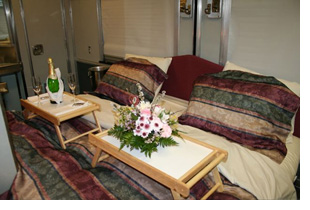 The first class experience on VIA is called Romance By Rail, where two roomettes are joined together to permit a queen-size bed to dominate the space. By day the beds are folded away to accommodate four padded chairs and a small table. The suite comes with fresh flowers, his and hers washrooms, snowy white towels and a bottle of welcoming champagne.
A Romance by Rail trip between Vancouver and Jasper return can cost up to $3,767 per couple, but it's about the experience, not the money, insists Reg Muir, a service manager with VIA who has worked for the railways for 30 years.
"You don't take the train just to get where you're going. Rather, it's a land cruise, an experience in itself," he says. Restiaux agrees. "Airlines sell a transportation service. We sell a transportation experience."
I can't help but agree with him as I look out the window at the blur of verdant forests, expansive lakes and mountains. Anywhere else, there's a myriad of distractions competing for your attention. On the train, though, it's just you, your traveling companion, and the scenery.
This makes it a great cocoon of privacy for personal celebrations, a journey that is wonderfully relaxing, as soothing as a long massage, and insufficiently appreciated.
Next time you hear "All Aboard," don't think twice.
About the author:
This week Traveling Tales welcomes freelance travel writer Lauren Kramer who lives in Richmond, a suburb of Vancouver, B.C.
Photos by Cathy Lukovich:
1: Enjoying the view as well as relaxing and visiting. Cathy Lukovich photo..
2: Passengers prepare a toast to the trip. Cathy Lukovich photo.
3: Lots of space and comfort aboard. Cathy Lukovich photo.